Ever wanted to peek inside our luxurious dining experiences? Join us as we take you around Australia through 7 unique fine dining experiences with a private chef. We'll make a stop at each major city and give you a glimpse inside a real CHEFIN event, including the client's backstory and unique event menu. You'll see how our personal chefs turn an ordinary event into an extraordinary experience…
Omakase fine dining in Perth
Our first stop is an experience with a Private Chef in Perth, for a gorgeous sunset omakase dinner shared by a group of close friends. There are several unique cocktails and courses to be enjoyed over the course of the evening, as well as plenty of laughs and memory-making.
Chef Sean is an expert in Japanese fusion cuisine, trained in renowned restaurants like Nobu. He brings a creative modern approach to Asian cuisine, infusing each menu with his own personal twist on traditional ingredients and flavours.
An Omakase experience with a Japanese focused menu with 16 courses and 8 paired cocktails.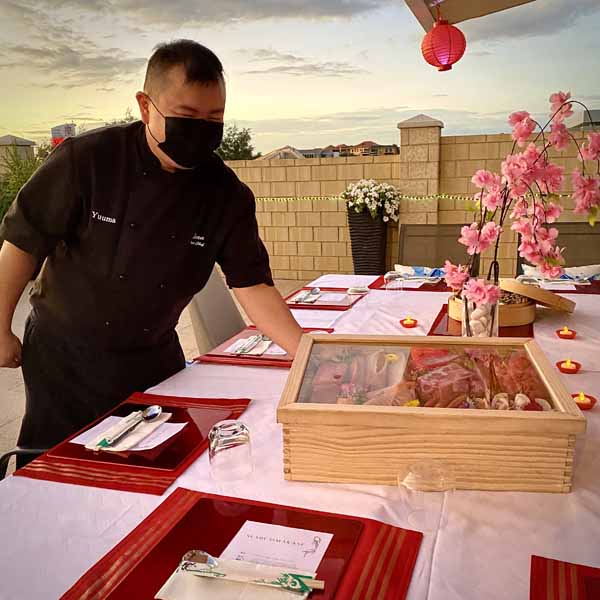 The occasion:
Eight friends schemed together to plan this fine dining experience in celebration of a dear friend's birthday. The Gangemis couple were treated to a gorgeous Perth sunset, stunning views, and a luxurious 16-course menu by Chef Sean Loke with matching cocktails by mixologist Max.
About the chef:
Chef Sean Loke is an expert in Japanese fusion cuisine, trained in renowned restaurants like Nobu. He brings a creative modern approach to Asian cuisine, infusing each menu with his own personal twist on traditional ingredients and flavours.
The menu:
Sake & Saketini
Rice cracker, kombu soy foam
Spencer Gulf kingfish sashimi, freeze-dried lychee
Rye Whiskey Dark Chocolate Old Fashioned
Wagyu tartare, black garlic, brioche
Aka miso soup, clams
Roku Gimlet
Japanese gyoza of pork & prawn
Huon Tasmanian salmon sushi, tomato salsa
Tuna sushi, vanilla foie gras, gold
Roku Martini
Hokkaido scallop sushi, creamy spicy roe
Sweet shrimp sushi, finger lime caviar
Tamago, baked Japanese omelette
Japanese-style Whisky Highball
Futari wagyu steak, wasabi jus, per-peri
Roast cauliflower, miso cream, macadamia
Mushroom pot rice, parmesan
Amazake granita, sesame seed
Mini Charlie Chaplains
Signature miso burnt cheesecake
Chocolate caramel flip
Petit four
What they said:
"It was a wonderful experience, from our contact Petko to Chef Sean and Chef Vincent, and our mixologist Max! Perth put on beautiful weather, but the boys put on an amazing experience from beginning to end. Setting up and even cleaning up! Cannot wait to do it all again. Thoroughly recommend the experience! Thank you Petko, Sean, Vincent and Max – You made our evening!"
Belated birthday dinner in Adelaide
Let's head to a cosy Home Chef in Adelaide, where family and close friends came together to share a long-awaited 21st birthday dinner over canapés and a delicious 3-course meal. This is a birthday party that's hard to beat!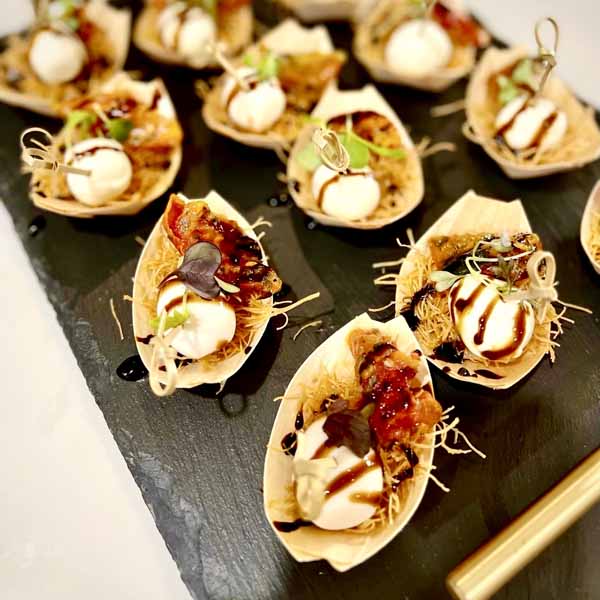 The occasion:
This dining experience was purchased by Grace to celebrate her daughter's 21st birthday. After numerous hiccups and rainchecks due to COVID, Grace was finally able to treat her daughter to fine dining with a private chef and a unique experience on her birthday.
About the chef:
Chef Wiwin Jiong has trained in fine dining restaurants all across Sydney, climbing the ladder from Commis Chef through to Executive Chef. For him, food is an art and a means of expression. His canvas is the menu, an opportunity to tailor each meal for the client and experience.
The menu:
Canapés:
Seared scallop, crisp pancetta, saffron sauce
Kataifi pastry, quail egg, tomato relish
3-course meal:
Wagyu beef carpaccio, sundried tomato, sesame dressing
Pan-fried ocean trout, dukkah, parsnip purée
Chocolate tart, meringue, berries
What they said:
"It was wonderful! Chef and Jenny were perfect, and the food was beautiful and delicious… It was so worth it. Thank you for all your hard work"
Experimental 'Indian Fine Dining' in Sydney
From Adelaide, we touch down in Sydney's Private Chef scene, where CHEFIN helped create an entirely new and innovative dining experience that would appeal to both the older and younger generations of this tight-knit family – with stunning results.
A Full Course meal menu for a family feast of 20.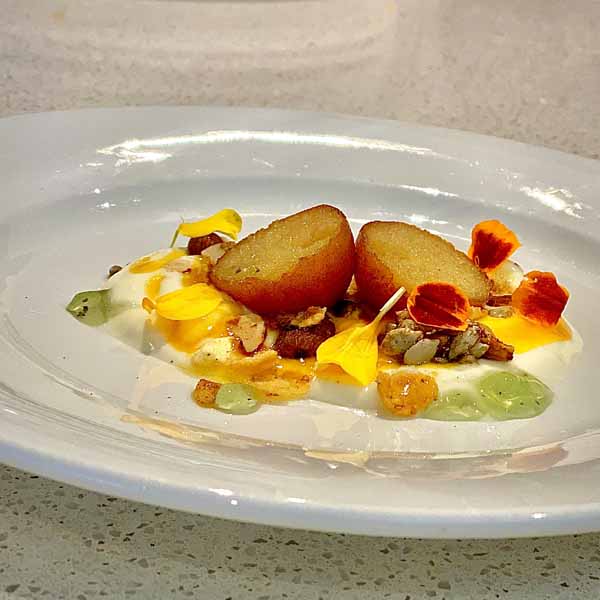 The occasion:
Vihrai wanted to organise an extravagant event for her family, bringing together older and younger generations around the dinner table. She wanted to curate a special dining experience that appealed to the tastes of the older, more traditional family members as well as the younger generations looking for a little more adventure and creativity. We worked with Vihari and Chef Sahil to create a modern 'Indian Fine Dining' menu that fused traditional Indian ingredients with French fine dining and Australian presentation.
About the chef:
Chef Sahil Sabhlok's cooking is fuelled by his travel and the joy he experiences when seeing happy faces after his fine dining experiences. Inspired by traditional Indian cooking – mum-style – and the theatrics of TV chefs, Chef Sahil serves up fine dining food with wow.
The menu:
Canapés:
Sprouted salad, tamarind semolina, puffed balls
Tempered vegetable tartlets, chimichurri
Full-course meal:
Karahi masala marinated heirloom tomatoes, bocconcini, edible flowers
Deftly spiced golden corn & potato galette, black truffle
Wild mushroom & porcini masala, green pea puree, saffron pilaf rice, flowers
Parsley & coriander pesto marinated paneer makhani, butter naan, micro herbs
Aam ka Meetha, mango cremeux, sweetened ricotta fried dumpling, freeze-dried raspberry, golden leaf
What they said:
"Chef Sahil was a hit! Thanks so much! The balance of French & Indian food was great. My family referred to it as 'Indian Fine Dining' which is exactly what I was hoping for!"
Charitable Donation dinner in Hobart
Next, we hop over to Tasmania for a full-course meal with matching wines. This multi-course spread is part romantic wedding anniversary dinner and part charitable donation. A splendid feast for a generous couple.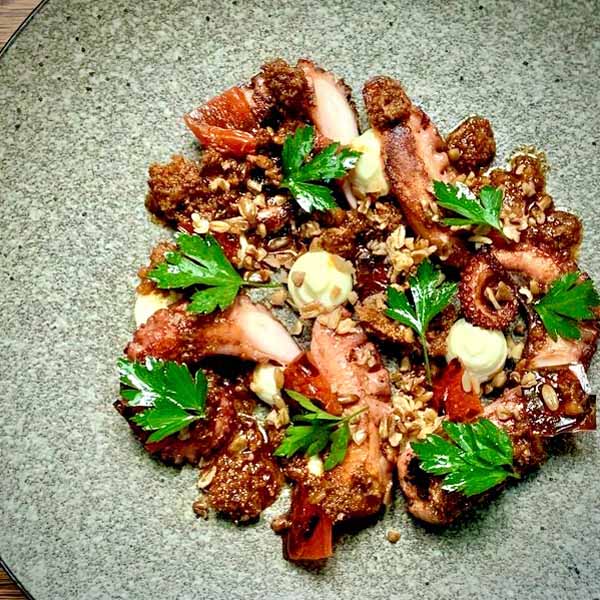 The occasion:
Cam & Suzy, owners of the Springbank Whisky Distillery in Tasmania, purchased this multi-course fine dining experience through a donation at the Variety of Chefs Gala Dinner in Hobart. A charitable donation was made to the Variety Children's Charity and Cam & Suzy enjoyed the magnificent private chef dinner on their wedding anniversary.
About the chef:
Chef de Cuisine Brendon Walter is a winner of the coveted Thierry Marx career development award, trained in a Michelin-starred restaurant in Paris, and is passionate about cooking with seasonal produce.
The menu:
Canapés:
Smoked ham hock & potato croquette, chilli & lemon aioli
Roast beetroot tart, whipped goat's curd, black garlic dressing
Full-course meal:
Tomato, strawberry & cucumber salad, stracciatella, basil, pickled shallot
Grilled octopus, chorizo, red pepper & pine nut dressing
Roast chicken breast, shiitake mushrooms, asparagus, pinkeye potatoes, forestiere sauce
Slow roasted lamb shoulder, potato fondant, minted peas, rosemary & roast garlic jus
'Black forest', dark chocolate mousse, cherry gel, chocolate crumble
Wines:
Cave de Lugny Crémant Blanc de Blancs
Devils Lair Honeycomb Chardonnay
Ninth Island Pinot Noir
Mr Riggs The Bolter Shiraz
What they said:
"Brendon was extremely professional and delivered a wonderful meal in terms of flavours, presentation and timely service".
Wedding Celebration in Brisbane
Let's fly Clear Mountain on the outskirts of Brisbane's Private Chef scene. A delightful rural setting for an intimate wedding. Chef Frederick poured his love and French heritage into a buffet-style communal dinner for a small group of 14.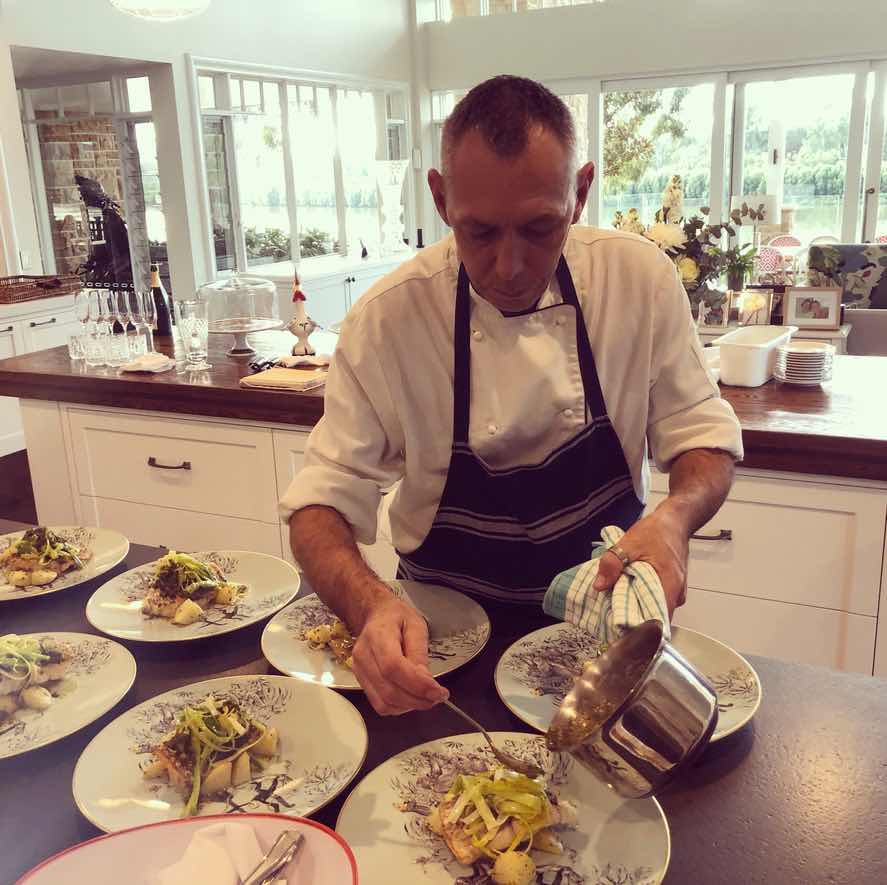 The occasion:
This luxurious dining experience was created especially for Asia and her partner's wedding celebrations in the scenic Clear Mountain. The beautiful couple and their family were treated to a Mediterranean menu served in family-style shared plates that encouraged communal dining and intimacy. CHEFIN helped the couple reach across states to plan and execute the fine dining experience for their Queenslander families, which was a success and cherished by all.
About the chef:
Chef Frederick Marechal's 35-year long career has taken him across Europe, where he worked in Michelin-starred restaurants and picked up a deep knowledge of French fine dining techniques. His cooking blends together passion, creativity, and premium ingredients for food that's unforgettable.
The menu:
Mains:
Barramundi, saffron, lemon butter sauce, couscous bed
Gnocchi, baby spinach, walnut, walnut oil, creamy ricotta
Sides:
Mixed capsicum stuffed with saffron rice, cranberry
Falafel, taboule, lettuce pitta bread, hummus
Salads:
Shirazi salad
Feta and marinated green olive salad with lemon dressing
Dessert:
Cherry clafoutis with chocolate ganache and vanilla ice cream
What they said:
"It was perfect! The food was stunning. We loved it… Chef Frederick was absolutely stellar. He pulled together a mostly vegetarian Persian/Mediterranean dinner that was delicious, we couldn't stop raving about each dish. Thank you CHEFIN!"
Engagement Party in Melbourne
In Melbourne, we have a very particular request for an engagement party menu that appeals to the traditional Chinese palates of older guests and the keen appetites of the younger generation. The result is an innovative fusion of French & Chinese cuisine, the perfect menu for a Chinese event in Australia!
A Degustation with 12 French-inspired courses menu.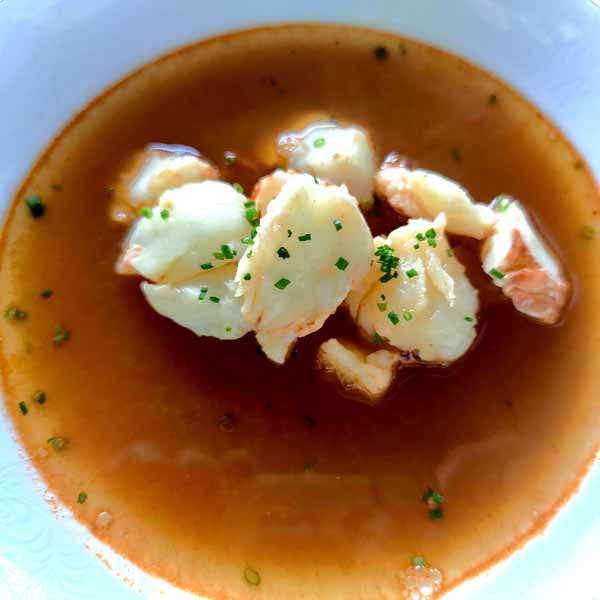 The occasion:
Tony & Alice wanted to celebrate their engagement with a luxurious 12-course degustation menu that would appeal to the tastes of all their guests – no easy feat! Half the wedding party was coming from China, with very particular palates, and the other half had a taste for fine dining and modern cuisine. CHEFIN paired the couple with Melbourne's best up and coming chef, Nick Guan, to craft a menu that appealed to all guests, creating an unforgettable engagement experience for the young couple and their party!
About the chef:
Chef Nick Guan trained in Le Cordon Bleu and has worked in renowned restaurants all across Australia. He has a remarkable ability to combine Australian and French flavours with Asian features and ingredients, creating unique dishes that have never been seen before.
The menu:
Canapés:
Cured salmon, dill creme fraiche, cucumber
Cantonese sausage, avocado, spring onion pancake
Watermelon, whipped cheese, balsamic vinegar
Tasmanian oyster, Yuzu gel
Full-course meal:
Scallop, caramelised cauliflower, tomato, prosciutto
Crispy pork belly, Chinese broccoli, heirloom tomato, sour apple glaze
Miso toothfish, tapioca, beurre blanc, chive oil
Seared quail breast, quail leg sausage, spinach, pear, pickled shallot
Coffee cheesecake, caramel, pistachio dust, poke
Grapefruit custard tart, rosé jelly, hazelnut, meringue
A reunion in the outskirts of Canberra
Our last stop is with a Private Chef in Canberra, where we hosted another fine dining experience with a private chef that was purchased in support of a charity. Peter and those closest to him gathered together for an intimate meal that was a celebration of life, love, and friendship.
Full-course meal for a group of family & close friends.
The occasion:
This spectacular 5-course meal was purchased by Peter at the Suicide Awareness Ball in Canberra. He hosted the dinner at home with his family and close friends as an opportunity to create awareness and harbour support for a charity that he holds close to his heart. Peter was grateful to have had the chance to celebrate an incredible meal with his loved ones while also supporting a cause that's important to him.
About the chef:
Chef Vaclav Vit (aka Vinnie) started his career in a French-inspired fine dining restaurant in Prague and is one of the brightest chef talents in the state today. He creates beautifully presented dishes with French-Asian & Modern Australian inspired flavours.
The menu:
Canapés:
Pickled radicchio, blackberries, beetroot
5 spice duck, beetroot, dashi
Full-course meal:
Coral trout tartare, yuzu kosho, wasabi
Burrata, pickled peach, burned peppers, XO oil
Spanish mackerel, lime beurre blanc, aburi leek, cherry tomato
18 hrs lamb ribs, mirin jus, grilled gnocchi
Custard puffs, passionfruit, white chocolate, yuzu
What they said:
"The food was amazing, the chef was superb, so much fun and patient. Took the time to introduce every dish with a room full of rowdy excited guests, all whilst providing courses on the side for our grateful daughters! Couldn't split the stunning mackerel from the divine 18-hour slow-cooked ribs and gnocchi!"
Join the tour
Feeling inspired? Let your family and friends enjoy a taste of CHEFIN's luxurious fine dining experience with personal chefs. We have numerous fine dining options to suit all kinds of occasions, from the casual to the sophisticated. Start planning your next event with us today.