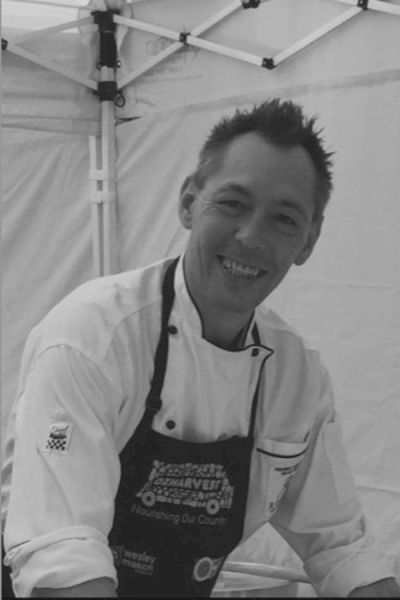 Short bio
Chef Frederick has been a chef for 35 years, working in Michelin starred restaurants across Europe. For him, cooking has always been a passion, fresh and quality ingredients drive his creations' beginning topped with an extensive experience & deep knowledge of French Fine Dining techniques. The greatest pleasure for me is to see the happy smiling faces of the dinners.
Experience rating
Talkativeness
Location:

Australia, Queensland, Brisbane, Arana Hills

Events done:

25

ID verification:

Recommendation score:

90

Insurance:

Member since:

May-2021

Food safety certificate:
Bio
Chef Frederick has trained in French Classic venues such as Belgium's Romeyer and the 3-Michelin star La Pergola. Chef Frederick is also a winner of gold (2015) and silver (2013, 2014) medals in the Australian Culinary Challenge.
Rising quickly, he became Head Chef at the 3-Michelin star Le Bel Ombra in 1996 before taking the reins at the 5-star La Place as the Head Chef a couple of years later.
The following 18 months Frederick was private Head Chef to the French Consulate of Monaco, domiciled in Monte Carlo, before relocating to Australia in 2000, at the request of the owner, to be Head Chef of La Guillotine in Sydney. The classic restaurant was once nominated by Getaway as one of the best French restaurants in Sydney. Frederick struck out on his own in Batemans Bay, operating the highly successful Chef's Cap Café for five years before moving north to Brisbane. Frederick's flair and style have also boosted the reputation of the Walnut Restaurant to exceptional heights.
After less than one year at Royal on the Park Hotel Brisbane, Frederick led his team to a Silver Medal in 2012 and a Gold Medal in 2014 at the Fonterra Restaurant of Champions organised by Fine Foods Australia. Five years later on running the kitchen at the royal on the park, Chef Frederick decided to move to a great opportunity to take in charge the kitchen at the Brisbane Golf Club classifieds as one of the best golf clubs in Qld.
Chef Frederick studied cookery at the Institute Roger Lambion in Brussels, he started working in Martin's Château du Lac Hotel, Genval, 20 minutes from Brussels. Chef Frederick then worked at Romeyer Maison de Bouche and Hoellart, La Pergola, Cavalaire-sur-Mer, before his first Head Chef appointment at Le Bel Ombra, Cavalaire-sur-Mer in 1996. In 1997 he moved to The Scotch Tea House, on the English Promenade in Nice and 12 months later was appointed Head Chef of his first five-star Michelin restaurant, La Place, Saint-Jean-Cap-Ferrat in the French Riviera.
Favourites
Chef Frederick loves his salads and his current favourite is a fresh & refreshing twist of Rocket, baby beetroot, goat cheese, balsamic reduction salad.
Cusines
Continental European
French
Modern Australian
Reviews
⭐️⭐️⭐️⭐️⭐️ Very smooth evening – problem free and very easy for the hosts

Candice

⭐️⭐️⭐️⭐️⭐️ Thank you to Frederick for making our evening a night to remember. He took care of everything and created some mouthwatering canapés while serving some delicious wines. Highly recommend the whole experience and would love to do it again.

Keven

⭐️⭐️⭐️⭐️⭐️ All very good. Everyone enjoyed the night immensley.

Raz

⭐️⭐️⭐️⭐️⭐️ amazing tasting meals and good the Chef spoke about each dish

Andrew

⭐️⭐️⭐️⭐️⭐️ Chef Frederick was very friendly and produced some lovely food on the night.

Angie

⭐️⭐️⭐️⭐️⭐️ Frederick was excellent in all respects and we would be delighted to use him again

Chris

⭐️⭐️⭐️⭐️⭐️ Fredrick and Patricia were a great team and left my kitchen sparkling, they were obliging and courteous to my guests and the food was very tasty.

Lyn

⭐️⭐️⭐️⭐️⭐️ The staff were very friendly, accommodating and the food service was great. Desert was amazing.

Tim

⭐️⭐️⭐️⭐️⭐️ Chef Frederick was fantastic to create a brilliant atmosphere. Everyone enjoyed the evening and the food to compliment the wine was awesome.

David