Who are private chefs for? Most people would say 'yes' to a private chef experience in a heartbeat. Personal chefs have all the glitz and glamour of fancy restaurants, with added privacy and exclusivity. It's like having the restaurant all to yourself, with the chef cooking just for you and your guests. You can choose what's on the menu and how you want the food to be served. You can sit back and relax with guests as someone else takes care of the food. There are so many ways that personal chefs make special occasions unforgettable experiences, but in case you need to hear more, here are 5 reasons why you need a private chef.
You want a Michelin Star restaurant experience, without being at the restaurant
Do you want the experience of being at a restaurant, without all the bits you don't like? Maybe a restaurant isn't big or private enough for your event, or not exceptional enough. Maybe you want your event to have a dish that you tried somewhere in Paris or Bangkok, but you can't find any restaurant that has it on the menu. Then a private chef is for you.
Don't get us wrong, restaurants are amazing places where memories are made around delicious food, but sometimes you want to plan an event that's like being at a restaurant, without all the downsides. No crowds and waiting, no dishes arriving at different times, and no clashing over the menu because someone can't find something they like. That's an experience only a private chef can deliver.
More flexible than a restaurant menu
If you're envisaging food for your event that a restaurant can't provide, then a private chef is your answer. More flexible than any restaurant menu you'll find around, there are virtually no boundaries to what a private chef can serve on your event's menu. Better yet, with CHEFIN you get to collaborate directly with your private chef to create a menu that's designed just the way you like it.
Get a bespoke menu with a wow factor that no restaurant menu can match. The food presentation, concept, execution, and delivery can all be customised to match your event's theme, size, and budget. Working with conflicting dietary requirements and fussy children? You'll never have to worry about a tantrum at the dining table again. Having a private chef is like walking into a restaurant kitchen and telling the chef what you want them to cook.
See some of the food experiences you can have at your event:
Scale up and down with your guest list
Too many guests to squeeze into a restaurant? Nobody wants to plan an event where people spend an hour waiting at the dining table hungry. If it doesn't suit your event scale, theme, or guest list to be at a restaurant but you still want high quality chef-made food, then a private chef is your answer.
Personal chefs are trained to prep, cook, plate up, and serve meals to enormous guest lists. Unlike at a restaurant, your guests are free to mix and mingle away from the dinner table until the food is ready – and you'll be guaranteed that everyone will be fed on time.
On the other side of things, maybe you want a private restaurant experience for small guest lists. It's far too costly to book out an entire restaurant if you're planning a private meal for 2-4 people, but you can replicate the experience with a private chef. We have no minimum guest numbers when hiring a private chef – if you want a private experience, you'll get one.
We've worked with guest lists of upwards of 1,000+ and our services can be scaled up or down to reflect the size of your event. That not only includes the food, but also other services we offer like drinks, wait and bar staff, DJs, photographers, and equipment.
Fine-dine like a celebrity, in the privacy of your own home
Enjoy the experience of eating at an exceptional restaurant without having to worry about being on your best behaviour. Sometimes you want to let loose and relax with your guests in privacy, and a restaurant is far too public of a place to feel comfortable. We also understand that some people may feel watched or judged while eating at fine dining restaurants, and that can detract from the otherwise amazing food.
Instead, let us send a personal chef to your home or private venue, where you and your guests can dine in and enjoy a private restaurant atmosphere. Our chefs value your privacy and won't make you feel watched or even noticed if you don't want to. Eat as slow as you want, talk as loud as you want, and enjoy yourself without feeling like anyone's watching.
Feel like you're the only guests at the restaurant
With a private chef, you and your guest list are the only guests at the restaurant. You have complete attention of the chef, and there's nobody else around making noise or holding up your dessert from arriving. On the other hand, great restaurants are usually busy, which mean crowds and loud noises that can be distracting when you're trying to celebrate a special occasion. With CHEFIN, you get to choose the restaurant's menu, know the chef, and feel the luxury of being the only guests at the restaurant.
You can control the atmosphere
A restaurant could have the best food in the world, but if the atmosphere doesn't match your event or occasion then it won't cut it. What if you could have the restaurant experience and choose the atmosphere too? Hiring a private chef is like setting up your own restaurant, but better. You'll get complete control over the atmosphere, music, lighting, decor, and experience – with all the five star food and service of being at a restaurant. How's that for a bespoke event experience?
Know your chef
If you want a real fine dining experience, then you want to know who your chef is. You want your food to be personally served and introduced by the hands that made them, you want to know why they chose the ingredients that they did and what inspired the dish you're about to eat. A private chef lets you have an intimate dining experience where you can actually know your chef and who they are.
With CHEFIN, you'll know you'll be getting Michelin-worthy food because our team of incredibly talented chefs have all been handpicked for their ability to serve high quality food. They have decades of experience in the world's top restaurants, and all have been vetted, profiled, and certified with reliable reviews from previous clients. You'll get to know exactly who you're working with from day one and enjoy the pleasure of seeing how their unique personality is infused in the food they make.
You value socialising over cooking at events
Being a host or hostess is extremely fun – but also extremely tiring. If you find that you're always spending the lead up to events and occasions frantically worrying about food and dreading the work involved, then a private chef is almost certainly for you.
No more spoiling special occasions and events with the stress of planning, shopping, and cooking. Put an end to being stuck in the kitchen while everyone else is having fun and delegate all the hard work to a private chef. You shouldn't have to miss out on making memories just because you're busy hosting and trying to make sure everyone's having a good time! You should be socialising instead of stressing, and a private chef is your secret to an event that's fun and stress-free.
Picture your next big event of occasion – like Christmas – except this time there's no stress trying to organise food, canapes, and drinks for everyone. You spend the lead up peacefully anticipating all of the fun you'll have with your friends and family instead of worrying about food. During the event, you welcome your guests and sit back with a drink in your hand, knowing food is taken care of. You're excited with the smells that are wafting over from the kitchen and can't wait to see what your private chef has made. After the event, you're free to snooze as we clean up the mess in the kitchen.
There are so many ways that a private chef can offload the stress of hosting an event, from beginning to end. Here are just some examples to get you thinking about how much easier event hosting can be when someone else is doing all the work…
No stress about feeding lots of mouths
Cooking for large guest lists is not easy. If you're prone to second-guessing yourself and constantly stressing about whether there'll be enough food for everyone, you're in good hands. What distinguishes a top chef from a home cook is the ability to do the maths and design menus that are catered to the size of your guest list. No more wasting food because you overestimated, or feeling bad because people had to walk away hungry. Give your chef the guest numbers, and they'll know how much to make.
Make sure all dietary requirements are catered for
Everyone is on their own individual diet these days, and that can make event hosting a nightmare. Don't worry about having to find meal substitutions and alternatives to make sure everyone goes home satisfied, just offload the stress to your chef. Private chefs are well-versed in catering for all sorts of diets and food allergies, and they can easily design a menu that either appeals to all your guest's tastes and diets, or offer substitutions that don't make anyone feel like they've missed out. There'll be a delicious option for everyone, and you'll never have to worry about a thing.
No time wasted shopping or prepping
Shopping for food is one of the biggest sources of dread when it comes to event hosting. Supermarkets aren't exactly fun, and neither is having to go back and forth because you forgot an ingredient or someone just told you that they were vegan. And that's just one other part of your event stress that you can offload to your personal chef.
Let your private chef do all the shopping and prepping before your event, so you can spend more time planning other (more fun) aspects. No more stress about shopping lists, what to buy, and how much to buy, just a whole lot of relaxing as your chef shops for fresh, locally sourced produce and high quality ingredients from the markets.
Actually socialise during your event
Had too many events go by in a blur and you barely remember talking to any of your guests? Hosting can be lonely, and it can feel stressful being the one working behind-the-scenes while other guests socialise and make memories together. Try actually being a guest at your own event and let your private chef take care of all the hosting business. Free your mind and socialise while knowing that all the food is being cooked, table set, and you don't have to worry about a thing. You won't even have to think about food until it's time to eat, and how liberating of a thought is that?
Join the after party without a worry
It's not fun to miss out on an after party because you have to clean up the mess in the kitchen. With a private chef you not only free up time before the event, but after the event as well. We take care of all the cleaning up in the kitchen, so you can feel free to join your guests and continue the celebrations. And if your idea of an after party is heading off to bed without cleaning up the kitchen, then you can do that without a single pang of guilt.
Let someone else plan your whole event
Starting to like the idea of hosting events without having to actually do anything? Well, our services don't just stop at private chefs. With CHEFIN, you can also offload every single aspect of your event planning so you don't have to organise a thing. Besides sensational food from your private chef, we can also organise venue hire, decorations, DJs, photographers, wait and bar staff, and anything else you might need for your event. The only thing you do need to do is tell us your ideas and budget, and we'll take care of everything else.
Feel like a celebrity at your own event
Be your own VIP, because why not? Feel like a celebrity as you host an amazing event without having to lift a finger. You can mix and mingle with your guest list, join conversations, and sit back and enjoy the luxurious foods and service from our private chefs. You'll be sure to impress guests with your newfound social status: a VIP who throws incredible dinner parties and relishes each moment without having to do any of the hard work. You deserve it!
You're a foodie who wants the best food experiences
If you're food-obsessed and can't get enough of experiencing new flavours, trying different dishes, and seeing how food is made, then a private chef is your dream come true. You get the chance to collaborate on a menu, melding your own unique ideas with a chef's expertise. You can have a live cooking show experience right in your home, watching your chef as they prep, cook, and plate up your meals. And you get the chance to be up close and personal with an experienced chef with worlds of knowledge about food and what it's like to work in a restaurant kitchen. Ask questions, hear stories, and feed your inner foodie. With a private chef you can immerse yourself in the world of food and experience a food journey that's designed just for you.
Get insight into a restaurant kitchen
Always wanted to know what it's like to be inside a restaurant's kitchen? When you hire a private chef you get a VIP peek into a restaurant kitchen, as well as the chance to interact with the chef and ask questions. You can't even see the chef working at a restaurant most of the time, let alone engage with them! With a private chef, you have the chance to know the person behind the food you're about to eat, what drives them, and where they find their inspiration for the food they create. Watch as they infuse their soul and passion into the food they're preparing, and hear interesting stories about their journey with food and what it's like to work at a restaurant.
Have some questions you've been dying to ask a chef? Ask away. Learn cooking tips and tricks and get advice on perfecting that recipe you've been trying to make. Find out industry secrets from top chefs who've worked all over the world, and pick up new recipes and tricks to share with your friends and family. Learn about obscure ingredients, food trends, and how you can plate up your food to look like a work of art. The experience is up to you.
Try food you can't find anywhere else
Every foodie has a list of obscure foods they've always wanted to try. It could be something you tried overseas, saw on TV, or read about in a magazine. It could be a dish you saw at a top restaurant on the other side of the world, that you know you'll never have the chance to try. It could be a dish you read about in an old book that simply doesn't exist anymore. Whatever it is, you can ask your private chef to recreate the meal for you. You no longer have to feel limited by the options available at restaurants and caterers around you – you can decide what's on the menu.
Part of the CHEFIN process is collaborating with your chef to create a menu that infuses your ideas with their creativity and expertise. That means you can see your foodie visions come to life and try all those meals and dishes you never thought you'd be able to find.
Learn alongside a top chef
If you're the type of foodie who wants to know everything there is to know about food and cooking, a private chef is your chance to learn from the best. Besides having the opportunity to interact with your chef and ask them questions and tips while they're cooking for you, you can also take part in private chef-led workshops and cooking classes. It's the best way to get hands on experience learning new recipes from different cultures and cuisines.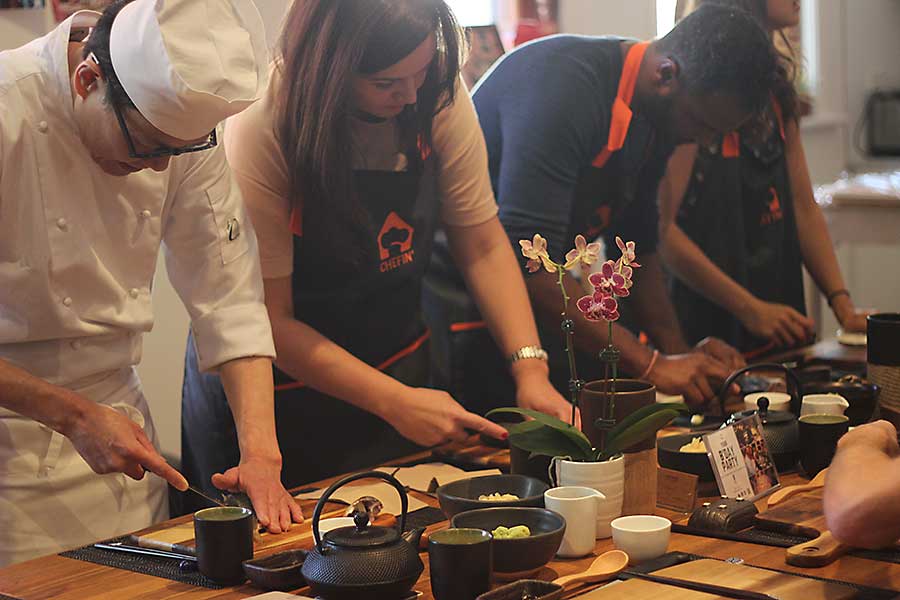 $225.00
FINE DINING COOKING CLASS WITH 2 COURSE MEAL
Some of the cooking classes and workshops our chefs offer include pasta and pizza making, cooking with edible flowers, dumpling making, and perfecting your BBQ secrets. Want to make things a little playful and competitive? Ask your private chef to deliver a 'cook off' experience where you can compete against your friends and family to make your newly learned recipes.
See our fine dining cooking class + 2 course meal package:
Impress other foodies
Maybe you're not the foodie but your guests are, and that means pressure! Foodies are connoisseurs who know what they like and what they don't like when it comes to food. They know a high quality ingredient from a mediocre one, and they can tell how much effort and skill has gone into making a dish. If you're hosting an event with a guest list full of foodies who've wined and dined at the nation's best restaurants, then you know you need to deliver something exceptional. And that's exactly what private chefs do.
Whether you're impressing clients or just want to impress your die hard foodie friends, you can expect five star food and service from your private chef. With experience at top restaurants all over the world, our private chefs know how to deliver a meal that'll impress even the most hardcore foodies you know. You'll be guaranteed a meal that's cooked and served to an exceptional standard, leaving everyone walking away satisfied.
Ask your chef to recreate these dishes from the world's top 5 restaurants
Experiment with new food trends
What if you could try the latest international food trends before they even made it to Australian restaurants? Foodies want to be the first to try all of the latest and greatest, and a private chef is your ticket to tasting the hottest new food trends before everyone else. Firstly, private chefs have much more freedom to experiment, innovate, and get creative with their menus. This means they can incorporate the newest ingredients, techniques, and trends faster than most restaurants can draw up a new menu design. Secondly, as part of the menu creation process, you have the chance to tell your chef if you want to try any new food trends. Don't forget, your private chef is here to make your foodie dreams come true, whatever they may be.
Impress corporate clients with food that's ahead of the trend
You want your event to have an extra 'wow' factor
Sometimes you're hosting an event that demands something a little more than just sandwiches and standardised menus. Maybe it's a wedding, conference, or gala that you want to stand out in people's minds and have heads turning. In that case, your food needs to carry the same 'wow factor' as the rest of your event – and that means something a little different from the usual event catering. Enter private chefs, who deliver sensational food that's creative and as exceptional as all other aspects of your event. There are so many ways that private chefs can add an extra wow factor to your event, from the quality of food and menu customisation to the live cooking experience. Here are just some examples…
Personal chefs are a new experience
For most people, the experience of a private chef is entirely new and unusual in itself. Most people don't have private chefs and haven't had the chance to be served food by the hands that made them. So having a personal chef create, cook, and serve the food for your event already adds a unique edge that stands out in people's minds.
Give your guests a sense of excitement knowing that they'll get to taste a one-of-a-kind menu designed just for the event. Let them anticipate the experience of seeing a private chef in action, and the luxury that comes attached with that. All of these different aspects of the private chef experience will make your event a lot more fun and memorable for your guests.
Get a bespoke menu, just for your event
What's more exclusive than having a chef design your event's menu? All of your guests can feel like their tastes and dietary requirements are cared for, and you get to choose a menu that mirrors the theme or grandness of your event. If you're hosting a special occasion for someone you love, you can design a menu that's full of all their favourites. If you're celebrating a cultural event, you can choose a chef who's well-versed in the cuisine you want to eat. If it's creative, artistic food you're after, then let our talented private chefs serve some truly Instagrammable meals that are better than you could have imagined.
Here are some ideas on how you could have your menu customised:
Showcase a particular cuisine or food from different regions of the world,
Let your menu follow a theme (e.g. Halloween, Graduation),
Follow a particular diet (e.g. keto, vegan, halal),
Showcase a particular ingredient and use it differently for each course (e.g. chocolate, pumpkin),
Use particular colours throughout your menu (e.g. event theme colours, pink foods),
Choose a certain cooking style (e.g. rustic food, modern food).
Enjoy a dining experience like no other
It's enough to have food that's different, but what if you also wanted the experience of eating to be different than usual? Consider one of our interactive dining experiences, designed to take guests on a food journey that's like no other. Led by our private chefs, these journeys use food as the foundation for a communal experience that brings guests together. The idea is that guests won't just sit down and eat their meal quietly – they'll be engaged in a shared experience of eating that's a little different from normal. Food journeys can be as simple as making your own tacos at a DIY taco stand, but our two most popular dining experiences are:
Blindfolded dinner: Add some intrigue to your event with this multi-course fine dining feast that's eaten completely while blindfolded. Guests will be given a blindfold at the beginning of the meal, and as each course is served, must try to guess the ingredients used. After everyone has had their guesses, blindfolds come off and the chef will reveal the mystery dish. This is a fun and engaging dining experience that spikes the senses and has guests competing to see who has the sharpest taste buds.
Taste of the World journeys: These multi-course feasts are the perfect chance to try foods from abroad. Your guests will be taken on a trip around the world, sampling dishes from different regions of 10+ different countries. Each dish will be introduced by your private chef, who will share the history and ingredients behind the dish. If you want to explore particular countries or regions, we can cater to that, or we can choose the cuisine and surprise you!
Food that's artistic and creative
Our private chefs don't work in restaurants because they don't want to feel restricted with the food they create. They want to get artistic, innovative, and design amazing dishes that people will remember forever. So the food you get when you hire a private chef will always be driven by passion, fuelled by creativity, and infused with the spirit and character of the chef. That includes all aspects of the food, from ingredient selection to presentation and how the food is served.
If you want to try molecular gastronomy, be served food that looks like objects, or deconstructed meals that are eaten in fresh and inventive ways, your private chef can do that. To give you an example, this is a spooky menu one of our chefs created for a Halloween party. The food is creative, tailored to the event's theme, and gets people talking – not to mention absolutely delicious.
Read the full article: 5 Spooky Dishes We've Made for Halloween
Give guests a taste of luxury
Private chefs are synonymous with luxury, comfort, and wealth. If you want to spoil your guests with the feeling of exclusivity and being well looked after, a private chef is the way to do it. Pamper your guests and let them enjoy the unique experience of being catered for by a top chef. Private chefs will put your guests at the centre of the dining experience, personally serving and introducing each dish to the table with impeccable service. They'll feel good, and you'll look good for offering such a high quality food experience.
It's the safest way to dine in a COVID world
We've got to mention this one. In an age where outdoor dining is becoming less favourable and more restricted, hiring a private chef is the best way to enjoy your favourite restaurant experiences safely. 2021 is the year of practising safety – safety in food, event safety, safety in socialising – and it's much safer to dine at home than outdoors in a public space. Hiring a private chef not only means you can replicate a restaurant experience indoors, but you have more control over the safety aspects of your event.
You know where the food came from
Working with a private chef gives you control over where you source your food. If you don't want to eat imported foods, you can choose not to. You'll know exactly where each ingredient has come from and can make the decisions yourself rather than leaving it up to an unknown entity. On the other hand, when eating at a restaurant you have no idea where they have sourced their foods and how thoroughly they have been washed and cleaned. And these days, why leave it up to chance?
You know who is cooking the food
If you want your private chef to wash their hands ten times before cooking and wear a mask the whole time they're in the kitchen, they will. You get a say in how safe you want the cooking process to be and you'll be able to glimpse into the kitchen anytime. For most restaurants, the kitchen is a mystery – how it looks, who is working there, and how thoroughly they have washed their hands can all be left up to the imagination. With a private chef you can guarantee the food is being prepared as per your cleanliness requirements.
It's just you and your guests
With your private chef restaurant experience, there are no guests but the ones you have chosen to invite. This makes for a safer dining experience overall as you don't have to worry about keeping your distance from strangers – you know exactly who you're dining with and whether they measure up to your safety and cleanliness standards. Many people are afraid to dine outdoors these days – especially those with elderly or immunocompromised family members – and hiring a private chef lets you and all your family enjoy the restaurant experience in safety.
The future is intimate dining experiences in private spaces, guaranteeing safety and peace of mind for you and all your guests.
You probably don't need any more reasons
The myriad of excitement, fresh flavours, and innovation that a private chef can bring to your event speak volumes. If you want to try a food experience like no other, get in touch with our team now and tell us your ideas, budget, and needs. We'll connect you with the best private chef for the job so you can start planning your menu. And if you need help with other event aspects, like venues, decorations, and wait staff, we can take care of all of that, too.
Get ready to treat your guests to dining that's truly memorable.