The Ultimate Guide to Australian Cooking & Traditional Australian Food
Trying to define Australian cuisine isn't always easy. Sure, we have meat pies, lamingtons, and pavlova, but there's so much more to our cooking than that. While we don't have a traditional dish or native ingredients that define our food, in recent years we have started to forge a distinctly Aussie food culture, and it's on the rise.
The growing national interest in cooking and dining has put food in the spotlight, and with that, we're starting to carve out our own unique twist on cooking. Aussie chefs are taking inspiration from our colonial history and multiculturalism, fusing them with native ingredients and the unique culture we've forged as a nation. The result is food that's distinctly Australian.
Influences on Australian cuisine
Indigenous Australians have been living in this country for tens of thousands of years, feasting off the land and our native flora and fauna. Still, when the British settlers arrived, they did little to learn about the eating habits and ingredients of Australia's native people. In fact, they were completely oblivious to the plentiful foods Australia had to offer.
English seafarer William Dampier wrote in 1697, "The earth affords [Aboriginals] no food at all. There is neither herb, root, pulse nor any sort of grain for them to eat that we saw". With no sign of 'Australian' foods to eat, the colonisers turned back to their British roots for cuisine and native cooking took a backseat for a couple hundred years.
Recently, Aussie chefs have turned back to Indigenous bush tucker and native ingredients as a source of inspiration. With a whole country's worth of ingredients to discover, the return to using native ingredients and adopting Indigenous food practices is starting to help pin down a uniquely Australian cuisine. Until now, though, the influences on Australian cooking have come from all over the world.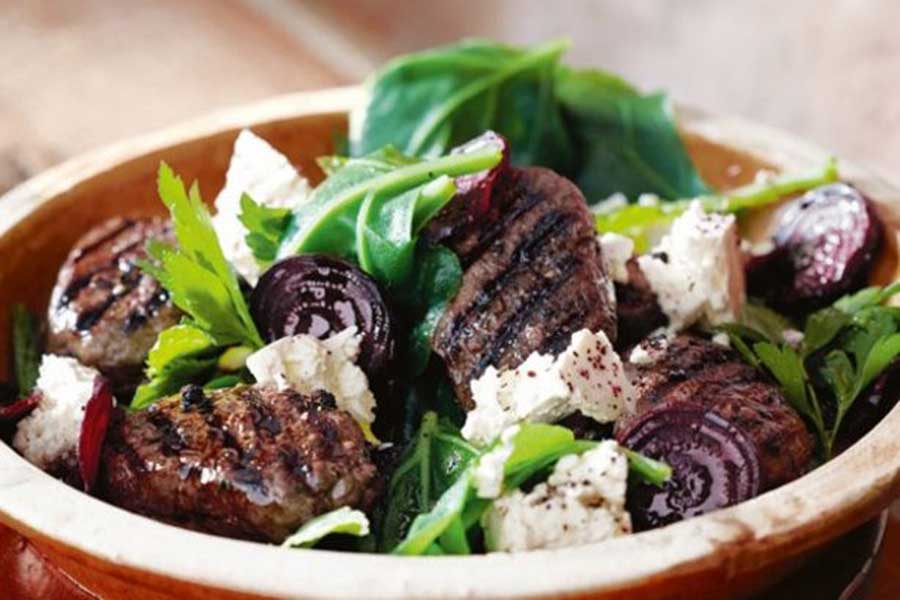 1. The British influence
When the British landed in 1788, they'd already considered Australia to be a barren land with nothing to offer in terms of food. So they brought along their own traditional foods and ways of eating, forming the foundation of Australian cuisine. Back then, a typical diet consisted of bread, salted meat, oatmeal, cheese, dried peas, tea, and spirits. It was non-fussy British food that did the job, but not necessarily exciting.
During the early settlement period, labourers were given food rations of 4.5kg meat, 4.5kg flour, 1kg sugar, and 100gm tea on a weekly basis. With these humble ingredients came the classically Aussie damper, eaten with a slab of meat and some billy tea brewed with a gum leaf. Humanitarian and social reformer, Caroline Chisholm, made the most of these rations and published a set of recipes with seven different ways of combining the meat and flour. These foods were the first sign of uniquely Australian cuisine and carry hints of a unique emerging culture.
As agriculture boomed within Australia, people had a wider range of ingredients to work with and cooking became more popular. Aussie cookbooks were dedicated to using the few ingredients we had to create meals like shepherd's pie, Irish stews, and roasts on a Sunday. Based on traditional British & Irish recipes, these foods became staples in most Australian homes. Today, we can thank the Brits and Irish for our love of the meat pie, a good cuppa, biccies, and the Sunday roast.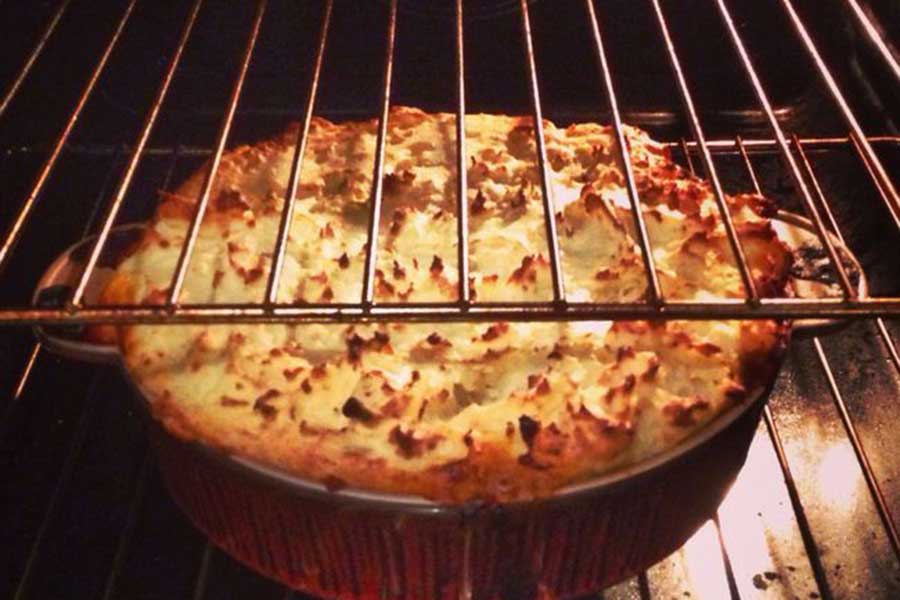 2. The migration influence
The real changes to Australian cooking came with its many migrants, introducing new ingredients and flavours to the nation. The Gold Rush of 1851 brought with it an influx of Chinese immigrants to the country. Today, there's an undeniable Asian influence in modern Australian cooking, whether it's in restaurants or in our homes. We can thank the Chinese for introducing Yum Cha and inspiring Melbourne's own dim sims, while the rest of Asia has the country obsessed with sushi trains, Thai food, and banh mi.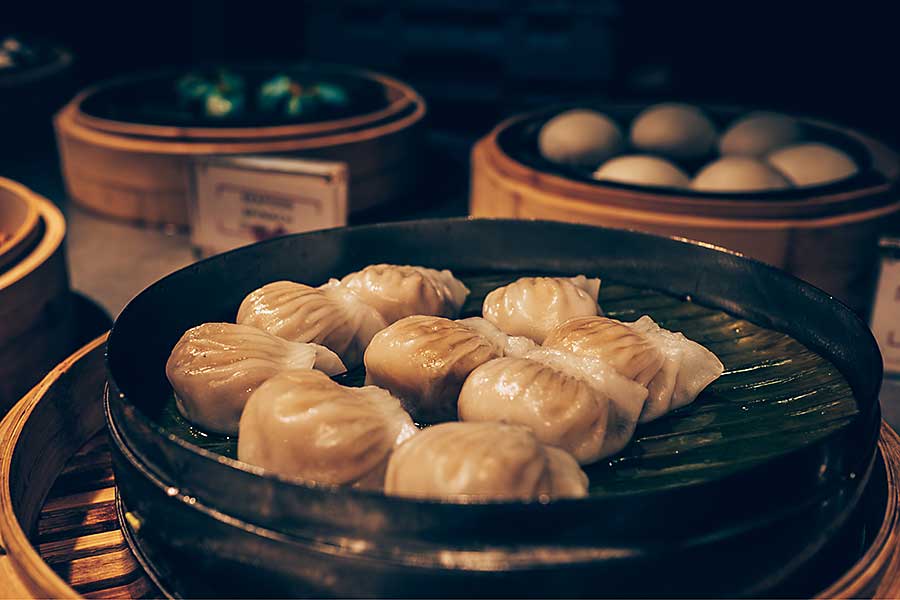 The post-war migration from Europe and the Mediterranean had an even larger influence on Australian cooking. The country became home to big communities of Greeks, Italians, Turks, and Lebanese, and each introduced their own flavours and food culture to Australia. We discovered capsicums, garlic, eggplants, zucchinis, pastries, and pasta. We can thank these communities for Australia's love of coffee, spag bol, good wine, hommus, and the late night kebab.
Continuous migration to Australia has made us one of the most multicultural nations in the world, and you can see that in our cooking. Our supermarkets are packed with diverse ingredients from every inch of the globe, and being so experimental, our country is open to trying new and different things. Modern Australian cooking is a melting pot of influences, flavours, traditions, and cooking techniques from around the world coming together on one plate.
3. The Aussie chef and cookbook influence
Australia's multicultural communities may have introduced their native ingredients and dishes, but they didn't just fall into popularity straight away. It was Aussie chefs and cookbooks that helped spread the knowledge to households everywhere. Before Australian supermarkets blossomed into the wonderfully diverse stores we see today, it was hard to find things like lemongrass, coriander, and Greek yoghurt at your local.
People didn't know what those ingredients were, let alone how to use them! And so began the cookbook revolution, led by daring Aussie chefs who were learning to use these new and different ingredients. Charmaine Solomon introduced Asian basics to the country, Margaret Fulton taught us all about eggplant and asparagus, and Maggie Beer, Donna Hay, and Stephanie Alexander all played their part in defining Aussie cooking at home.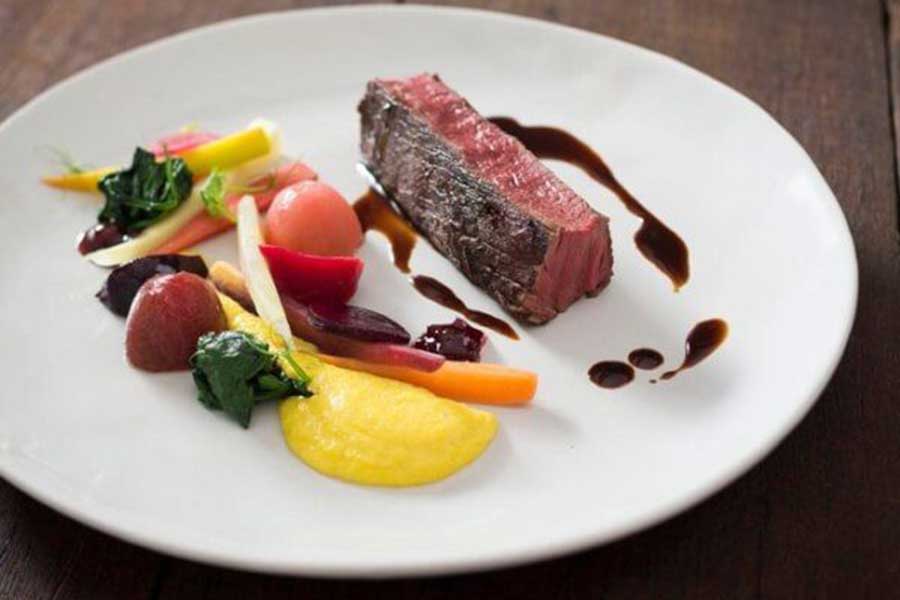 Native Australian ingredients
We're just now starting to discover the wonderful world of new herbs, spices, fruits, vegetables, and grains available to us in our own backyard. The food the Indigenous Australians have been eating for millennia before settlers arrived is finally making a comeback, and it's filling the gap that was missing from traditional Australian food and cuisine this whole time.
7 delicious native Australian foods to get to know:
1. Finger Lime
2. Kakadu Plum
3. Lemon Myrtle
4. Quandong
5. Sea parsley
6. Snowberries
7. Warrigal Greens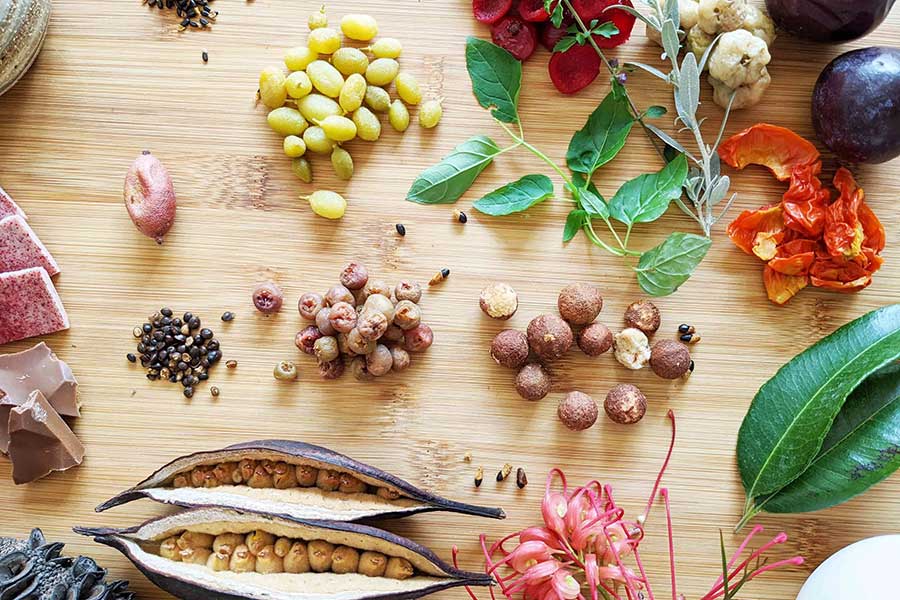 First, we started experimenting with kangaroo, emu, and crocodile. It was wild, but us ever-so-brave Aussies gave it a red hot go. These meats are now more popular than ever before, kickstarting the native ingredient revolution. Now, we're seeing native Australian ingredients used in restaurants more and more. Chefs are introducing new flavours, fruits, and ingredients that exist right here in our backyard. It's reshaping the way that we look at the country around us, and the way we view Australian cuisine.
World-renowned Noma chef Rene Redzepi recently hosted a pop-up restaurant in Sydney, featuring a 12-course degustation made entirely from native Australian ingredients. He popularised a wide spectrum of flavours we never knew we had in this country, including Mat-rush, wattleseed, desert oak seeds, fermented kangaroo, lantana, sandpaper fig, bunya nut, green ants, and more.
Having our eyes open to a whole new world of ingredients that are available at our doorstep is exciting. If you thought you'd already experienced the full spectrum and flavours that food had to offer, there's a whole new world waiting out there. With the turn to native ingredients in our cooking, we're putting together the final pieces of the traditional Australian food puzzle.
Iconic Australian foods
We can't write an article about traditional Australian food without mentioning the iconic foods that form a part of our culture. These foods are the backbone of our nation, the foods we grew up eating, our comfort foods, and foods that are exclusively ours. No British or multicultural influences, just straight up Aussie classics.
We'll start with vegemite, and next in line are the chicken shop snacks. You know the ones: Chiko rolls, dim sims, potato scallops. There's nothing more Australian than the local chicken shop and all its deep fried snacks, always sprinkled with a generous amount of chicken salt. Of course, you can't forget the meat pie, sausage rolls, and beets in burgers.
And then there's dessert! Lamingtons and pavlova, our beloved Anzac biccies, and Tim Tams. Golden Gaytimes and Zooper Doopers, corner shop lollies, and Killer Pythons. They might not be fancy, but they're all classically Australian. A cooking genius will know how to take elements of these foods and turn them into something spectacular and undoubtedly Australian.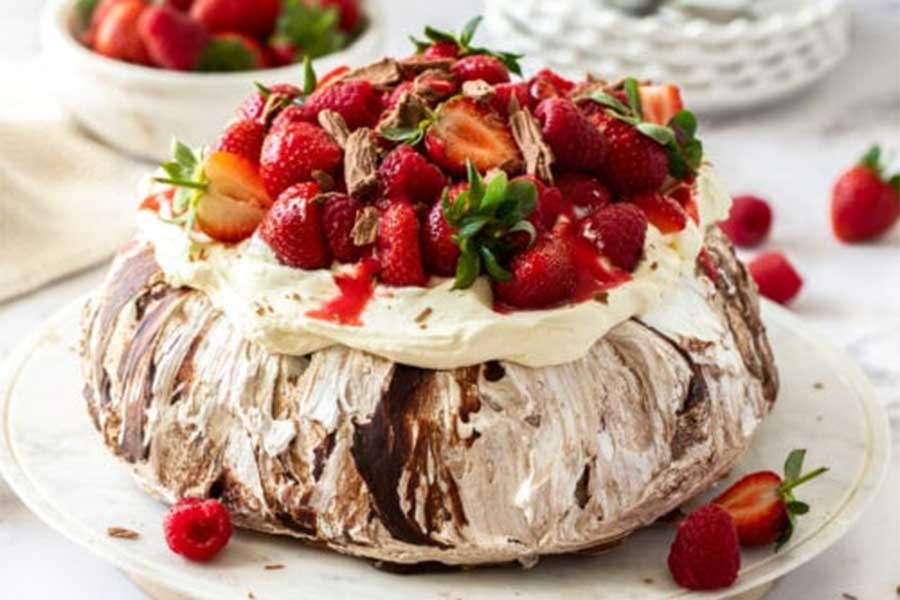 Aussie eating traditions
A country's food is defined by its culture, and us Aussies have a few eating traditions that we've made our own. Famously laid back, we like to chill out and socialise with friends around a good meal. The sunny weather means Australians are free to eat outdoors, and the combination of all the above has helped define our Aussie eating traditions.
The sausage sizzle
If you're stuck on how to describe traditional Australian food, you'll likely go with BBQ or sausage sizzle. And the term sausage sizzle is all ours, so we're using that. A sausage sizzle is the best kind of food gathering, suitable for everywhere from homes to schools, sports matches, the beach, markets, and Bunnings. There's nothing so simply Australian than frying up some onions and snags, chucking them in some bread, and squeezing tomato sauce all over the top.
Pub grub
The good weather and chilled attitude of our nation mean that pubs are just as good of an eating option than restaurants. And menus of pubs everywhere are filled with the same old classics that keep Aussies coming back. What's more Aussie than kicking back in a beer garden with a chicken parmy or steak with mushroom sauce? Some salt and pepper calamari or a classic schnitty? Pub grub is hearty, heavy, and typically a throwback to the British influences on Aussie cooking (though that's fast changing).
Aussie cafe culture
Head to any other country in the world and you'll notice a distinct absence: Aussie-style cafes. We've probably got Melbourne to thank for this, but Australian cafe culture has its own distinct vibe that sets it apart. The fact that you can head to a cafe to get just a coffee, a pastry, or an entire lunch meal is what makes Australian cafe culture so great. Best of all, cafe menus are constantly evolving thanks to talented chefs who aren't afraid to experiment and be daring.
Australian cuisine is finding itself
So, what is Australian cuisine? People have called it a blend of European technique and Asian/Mediterranean flavours, but it's so much more than that. When it comes to food, Australians have always been open to experimentation, adaptation, and innovation. We've taken ingredients from all over the world and combined them on a plate. We've taken that foundation of British cooking and fused it with techniques and flavours from other countries. And now we're combining all those elements with native foods from our own backyard.
Australian traditional food is the result of Australian history. It has a foundation of British cooking from the settlers, with Asian and European ingredients from migrants. There's that cheeky throwback to our iconic foods of lamingtons, pavlovas, and meat pies – dishes that will continue to be reinterpreted over and over. And there's the unique homage to native Australian ingredients on the rise, a testimony to our increasing recognition of Indigenous Australians. Add some great weather and easy lifestyle, and you've got yourself a recipe for distinctly Australian cuisine.
Want a taste of traditional Australian food? Our Taste of Australia degustation combines native and foraged ingredients to deliver an authentic Aussie food experience, curated by an Australian Private Chef.