Analiese Gregory is known amongst her friends for doing daring and ridiculous things for food. She could be jumping off rocks in southernmost Tasmania to dive for abalone, or scaling seaside cliffs for seaweed to make seaweed jam. She's known for her 'charcuterie closet', her walk-in-wardrobe that has the perfect dark, cold, and humid conditions for curing meats, and doing crazy things with food – like making ice cream out of Jerusalem artichokes.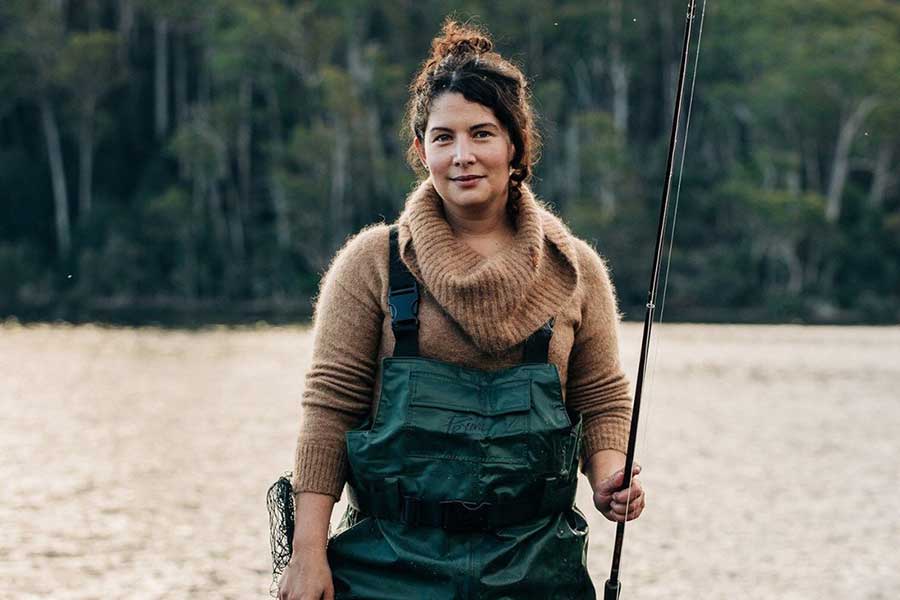 But it's this dedication to sustainable cooking and unmatchable curiosity for cooking from the wild that makes Analiese Gregory one of the most intriguing chefs of her generation, and maybe even the world's best chef.
From haute cuisine to farmhouse living
Analiese Gregory hasn't always been this passionate about cooking from the wild and innovating with unique ingredients. She started her food journey by moving to London at the tender age of 16 to work for her father, an executive chef. Since then, she has travelled all over the planet with gigs in some of the world's top kitchens and working with the world's best chefs. She's worked in London's iconic restaurant, The Ledbury, and under renowned Michelin-starred chef, Michael Bras, in his eponymous restaurant in the south of France. She had a stint at Sydney's celebrated Quay restaurant and travelled to Morocco and Basque country to hone her skills and learn new and exciting cuisines.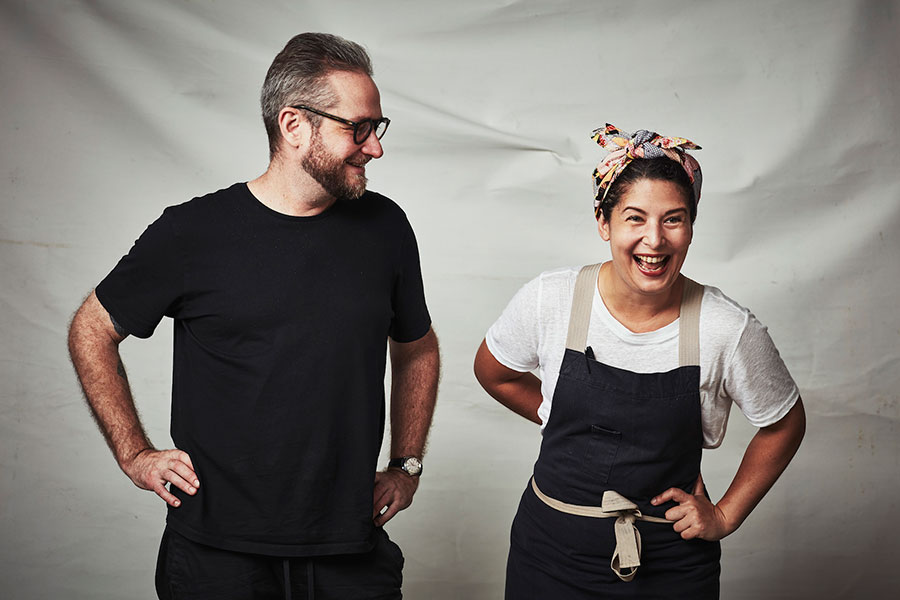 The curiosity was there from a young age, but the edginess, the daringness, the interest in sustainable cooking and foraging from the wild was yet to be developed. It was during her time with Michael Bras in the south of France that Analiese Gregory first got a taste for foraging. She would climb trees to gather fresh hazelnuts for the night's specials, and this awoke something in her that lay dormant for years before unleashing into full-blown chef anarchy. "I went from doing things with induction and steam and everything being super-precise to just like throwing stuff into a giant fire and seeing what happens", she tells Associated Press.
After a nomadic life working in kitchens with the world's best chefs, Analiese Gregory relocated to Tasmania, way down at the bottom of the world, to an old farmhouse on a 2-acre block in the Huon Valley. It was in this environment, surrounded by unbridled nature and all-consuming wilderness that she really let herself throw away the precision and throw herself into the world of sustainable cooking.
Diving, hunting, fishing, and foraging in Tasmania
In Tasmania, Analiese knows first-hand where almost all of her ingredients come from. And that's mostly because she's grabbed them by her own hand. Whether it's gathering saltbush, hunting wallaby and possum, fishing for flounder, or diving for abalone, Analiese has gone all-in with the world of sustainable cooking and feasting from the wild. "I moved to Tasmania and started cooking in an entirely different way", she says. And what freedom that invites! If you thought a fully equipped kitchen was your gateway to culinary freedom, you haven't seen the marvellous creations Annaliese whips out of nature.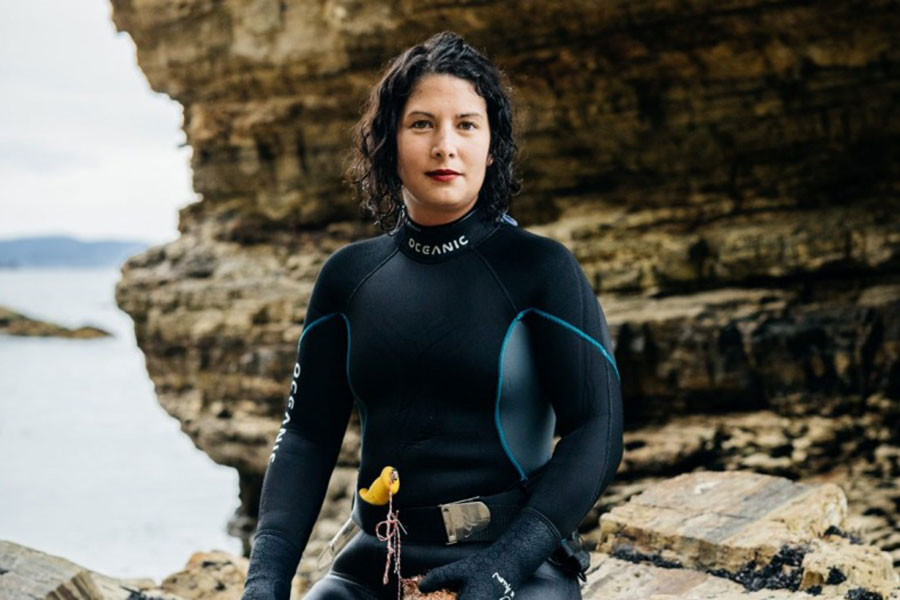 If she has a craving for a particular food, she'll find a way to get it from nature. It might be a little offbeat and unique, but that's what makes it magical. If Analiese Gregory has a hankering for flounder, she'll head out in the middle of the night and stand waist-deep in freezing cold water with a torch and a spear in her hand. She'll get the flounder and cook it by the river over a fire: entirely fresh, handmade, and from the wild. That's not to say she's done away with all her training in top restaurants across Europe: she might serve her hand-caught flounder with miso and dill pickles or a split beurre noisette sauce.
"All those recipes [I've picked up from abroad] are still kind of part of the story", she says. "There's things I make now with strange, maybe unique little twists". It's this completely unique approach to cooking, foraging, and hunting that makes Analiese a strong contender for one of the world's best chefs. The food she is making cannot be replicated, unless you yourself are down in Tasmania hunting and foraging for natural ingredients and combining them with highly refined culinary knowledge from outstanding restaurants.
Sustainable cooking starts with conquering fears
If you find Analiese's story of cooking from the wild to be completely inspiring, it's because it is. And don't think that it came easy, either. To get to the stage where she's diving for luxury items like abalone, wakame, and sea urchin, she had to conquer a fear of the deep and a serious hatred for cold water. Before moving to Tasmania, Analiese had only gone diving to look at beautiful fish, never to hunt or catch her own. In fact, she hadn't even gone swimming in Sydney's warm waters, which she thought were 'too cold'.
"In moving to Tasmania, I mastered some of the fears that had been holding me back in my life", Analiese says in her recently published memoir and cookbook, How Wild Things Are. The reward is the chance to immerse herself in sustainable cooking and forage or hunt for the majority of the foods she uses in her cooking, and a freezer packed with her own wild catch, gathered from adventures had all over the state.
It started with an idea from the world's best chef…
It wasn't Analiese who initially had the idea to throw herself headfirst into the wild and start experimenting with sustainable cooking. The inspiration itself came from Ana Roš, head chef of Slovenian restaurant Hiša Franko and dubbed the world's best female chef. It was at Gourmet Escape, the annual Western Australian food, wine, and music festival, where world famous chefs and gourmands gather for ten days discussing all things culinary. Analiese Gregory and Ana Roš were having an onstage conversation, and Analiese mentioned her desire to return to France for its way of life and sense of cooking.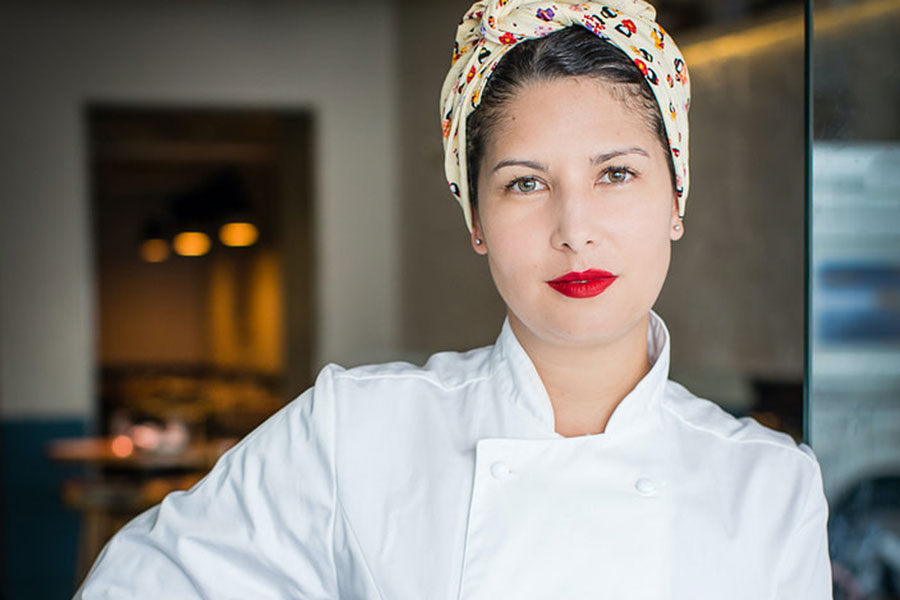 Ana thought otherwise, suggesting to Analiese that she could just as easily try to create the very thing she was looking for in France, here in Australia. She implored Analiese to go somewhere remote in this beautiful, wild land, pick plants, cook, and document the adventure. So the seed was sown for Analiese Gregory to devote the next few years of her life to sustainable cooking, foraging, and all things wild and delicious.
If you think Analiese's journey in Tasmania is a result of going into early retirement, think again. She was having these wild adventures all while servicing the now permanently closed Franklin Bar & Restaurant in Hobart five nights a week. The rest of the week was open to diving, hunting, foraging, and whatever Analiese felt called to do. She could be camping in stunning world heritage areas with no electricity one weekend, cooking over campfires the next.
See the world's best chef hunt, forage, fish, and cook in the wild
Curious to see just how Analiese Gregory spends her days? You can see it all in a new SBS documentary that follows her on her sustainable cooking and wild culinary adventures. as she explores life at the bottom of the world in Tasmania. The series, A Girl's Guide to Hunting, Fishing, and Wild Cooking follows Analiese as she picks ingredients, forages, hunts, and shares her skills with her audience.
"To be able to just go into the ocean and get a sea urchin out and then just eat it… why would you even try to do anything else? It just makes sense" Analiese tells Associated Press. "Foraging, diving, hunting… it's what gives my cooking and my life here extra meaning. I want to cook everything over fire".
The SBS show isn't Analiese's first time on screen. She also appeared on chef Gordon Ramsay's television show, Uncharted, as his Tasmanian guide. Together, the two went diving for sea urchin on Bruny Island… sensing a pattern? Analiese feels called to diving because to her it provides the same stress reduction and return to a state of calm that other chefs find from yoga or meditation. Her other sources of relaxation come from tending to her two acre farm, feeding her goats and chickens, and nurturing her inner 'mad scientist' with a lot of fermenting, pickling, and preserving.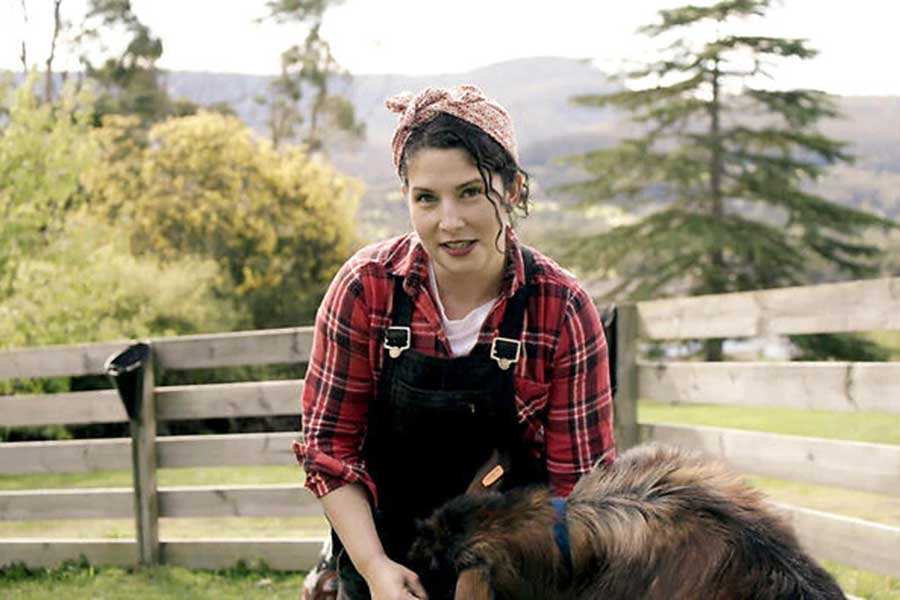 What Analiese Gregory can't hunt or forage herself, she tries to buy directly from farmers or friends and neighbours. She's working on reducing her trips into town for groceries, and while she'll never be fully self-sufficient, she's working on getting the freshest ingredients possible from as close as possible. Her favourite Tasmanian ingredients to cook with are abalone, wallaby, sea urchin, pepperberries, mekabu, saltbush, and leatherwood honey.
A wild childhood that inspired a wild chef
Analiese is no stranger to the open road, nor to cooking. She was born in Auckland to a Welsh father and Chinese-Dutch mother, and grew up on a dairy farm in Matamata on New Zealand's North Island. She then moved to suburban Auckland, where she learned how to cook while surrounded by her Chinese matriarchs, her grandmother and great aunts, who instilled in her a valuable knowledge of cooking and Chinese cuisine. "I thought I went [to their house] for cooking lessons", Analiese says, when remembering her mother dropping her off at her family members' homes for babysitting. It was these matriarchs who gave Analiese her fierce independent spirit that fuels her abalone dives, wallaby hunts, and foraging for wild ingredients in the middle of nowhere.
For several years, Analiese was remotely home-schooled as her family travelled around Australia in a caravan, giving her the first tastes of discovering the wonders of her surrounding environment. It was from there that she served in the world's finest restaurants, only to return to Australia ready to start creating food influenced by her Chinese heritage, her European culinary education, and her love of the outdoors.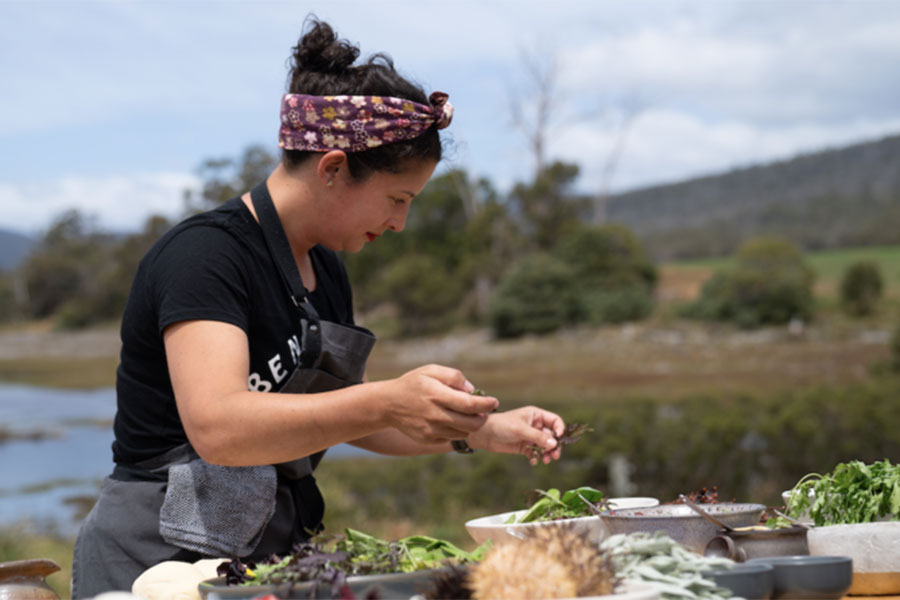 Analiese's heritage is important to her, helping her define her uniqueness as a chef in rural Tasmania who makes XO sauce and lives with a rice cooker perpetually on the bench. "[In Auckland] I learned how to cook char siu bao, bird's nest soup, and steamboats". Her mother, half Dutch, also instilled in Analiese the inspiration to merge different cuisines together. While she regularly served undercooked stir fries at home, Analiese's mother also frequently made Dutch stroopwafels, sweet breakfast sprinkles (hagelslag) on toast, and snacked on salted liquorice.
Colourful cuisine that's impressively different
The colourful heritage of Analiese, her experience in Michelin-starred restaurants and fine dining, and her deep immersion in the wilderness results in some amazing cooking that you simply cannot find elsewhere. In her cookbook, you'll find a string of recipes that seemingly blur cuisines and showcase sustainable cooking in a way that hasn't been seen before.
You might find abalone and XO butter egg noodles, inspired by her abalone dives in Tasmania as well as the fresh egg noodles her mother would buy from West Auckland's Chinese market. There's potato gnocchi and kombu butter, taken from her time working a gnocchi station at a London Michelin-starred restaurant, where she would make five types of gnocchi a day. The Basque cheesecake inspired by her experience working near San Sebastian, and a potato galette taken from the Pommes Sarladaises served at The Ledbury in London.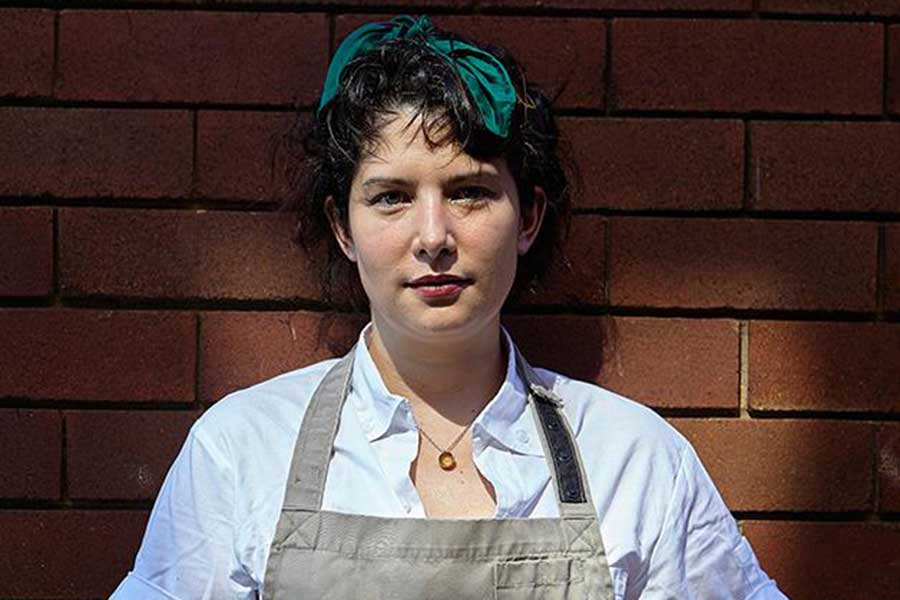 One recipe will be for possum sausage and the other for tomatoes & peaches with honey vinegar and burrata curds. There's mulberry clafoutis, cashew miso cream with young vegetables, and crayfish and lovage omelettes… "I kind of finally came to a place where I can bring a lot of different influences together, which I'd never used to be able to do", says Analiese. This signifies this period of her cheffing career as being one of tremendous importance: when she finally carves out what makes her unique as a chef.
Learn chill fine dining from the world's best chef
We've called her the world's best chef before, and we'll say it again. Analiese Gregory, to us, is the world's best chef because of her incredible display of uniqueness, innovation, courage, and creativity. And while she may be dubbed the world's best chef, there's no perfectionism left inside Analiese – she let go of all the stuffiness of fine dining when she landed on Australia's southernmost island.
Chill fine dining, a term coined by Analiese, is something she defines as holding the food, wine, and experience of eating to the utmost importance, while doing away with other superfluous things around dining that take excess time and energy. "It's all about taking the experience back to its bare bones, without the expectation of perfection", she says. The term perfectly encapsulates Analiese Gregory's method of cooking. She's proficient with using liquid nitrogen and molecular gastronomy, but she can also kill and poach a rooster or pull a trout out of a river and smoke it on the riverbank. There aren't many chefs who can lay claim to being able to do both, and that's just one of the reasons why we call her the world's best chef.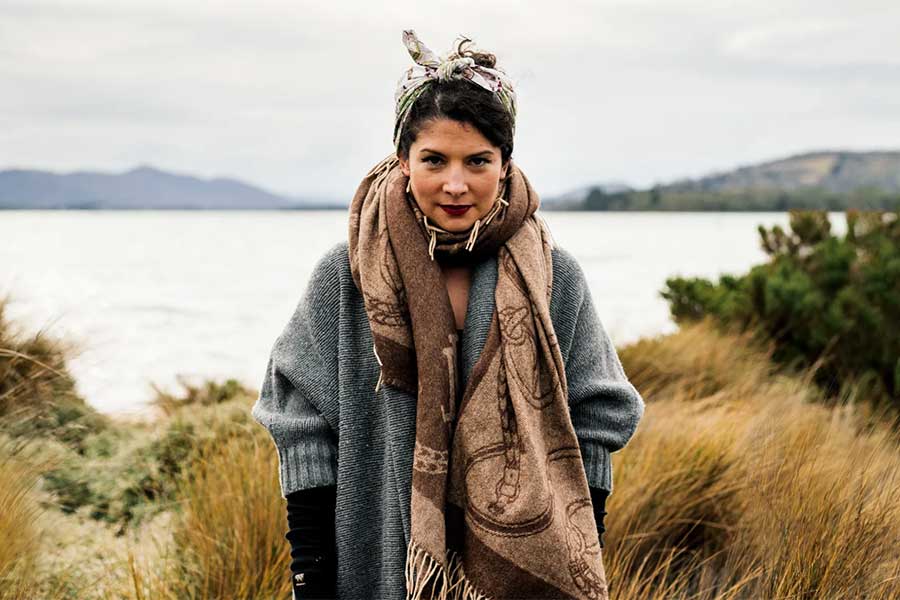 Analiese's advice to those who want to learn the art of sustainable cooking is to "take a really nice thing that you like, and then stick it with things that you think will be complementary. Do… as little as you can to it". The simple advice perfectly sums up her approach to cooking: no nonsense but incredibly memorable cuisine that impresses with its creativity but is not pretentious or intimidating.
We're looking forward to Analiese's next culinary adventure. We hear that the world's best chef is planning to open a 10-seat restaurant for lunch in an abandoned veterinary clinic in the heart of Tasmania, and oh boy, we cannot wait to see it.
By CHEFIN.com.au, private chef platform with 250+ top chefs, 100% customised menus from popular world cuisines. Recommended by 35,000 sophisticated guests across Australia.