Are you planning a corporate event? Don't overlook the catering – it's one of the most essential elements of pulling off a successful and productive corporate event. Corporate catering isn't just about supplying some yummy nibbles and snacks to entice employees and clients into paying attention, and it's much more than that:
Food helps fuel the minds and bodies of your team when working hard, brainstorming, and putting out a lot of energy. Great catering makes your employees feel appreciated and valued when presented with corporate catering options that are delicious, different.
Having unique catering, a company that uses only the freshest produce and ingredients and creates a menu just for your occasion really stands out much more than ordering in sandwiches.  Food does make a difference to whatever event you are holding. There are many different choices of catering styles to order from, below we've created a guide to different corporate catering styles.
Finger foods & canapés
Canapés and finger foods are small, bite-sized meals that are easy-to-eat with your hands while walking around. They can either be displayed buffet-style on a large table, or served by waiters circling the event venue. Canapés and finger foods are great for shorter events, networking, and pre-event socialising (such as a cocktail hour before a conference) when people tend to be walking around and mingling.
This option is perfect for an event that occurs after a lunch and before a dinner.
Check out CHEFIN Cocktail package.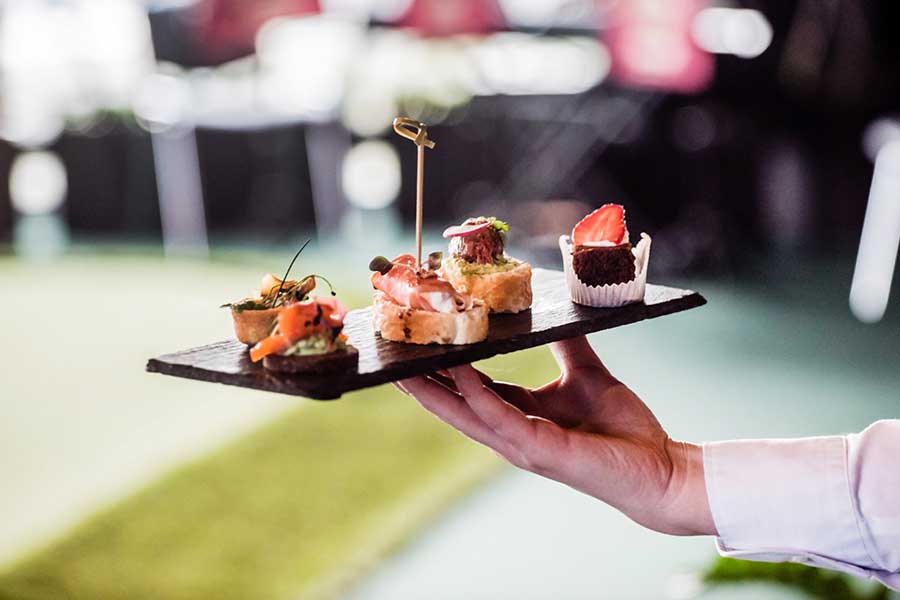 Business High Tea
Perfect for breakfasts, brunches, morning teas, and afternoon teas, a business High Tea is a take on the traditional High Tea. Similar to canapés and finger foods, the focus here is smaller, bite-sized pieces that are easy-to-eat. Unlike finger foods, though,  High Tea is typically served at a dining table where everyone is seated. High teas are a chance to sit together, unwind, chat, and enjoy a relaxing snack.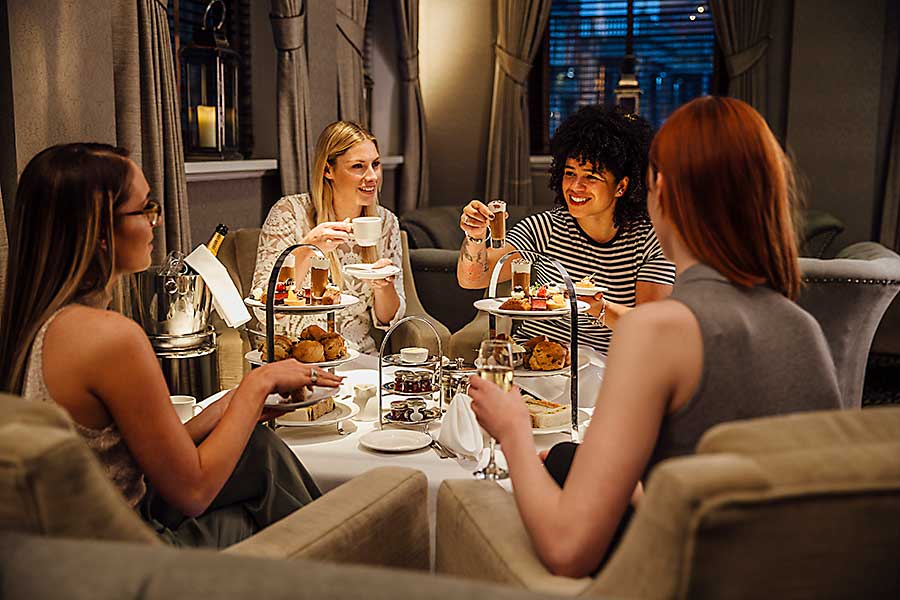 High Tea is an experience that not many people partake in, for that reason, they're a great idea for a corporate event.  Perfect for morning tea, when you need to take a break and yet have lots on the agenda to discuss, you can sit down for morning tea and discuss the agenda in a unique way.  High Tea usually consists of a cup of tea, with sandwiches and savoury items as well as sweets and scones.  Sometimes sparkling wine is substituted instead of tea.  High Tea encourages a communal, sharing atmosphere that helps teams bond.
Check out CHEFIN High tea package.
Grazing tables & sharing platters
Another corporate catering style that encourages a sense of community, sharing and fostering connections, grazing tables and sharing platters are perfect for a number of different events. Grazing tables and sharing platters are a series of deconstructed canapes and finger foods that are displayed on self-serve platters.
The idea with grazing tables is to offer a plethora of taste sensations. Fill your grazing table with a choice of cheese, nuts, dried fruits, crackers and bread sticks, relishes, pickles, and more. Grazing tables are suited at pre-event functions, served during workshops and training days, and brainstorming sessions.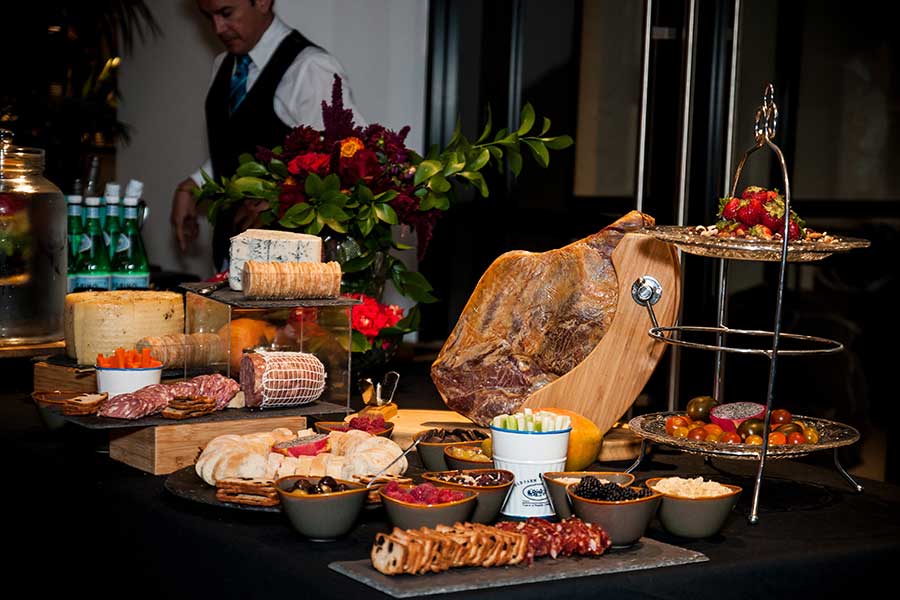 Grazing tables are as beautiful as they are delicious, and make a fantastic centrepiece for your venue. There will always be something for everyone on a grazing table.
Corporate buffets
For lunches and dinners, you can't go past a corporate buffet. This is a sit-down style dinner where guests can get up from their seats and serve themselves from a variety of dishes created by our private chef for your event. These can range from appetisers to mains and desserts, depending on your request. You can also hire waitstaff if required for your corporate event. Waitstaff is always recommended for formal corporate events, while the self-service style is perfect for casual events.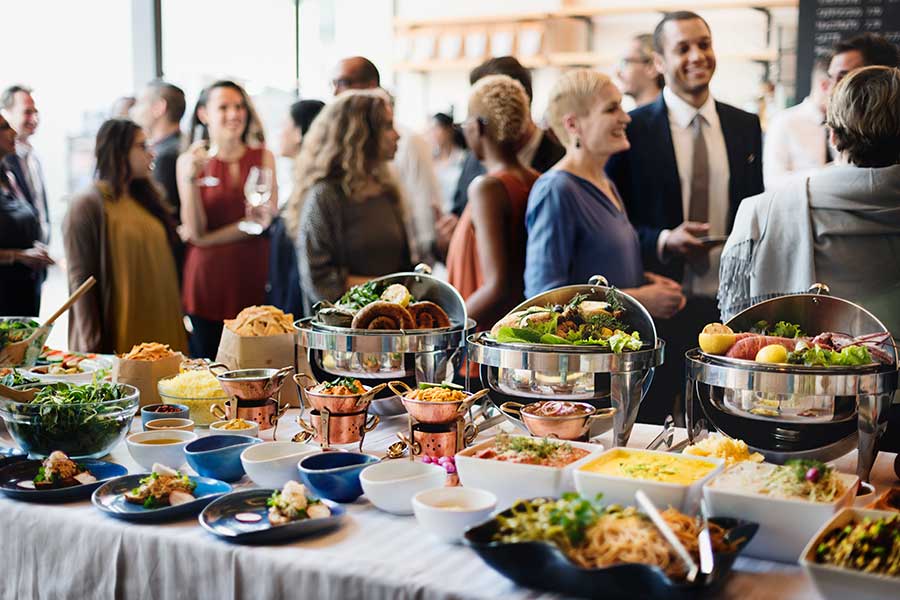 Buffets are perfect for awards nights, Christmas parties, conferences, and more.  icing on top of a long day of doing business.
Check out CHEFIN Buffet package.
Sit-down meals
Like a corporate buffet, sit-down meals are designed for events where people will be seated at a table for the majority of the time. Unlike buffets, however, people won't have to stand up to get their food – instead, it will be served at the table by waitstaff (or a chef!) Sit-down meals are basically the same as eating at a restaurant, except it's your caterer doing all the work for you. Perfect for awards nights, conferences, Christmas parties, and more.
Check out CHEFIN Sit-down fine dining packages.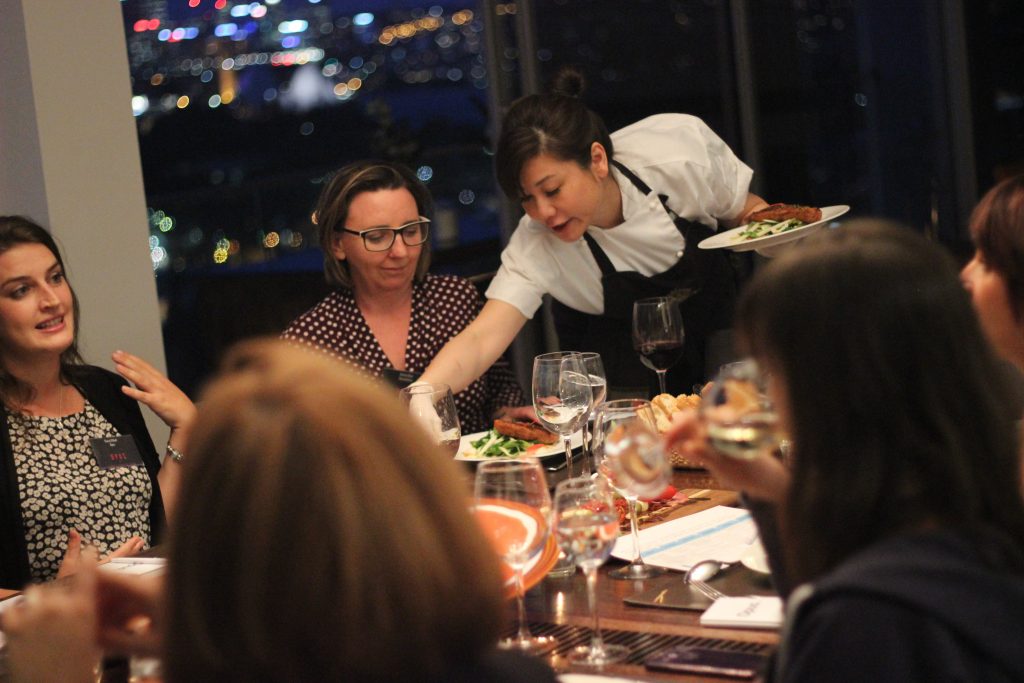 Best catering style for different events
Now we've covered the different corporate catering styles available, let's go through some popular corporate events and the best catering style for each one.
Business lunch
Business lunches are best catered with sit-down meals or buffets. It will really depend on the venue, context, and purpose of your business lunch, but generally these two styles are best. For client or investor meetings, sit-down meals served by waitstaff are best, while large business lunches for the whole office go down well with a buffet. To truly impress, hire a personal chef to cook, prepare, and serve your business lunch.
Boardroom meeting
Long days spent inside a boardroom need proper fuel. Boardroom meetings are best catered with finger foods, canapes, grazing tables or sharing platters. These can be placed on the table, in the middle of the group, and people can help themselves as they wish. Since these foods are easy-to-eat, people will be able to grab a bite and stay nourished while still being able to interact and talk freely. The foods don't demand too much attention, and can easily be slipped in the mouth during a discussion.
Conference
There are a number of different catering styles suitable for a conference, depending on time of day, venue, and group numbers. For pre-conference events, when people are mixing and mingling with a cocktail in hand, canapes & finger foods are a great option. For smaller conferences, a grazing table or sharing platter set up in a corner of the venue can last the entire day. Larger conferences that run for multiple days, or through till night time, will demand more complex catering styles like sit-down meals or buffets.
Cocktail party
Cocktail parties are the ideal setting for serving canapes and finger foods. Easy-to-eat while people are mixing and mingling and walking around the place, they'll also help offset the alcohol intake. You can also cater to a corporate cocktail party with a grazing table or shared platter set up in a corner of the venue, encouraging people to congregate in a certain area and serve themselves.
Christmas party
Christmas parties are all about showing your employees that they're appreciated, and there's no better corporate catering style for that than a good old buffet or sit-down meal. Buffets are great because people are given plenty of options to help themselves, and sit-down meals can be a winner depending on the food served. To truly wow your team, hire a private chef and have them cook something impressive that'll make your christmas party memorable.
Client meeting
Client meetings can range from short, casual affairs to longer, more formal meetings. Depending on the nature of your meeting, you could go for a range of different corporate catering styles. Short, casual client meetings go down well with canapes, finger foods, grazing tables, sharing platters, or even a business high tea for mid-morning or afternoon meetings. More formal and longer meetings can do well with a sit-down meal during intermission.
Training or workshop
Workshop or training days need constant fuel to help people stay focused, alert, and energetic throughout the day. You'll probably want to incorporate a range of catering styles here, from grazing tables and sharing platters (for during the event) to sit-down lunches or buffets (for after or in the middle of the event). Ask your caterer if they can provide your meals in an on-the-go box with individual portions for each of your team members. This way you'll spend less time having lunch, with everything all pre-packed and ready-to-go.
Awards night
Awards nights are complex affairs that can also demand a number of different catering styles. You'll always want a sit-down meal (or corporate buffet) at your awards night, but for pre-show receptions, intermissions, and cocktail parties after the event, you might want to go for canapes, finger foods, or grazing tables.
Make your event a memorable success with a Private Chef
Planning for a corporate event is no easy task, especially for busy PAs and EAs. Hiring a caterer helps put your mind at ease for at least one aspect of event planning, but there's still a lot else to organise and manage.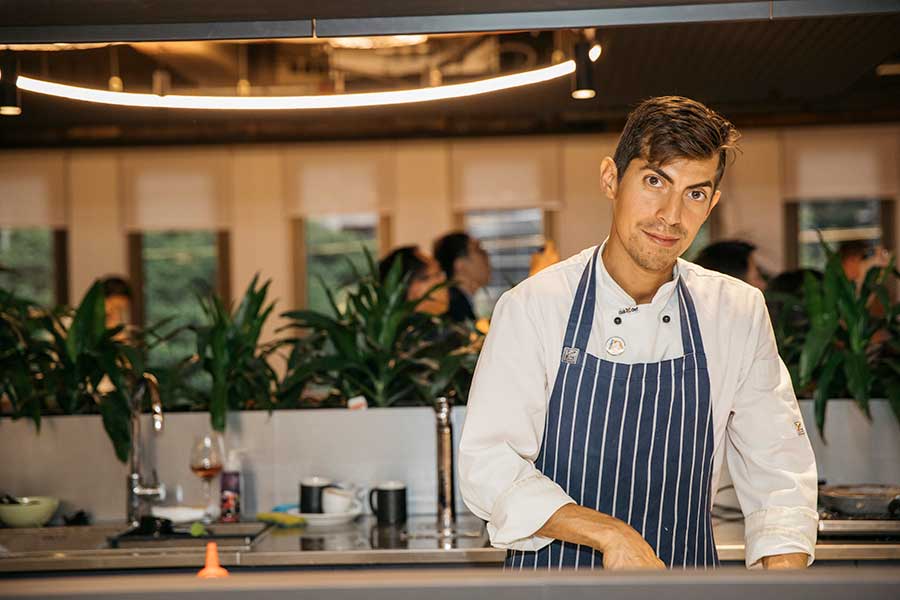 Have a good idea of the corporate catering style you want? Let us do the work for you. CHEFIN connects you with a private chef, to deliver exceptional corporate catering that's fresh, gourmet, and unique. Get in touch now!