Organising a Christmas party for a small to medium-sized business is no easy feat! You have too many employees for a small gathering, but not enough to plan a big blowout. So where do you find that happy medium? As seasoned party planners and Christmas caterers, we've got a few ideas up our sleeve.
You can throw a Christmas party with any budget
Whether you have a huge budget dedicated to the Christmas party or not, you can still throw a fantastic party to show your team your appreciation at the end of the year. The best way to go about it is to take your budget and use it wisely – you could choose to throw your money down on a great venue, incredible food, gifts for your staff, or on some quality entertainment, but you don't have to go all out on all those aspects to have a good party. Pick one key priority, and go wild. The key is to do enough to show gratitude to your small to medium-sized tea, and let them all have a good time.
1. Do something unique and different
You could take your team out to a dinner at a nearby restaurant, or you could really pop on your thinking hats and do something special for Christmas. We're talking team-building style Christmas parties that are different from the norm, things that your staff wouldn't normally get up to.
Scrap the local pub or bistro and go for a Christmas lunch or dinner catered by a private chef instead. Take your team out for an epic picnic with gourmet Christmas catering full of goodies that are out of the ordinary. Even better – cater a dining experience like a blindfolded dinner or cooking class where your staff can actually cook the meal themselves (how's that for a change!)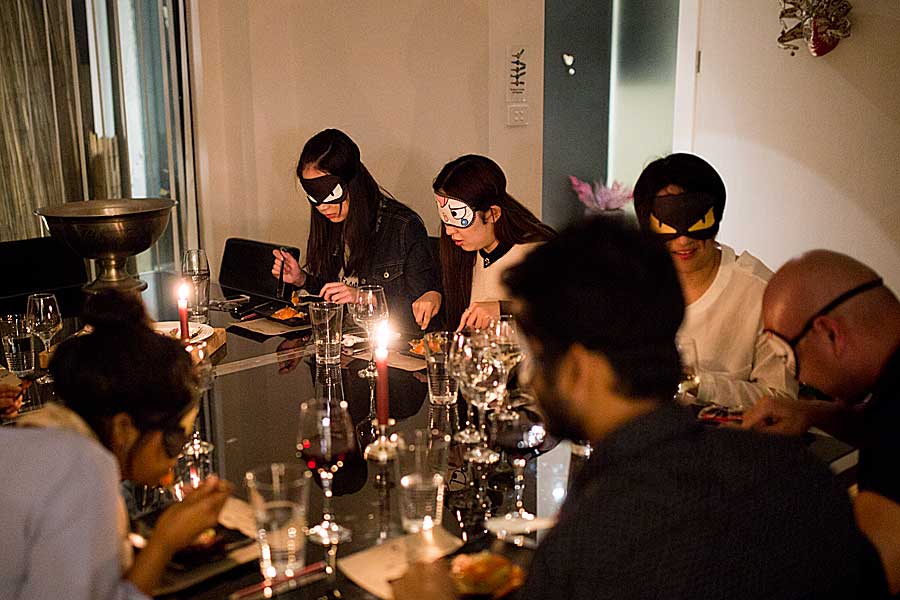 The point here is to try and think of something unique and different that will wow your staff and give them a story to share with friends and family at the end of the day. Because let's face it, nobody wants to hear about Christmas lunch down at the pub.
2. Don't be afraid to ask for input
Going from the point above, don't feel under pressure to come up with a fun Christmas party idea all on your own! The whole idea is to reward your staff with what they want, so don't be afraid to ask your team for input on what kind of Christmas catering they'd like to get or what they'd like to get up to for the Christmas party.
You can call in a big staff meeting and have people brainstorm and throw around ideas. Start off with a few suggestions of your own as a starting point, and get them thinking about what kind of things they'd like to do or eat. Throw those ideas up on a whiteboard and have a vote on what the majority thinks would make a fun Christmas party.
If you have too many staff members or you can't gather them all-around at the same time, then either have a suggestion box on your desk where they can slip in ideas written on paper or create an anonymous online form that they can send from their computers. This is also a good idea for those shy staff members who might not feel confident enough to express their out-of-the-box ideas.
3. You don't need to hire a venue
Hiring a Christmas party venue is a great way to take your staff out of the office environment and get them into the party mood, but you don't always have to hire a venue to have a fun Christmas party! Consider getting Christmas catering delivered to outdoor public spaces and make the most of the warm weather. Take your team to the beach where you can enjoy a day swimming, going for a bushwalk, playing ball games, and stuffing yourselves with delicious food. Have a Gourmet BBQ with Sides and Salads at a nearby park and get your team involved in the cooking and enjoying some sunshine. Bring along some speakers and you've got yourself a party! While a Christmas party venue can turn things up a notch, there's not always room in the budget – but that doesn't mean you have to restrict yourselves to staying in the office for Chrissy.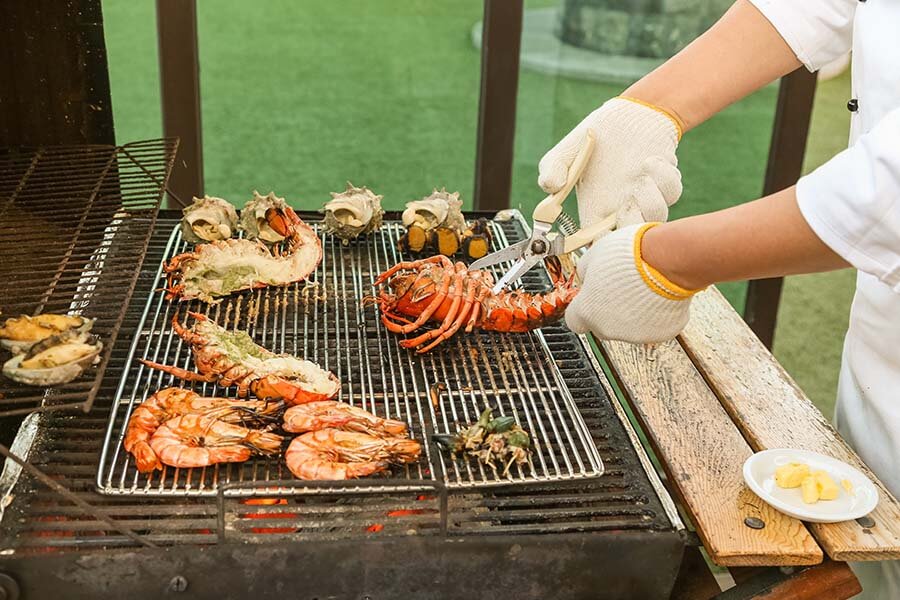 4. Make food an experience
You don't have to have Christmas catering full of traditional foods at your party – if anything, with the hot Aussie summer weather you might actually be better off without the roasted hams and wintery spread. Consider putting your food budget towards a food experience that will mix eating with entertainment and get your staff interacting and enjoying themselves at the party.
Foodie activities like culinary journeys, raw food experiences, and even food workshops can teach staff some new skills, let them have some fun, and at the same time serve up delicious meals that are different from your everyday Christmas feasts. Host a condiments workshop and throw a BBQ where your staff can try their freshly made condiments, teach your staff how to use edible flowers, or make one seriously Instagrammable feast that your team can photograph and share with friends to spark some workplace envy… There's plenty that can be done in the name of food, and Christmas catering can definitely be a creative aspect of the party.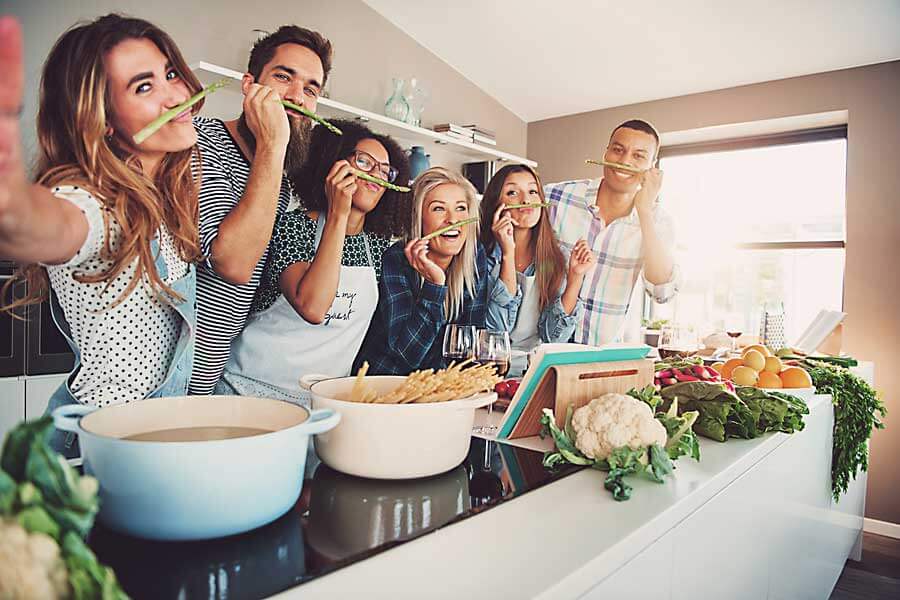 5. Theme it up
A quick way to turn even a beige idea into something wild and different is to tack on a theme. Christmas itself is already a theme, but it's not always the most exciting theme of the time. It's the end of the year and your staff likely have a number of Christmas parties they're already planning to attend, so having another Christmas party with all the traditions can become a bit of a drag.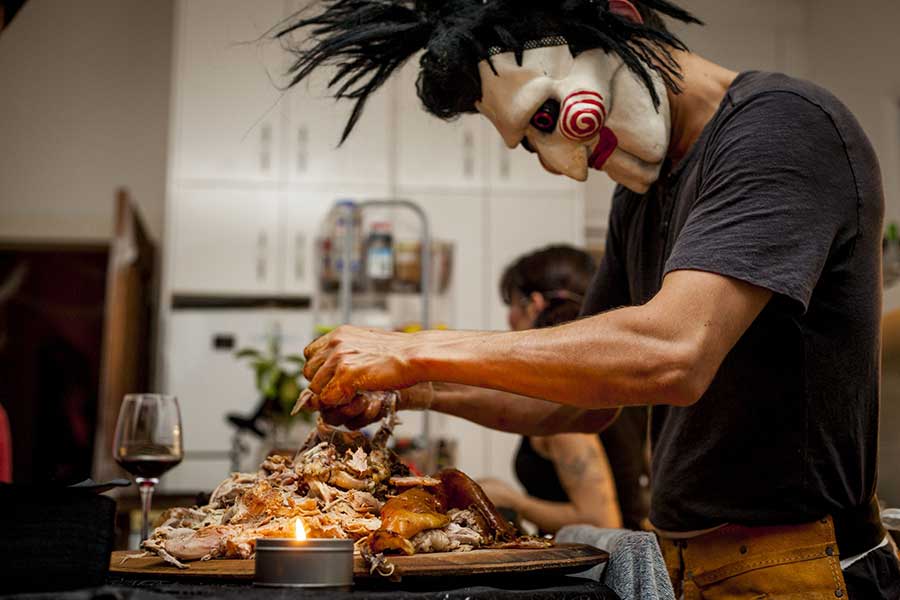 Get your staff to vote on a fun theme idea or just pick one and go all out. Go for general themes like Sci-Fi or Fantasy, or more specific dress-up ideas like "come as your favourite movie/book character". Once you have a theme you can take it across all aspects of the Christmas party, decorating your space with that theme, creating an alternate reality, having themed food, themed games, and so on.
Small business, big party!
Need help managing your budget? We can help you make the most of what you've got to plan a party with epic Christmas catering (by your own private chef), foodie experiences, or just to help you find a venue that suits your team and budget. Get in touch with us now and let's help you plan a great time!