Hens party – nobody said planning a hens night was easy, while we can all agree that it's a lot of fun! When one of your closest girlfriends is marrying the love of her life, you'd best be sending her off with a big bash. Usually, hens party ideas will go one of two ways. They can either be fuelled by strippers and champagne, drunk dancing and novelty sashes – or they can be quiet, stripped back affair that brings you and your closest ladies together.
If you're planning a hens night, we've got 7 hens party ideas for an unforgettable evening that's a little different from the norm.
Hen Party Ideas:
Drink wine & make art
Drink wine & do a workshop
Your own private movie screening
Hire out a secret venue
Feast, feast, feast
Escape room adventure
Dominatrix lesson
Start scheming, ladies, because a hens night is just an excuse for you to plan the party of your dreams (and the bride-to-be's, of course).
1. Wine & art class
What better way to send off the bride than with a boozy art class hens night? You can book the studio entirely for you and your girlfriends, and enjoy a private group art class along with plenty of wine. A boozy art class will give the bride-to-be a chance to unleash some creativity while having a laugh with her closest girlfriends. Best of all, you'll get to take home your own masterpieces as well.
Wine & art class is a great hens night idea for those sophisticated ladies who want to enjoy their boozing away from the clubs and bars. Boozy art classes are popping up all over the place, and Cork and Canvas is just one place where you can host your hens party. They even have an option where you and your girlfriends can collaborate on a large piece of art for the bride-to-be. How's that for creating memories that last a lifetime?.
2. Wine & a hens night workshop
A creative hen's night idea that'll teach your bride-to-be some useful new skills before she ties the knot! From cooking classes and sewing (very wife-y stuff) to screen printing, cocktail mixology, and hula hooping, there's a workshop for anything and everything. A boozy workshop makes a great hens party idea for those ladies who love working with their hands, learning new things, and generally avoiding the racket of nightclubs.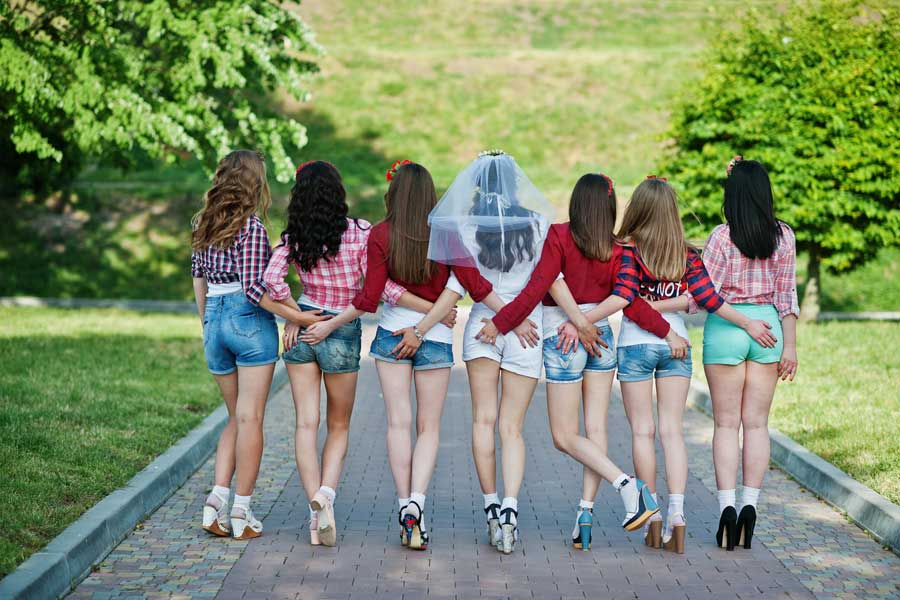 Work-Shop in Redfern is one place in Sydney that offers private classes just for hens nights. Learn how to make jewellery or flower crowns – or if you desperately want strippers at your hens party then do the life drawing class with a nude model! Who said you can't be both sophisticated and cheeky on a hens night?
3. Your own private movie screening
Sometimes the ladies hitting up the hens night are already married, have kids, or are busy… the idea of spending the night partying might sound exhausting! If this is the case with you and your girlfriends, then you need hens night ideas that are more on the relaxing side. There are the usual day spa affairs – but for something a little different, why not relax by hiring out your very own private beanbag cinema?
This cinema in Sydney is as comfy as it is a good excuse to drink wine, eat food, and chill out with your best friends. It's the perfect setting for a hens night that'll take you back to your slumber party days. You'll get to enjoy a buffet meal, talk as much as you want during the movie, and maybe even have a little snooze!
4. Secret hens party venue
For some ladies, a hens night has to be ritzy, glitzy, and luxurious. If your bride-to-be is one that likes to feel spoiled and surrounded by glamour, a great hens night idea is to hire out an exclusive secret venue in the CBD. There's nothing more exciting than feeling like a celeb, and Sydney's hidden venues give you the chance to feel like a VIP on your hens night.
Some ritzy secret venues in Sydney to hire. A hens party in a private venue means you and your ladies can party in privacy. Take over the place for a night, make your ladies feel special, and do what you need to do! Contact us for Venue Hire.
5. Feast, feast, feast
Nothing brings people together better than food, and same goes with a hens party (it's not all about the booze!) This is why a lot of ladies like to go for high tea hens nights. But sometimes, you want to eat a little more than just scones and sandwiches. Take the fun up a notch and go for this unique hens party idea that makes your bride-to-be feel spoiled – by hiring a private chef!
Our foody hens party ideas:
Having a personal chef at your hens' party means you'll get to feast on the ultimate menu of your choice. The food will be cooked right before your eyes and curated specifically with the bride-to-be in mind. Work with the chef to craft a menu full of her favourites, and let the lovely lady walk away with some fabulous new recipes to share with her future hubby.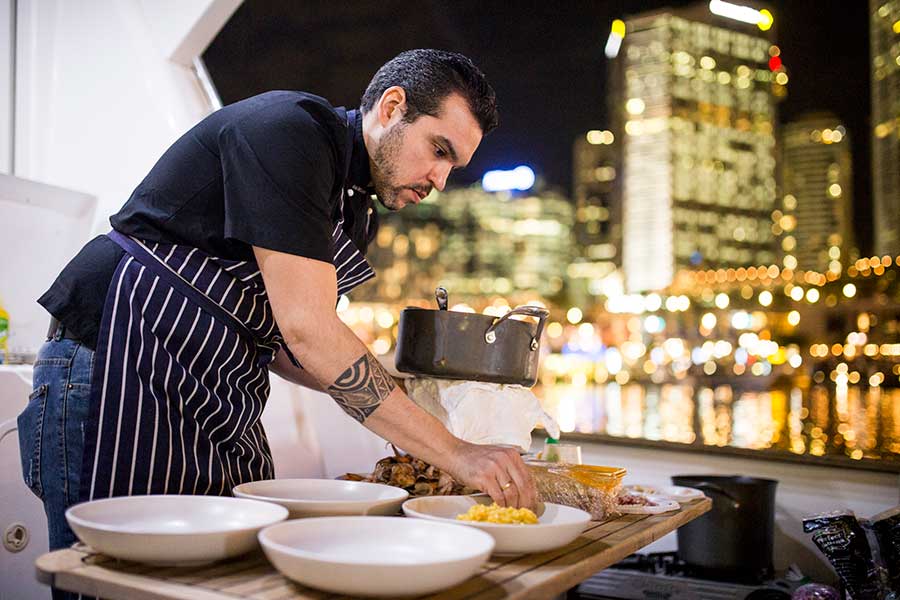 From glazing platters and multi-course fine-dining meals to fun foodie experiences (like a blindfolded dinner, perhaps?). There are plenty of ways a private chef can spice up your hens' party!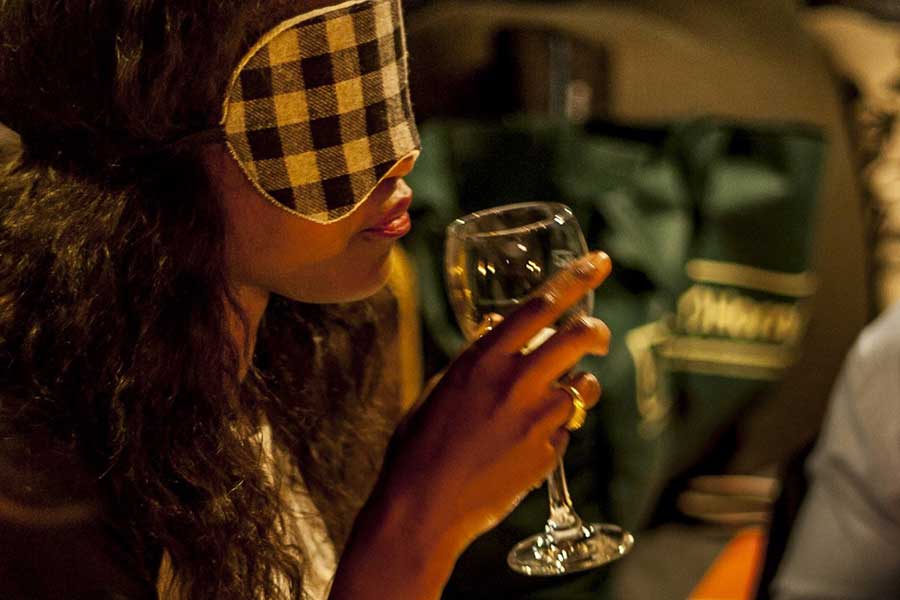 6. Hens night escape room
Here's a hen party idea for the more adrenaline junkie ladies out there. Go for a hens night that's adventurous and exciting by booking an escape room experience. This is no normal hens party idea, it's not about sitting back with some alcohol and desserts. Instead, you'll be stuck in a room with your girlfriends and have to solve a series of puzzles in order to escape. Yep, that means using your brain.
An escape room is a great hens night idea for the ladies who aren't too excited by the idea of booze and sitting still. There's has a huge story element, dress ups, plenty of suspense, and crazy memories that are out of your day-to-day experiences. After you finally escape (or should we say, 'if'), you and the ladies can unwind with a drink or some food. It'll taste twice as sweet!
7. Dominatrix lesson
She's getting married soon, so you may as well send her off with a few useful tips for the bedroom! Dominatrix Lessons are sure to get your bride-to-be's heart racing and cheeks flushing. This is a funny and flirty hens night idea that's sure to loosen up the whole hens night gang. As a bonus, you'll all walk away with a few good moves to bust out in the bedroom.
In a Dominatrix Lesson, the bride-to-be (and all her closest friends) will be taught how to dominate their partners. You'll be shown a few tips and tricks to try out back home and get hearts racing. For a hens party that's quirky, different, yet still insightful, this is it! You'll be telling stories for a while…
Hens party ideas: A recap
Hens party ideas can be more than just silly straws and penis-shaped cakes! While the novelty stuff is a whole lot of fun, most ladies are looking for lasting experiences. The perfect hen night is spent bonding with your closest girlfriends and creating an awesome final experience for the bride-to-be.
Don't forget to share the fun and silliness with us by tagging CHEFIN in your photos (make sure the bride's okay with sharing the pics first!)
Need more help or information about choosing the best dining style for your HENS PARTY? Get in touch with us today for advice and an obligation-free quote.
Planning a hens night? Check out this checklist to pull off the ultimate pre-wedding bash that's sure to end with tears of joy and love.