Marengo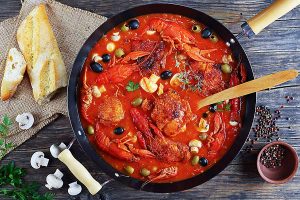 Marengo is a chicken stew made with wine, tomatoes, and garlic. The stew is served over toast, garnished with crayfish and fried eggs. The modern versions of this omit the eggs and substitute shrimp for the crayfish. Of course, other liberties have been taken with this recipe to include black olives, peppers, and veal. The dish is rumoured to have been named for the dish served to General Bonaparte after his army s defeat of the Austrians in the battle of Marengo.
---
Private Chefs, Art of Dining
CHEFIN is a private chef platform that's reimagining social dining.
You can easily connect with 1 of our 250 private chefs and treat your guests to restaurant-quality dining experiences in the comfort of your own home, office or chosen venue. From high-end dining to quirky social food experiences, the CHEFIN platform makes it effortless for you to access gourmet food that's worthy of a Michelin-starred establishment.
What you get:
Your very own 

private chef

 who is vetted and insured,

A customised menu for your needs,

24/7 concierge support,

Complete post-dinner cleanup,

A fun, stress-free, and unforgettably dining experience!