If you've been trying to plan your wedding amidst the chaos and uncertainty of COVID-19, we feel for you. It hasn't been easy. Besides dealing with fluctuating guest numbers and social distancing rules, trying to book a venue amidst a pandemic can be a nightmare – but it's also an opportunity to start thinking outside the box for your wedding.
If you're the kind of person who wants their wedding to stand out and do something unique and unusual that nobody else has done before, it's time to look out and explore all the offbeat possibilities available. Let's look at some ways you can plan an unforgettable wedding during COVID-19's uncertainty.
What to do when you can't book a wedding venue
You don't need an indoors venue to host a spectacular wedding! There are plenty of picturesque locations around Australia where you can host a memorable wedding, and many of these locations have lighter restrictions and lower risks than the overpriced and overhyped wedding venues in the cities. Think: a remote location on a farm in the Blue Mountains, a country barnyard wedding in Orange, or a beachside resort reception in Jervis Bay… And if we're honest, there are plenty of ways you can make an at-home wedding be just as exciting and extravagant as one that's hosted in a venue or the great outdoors.
Let's look at how you can make your dream wedding come to life without relying on the usual venues and indoor celebrations.
Take your wedding outside the city
If it's the city's restrictions that are limiting your options, start thinking outside the box and look at smaller towns, rural areas, and picturesque locations where you can plan your wedding instead. Always wanted to host a destination wedding? This is your chance to do it without having to hop on a plane and go overseas – take your friends and family on a big bus and drive to a remote location for a wedding getaway that's fun, festive, and memorable.
A wedding in the mountains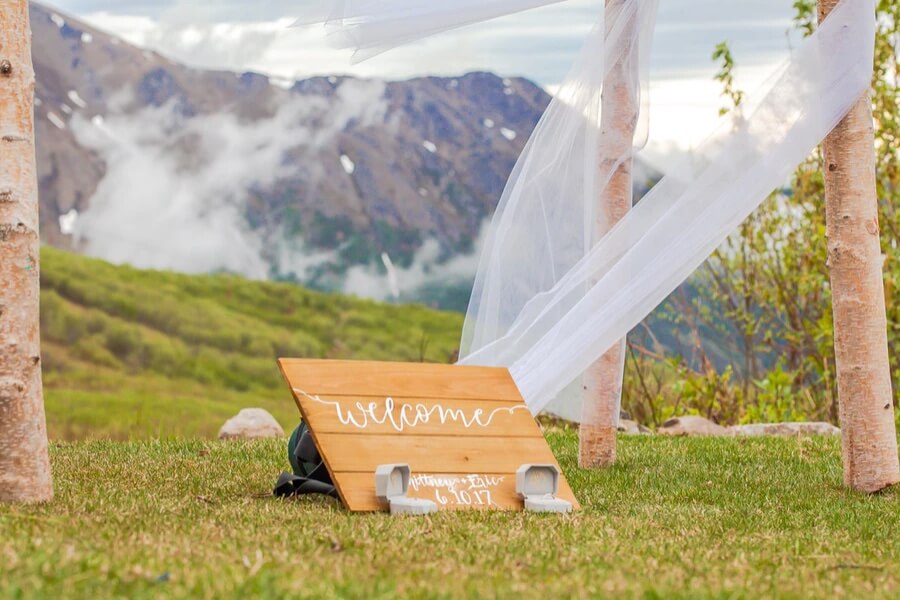 We love the Blue Mountains as a location, simply because it's a drop dead gorgeous backdrop for wedding photos. With so many scenic lookouts, lush nature, and a serene atmosphere, it's a beautiful space to gather a few of your loved ones and celebrate your wedding in style. You can book an Airbnb for your guests to stay or go full-on glamping if that's more your style. Reserve one of the region's amazing restaurants for your reception, or find a quiet outdoors space where you and your guest list can let loose and enjoy yourselves in the natural surrounds. There's nothing more romantic than being surrounded by mountains, and this is both an affordable and memorable way to spend your wedding – and only an hour or so out of Sydney.
A wedding in the country
For an even more exciting adventure out of the city, pick one of the numerous small towns in regional Australia and let that be your destination. Orange is one of our favourite small towns to visit, a lesser known gem that's teeming with amazing wineries, boutique hotels, and great restaurants. Hire a bus and take your guests on a road trip inland, where you can have a barnyard wedding amongst Australia's rural countryside. The beauty of a country wedding is in its simplicity – you don't need to go all out to make your wedding picturesque and glamorous, the beauty of the country will do it for you.
Hang some fairy lights from the trees, set up long banquet tables out on a field, and gather as many flowers as you can possibly imagine for a gorgeous outdoor wedding. Food doesn't have to be fancy when you're out in the country – go for something rustic and funky like street food trucks, a gourmet BBQ, or even spit-roasted meats cooked by a private chef.
A beachside wedding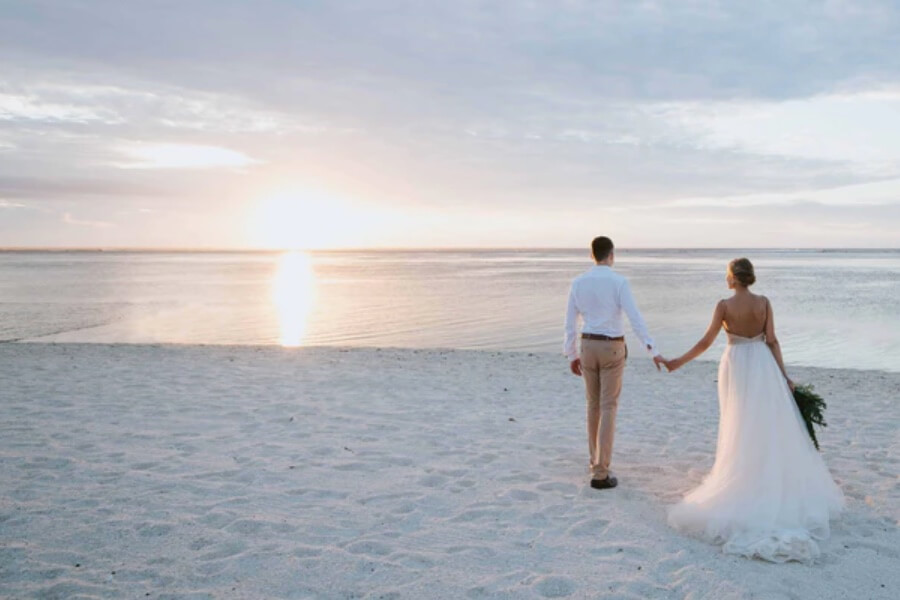 Beach weddings have always been in vogue, and what better time to host your wedding by the beach than during the nation's biggest wedding venue crisis? There's not much you have to do to make your wedding a smashing success when you have the ocean as your backdrop, and beachside weddings are synonymous with elegant simplicity – meaning you don't have to do much to make it look amazing.
Australia's coastlines are renowned for their endless stretches of amazing beaches, many of which are entirely empty and the perfect venue for an outdoor wedding. Again, take your guestlist along on a little road trip adventure and host your wedding on miles of sandy beach, surrounded by cliffs and elegant rockscapes. Pitch a big marquee for an undercover banquet (beaches can get a little windy), and treat your guests to some fine dining by the ocean.
How to make your home wedding unforgettable
You don't need a destination wedding to make your event memorable and extravagant – more and more people are choosing to host their weddings at home and there's a special intimacy about that which can't be replicated in other venues. On top of that, hosting your wedding at home is easier, more reliable during fluctuating restrictions, and your space can be just as breathtaking as any other venue. All you have to do is think outside the box and put some effort into transforming your home space into a romantic backdrop. Here are some ideas to get you started.
Strip down and redecorate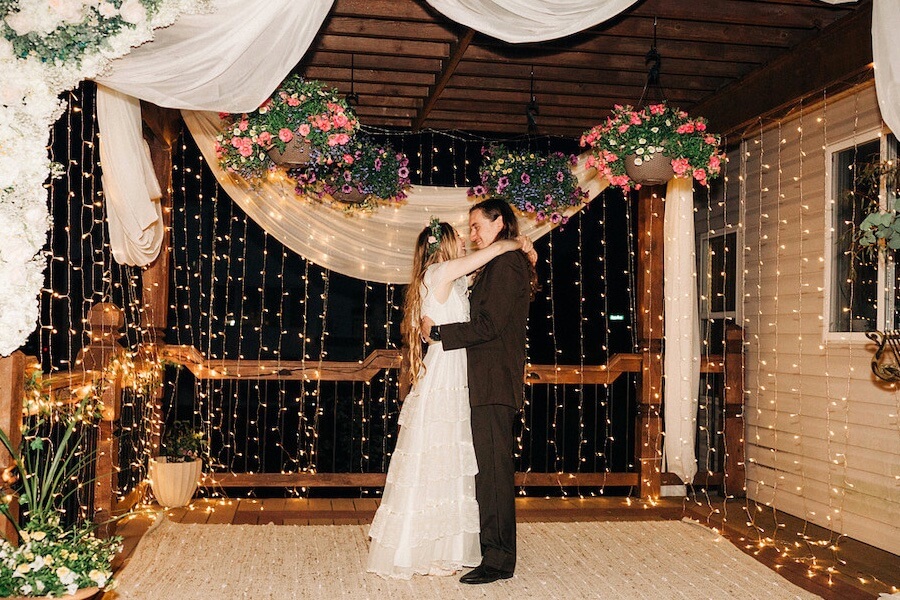 The best way to make your home feel more like a wedding venue and less like a home is to strip down and redecorate. Take some time to take things off the walls, rearrange the furniture, and just generally do what you can to make your chosen space look different than it usually does. If you want to host your wedding in your backyard, choose a dedicated space and let that be the centrepiece of the yard.
Once you've turned your space into a blank canvas, start redecorating in line with your chosen wedding theme. String up fairy lights (the more the better, in our opinion), order big, beautiful bouquets of colourful flowers, hang up plants from the ceiling, light some candles, and take some time to think of all the small extra details that will add to your wedding's grandeur – things like personalised signs, centrepieces, banners, and table settings.
Divide your spaces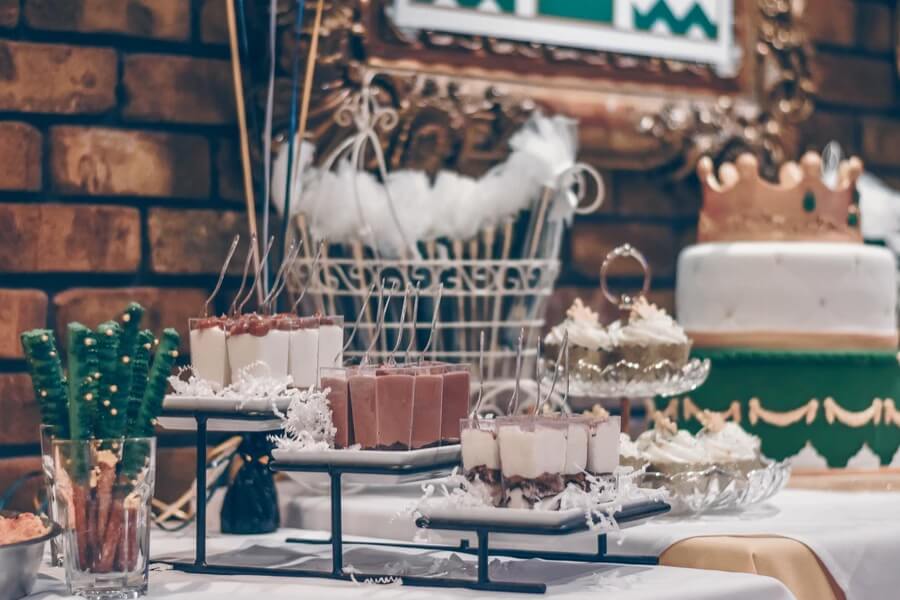 To transform your home into a wedding-style venue, consider how you can divide the spaces into functional areas where guests can socialise, dance, sit down, and mix and mingle. Have a dedicated dance floor and deck it out with signage, fun lighting, and if you have a DJ booth, go all out with the decorating. For mixing and mingling, set up a bar or cocktail station where guests can either serve themselves or be served by a bartender. Stack up glasses, have a tray for ice cubes, and even leave some cocktail umbrellas and other fancy drink decorations like fun straws. Find a corner of the house or backyard that can function as a photobooth or photo-wall, where guests can take fun snaps for social media. Leave a box of fun moustaches, glasses, and costumes for them to dress up and take the silly factor to the next level.
Think of what kind of spaces your ideal wedding venue would have, and find a spot in your home to become that space. Anything is possible, as long as you're willing to embrace your imagination and do a little furniture rearranging.
Make dining different
One of the best ways to transform an at-home wedding into a luxurious event is by making dining different. Rather than setting up a dining table and sitting down for a catered lunch or dinner as you would at any other event, try to think outside the box and offer an experience like no other. Hire a private chef to cook and serve a 12-course degustation for you and your guests, or go for fun festival-style pop-up DIY food stations where guests can serve themselves. Make dining interactive by turning it into a chance to connect with guests, like with a blindfolded dinner or a taste journey around the world.
Treat guests to a mouthwatering Brazilian-style churrasco. Or let them pop on some bibs and enjoy a shared banquet-style American BBQ – complete with messy eating with their hands. Have a suckling pig roasting on a spit with an apple in its mouth! Or let the food be a sensory molecular gastronomy experience that has the guests talking, laughing, and playing. Dining is one of the main events at a wedding, and this is truly the moment where you can make your at-home wedding stand out and offer something different from the norm.
We'll help you plan an unforgettable home wedding
Don't think you can handle all of this by yourself? Let us help! We can bounce around ideas for your destination wedding and help you transform your home into a dreamy wedding venue. We'll also deliver amazing dining experiences and take the stress out of planning your wedding during COVID-19. What's included?
Set-up,
Decorations,
DJs,
Photographers,
Videographers,
Incredible food,
Private chef hire,
Bartenders & waiters,
Furniture hire, and
Whatever you need!
We really can do the whole shebang. Get in touch with our team and let's discuss your ideas and how to turn them into a reality.