Perfect for parties, celebrations, and small intimate gatherings, a blindfolded dinner is an interactive experience that's fuelled by the power of your senses. Sit down at a table with your friends, be handed a blindfold, and prepare to let your tastebuds lead you on a journey by your private Chef in Hobart… 
What is a blindfolded dinner?
CHEFIN's blindfolded dinner brings a refreshing theatrical take to Hobart fine dining. Led by personal chefs in Hobart, the experience takes you on a complex culinary journey without the sense of sight. With your blindfolds on, your private chef serves dish after dish, encouraging you to use your heightened senses to guess the ingredients used to flavour each meal. This is where the fun begins. With your blindfolds on and no sense of sight, your other senses will be heightened, allowing you to pick up delicate aromas, flavours, and textures like never before. If you're a fan of fine dining and exquisite food, the blindfolded dinner experience will allow you to experience a whole new level of taste.
Don't expect the blindfolded dinner to be all serious, however. Your Hobart private chef will encourage you and your fellow diners to engage with one another as you taste your way through each course. Have fun trying to guess which ingredients are used and see which person at your dining table has the keenest senses of the group. After each dish is presented, your chef will give you the opportunity to taste your way through the magic and take a stab at what has been used to create the dish.
After a short time, you'll be able to remove your blindfolds to see the dish and continue your meal with your sense of sight (if you so choose!) Your private chef will then reveal the ingredients used, the origin of the dish, and any interesting stories or facts to help elevate your dining experience even further. It's a whole new style of dining that's both interactive, social, and theatrical, combining the best of Hobart fine dining with a relaxed, intimate atmosphere of intrigue. 
What to expect at a Hobart blindfolded dinner experience
When you book a blindfolded dinner, you'll be paired with an innovative and talented chef from Hobart. They'll work with you to craft a blindfolded dinner menu that's catered to your tastes, preferred cuisine, and dietary requirements (without giving away the actual menu!) The blindfolded dinner menu will include 5-courses with two canapes, two entrees, two mains, and one dessert per person. When you show up on the day, your Hobart personal chef will be your guide through the journey…
The best part about the blindfolded dinner – besides the incredible flavours – is the fact that you can host this experience anywhere you like. With CHEFIN's incredible team of personal chefs Hobart, you'll be able to enjoy the fun from your home, office space, a venue, outdoors, in the country, in the heart of the city, and even on a boat. Our chefs will travel to you and travel with you as well.
So, do you think you have what it takes to win your way through a blindfolded dinner? Have you sampled enough culinary textures and fancy yourself a whiz at picking out spices and high-end ingredients? Let's give you a peek into what a blindfolded dinner in Hobart could look like, using dishes created by CHEFIN's team of personal chefs in Hobart… 
Chef Brendon Walter
Pork cotechino, braised red cabbage, celeriac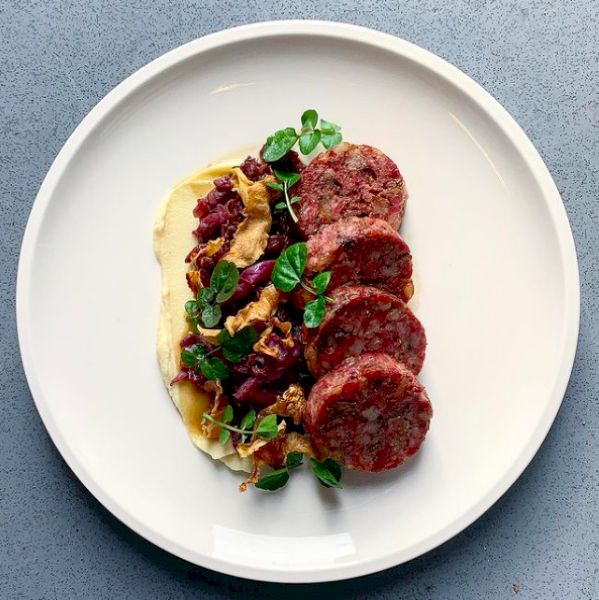 Sugarloaf cabbage, black garlic, lovage, goats curd, chestnuts
Wood-roasted leek, hazelnut, goat's curd
Smoked snapper rillette, pickled radish, celeriac, pear remoulade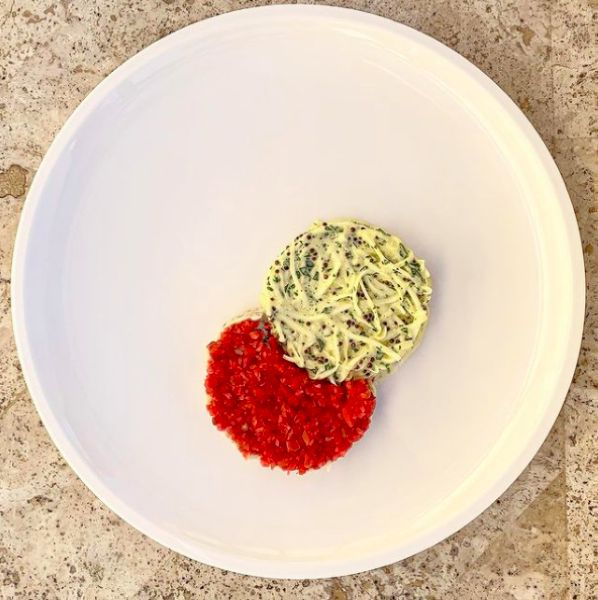 Salt-baked celeriac, almond, garlic, red cow Tilsit cream, truffle
Goat tartare, smoked oyster cream, scampi caviar, crispy potato
Saffron milk cap & chestnut tortellini, pine nut, currant & olive salsa, crisp sage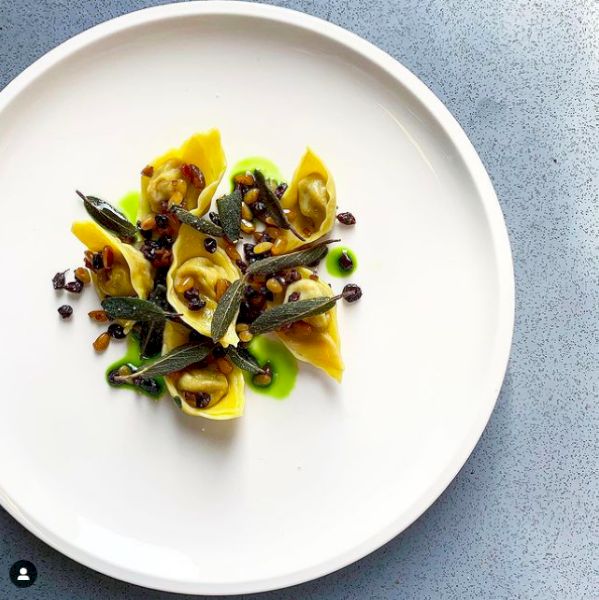 Lightly cured yellowtail kingfish, pickled radish, fennel, ponzu dressing, avocado
Wood roasted Russian banana potato, white garlic cream, black garlic, lardo
Chef Massimo Mele
Pasta stuffed with pumpkin, sage, butter, and pecorino
Tasmanian grilled rock lobster, garlic, lemon butter sauce
Tasmanian abalone skewers, miso butter, fried saltbush
Minestrone soup with truffle
Cavatelli, southern calamari, cimi di rape, garlic, chilli
Tasmanian clams, gnocchi, rapini, garlic, chilli
Octopus cooked in seawater & marinated in vinegar, garlic, olive oil with Tibetan barley
Chef Levi Carter
Pinot gris oysters, radish and celery salsa
Saffron potatoes, lime, thyme lamb backstrap, apple glaze
Book your Hobart blindfolded dinner
Think you have what it takes to taste your way through a blindfolded dinner? Put yourself up for the challenge and book your blindfolded dinner experience now. The fun, social atmosphere is perfect for birthdays, anniversaries, graduations, and office parties, and the luxury gourmet meals will be a real gift for everyone at the table. Click here to secure your blindfolded dinner experience, and if you're interested in hiring a private chef Hobart, check out the personal chefs Hobart page to learn more about our private chefs in Hobart.