Amuse-bouche
Amuse-bouche, otherwise known as amuse-gueule, is the French term for 'mouth amuser'. They are a type of small, bite-sized hors d'oeuvre. Chefs serve amuse-bouche to diners to enjoy while waiting for their food orders to arrive. It is a way of saying 'welcome' to guests and pampering them with something special. At the same time, amuse-bouche whets the appetite, satisfies initial hunger, and prepares guests for the courses ahead. Amuse-bouche are different to appetisers in that they are served complimentary and chosen by chefs to demonstrate their cooking style. Diners can be served anywhere from one amuse-bouche dish to six or seven.
History of the amuse-bouche
The tradition of serving amuse-bouche was born in France as a part of the nouvelle cuisine movement of the 1970s. The nouvelle cuisine movement had a focus on small, bite-sized dishes that packed intense flavours. The idea was to highlight the natural flavours of fresh produce and avoid heavy marinades and sauce-based dishes. During this period, French chefs were becoming more competitive and creative in their cooking combinations and techniques. Today, amuse-bouche are almost always served at Michelin-starred restaurants and other fine-dining establishments.  In Europe, and France especially, amuse-bouche are commonplace in eateries of all levels.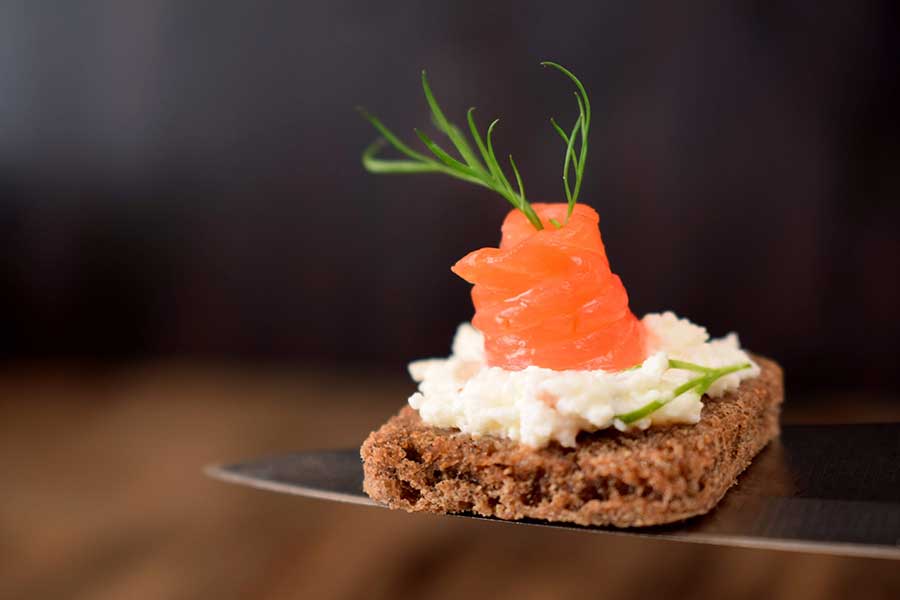 What is the purpose of an amuse-bouche?
Amuse-bouches are designed to showcase a chef's culinary technique and prowess. The little plates demonstrate the ability of a chef to transform simple dishes into impressive displays of skill set. New York celebrity chef Jean-Georges Vongerichten says that amuse-bouche are 'the best way for a great chef to express his or her big ideas in small bites'. These days, restaurant chefs will often try to out-do each other in amuse-bouche creativity. It is even common for some restaurants to change their offering multiple times a day.
Chefs will also use the amuse-bouche as a chance to combine flavours and ingredients that are daring and may not be ordered by the typical diner. Chefs have the opportunity to experiment with new ingredients, pair different flavours together, and design dishes too complex for mains. The appearance of amuse-bouche on a dining table has a 90% influence on what guests will choose for the main course. For this reason, great effort is put into the type of bite and how it is served. Amuse-bouche must be consistent with the character and style of the restaurant, and suitably match the menu.
When is amuse-bouche served?
Amuse-bouche will usually be served after guests have just placed their order, or while they wait between courses. Chefs will typically serve the dishes in quirky plates, demitasse cups, or large spoons. Amuse-bouche in restaurants can range from anything like traditional broths or mouses to creative dishes featuring foraged items, olive ice creams, and other unique and interesting ingredients.
---
Private Chefs, Art of Dining
CHEFIN is a private chef platform that's reimagining social dining.
You can easily connect with 1 of our 250 private chefs and treat your guests to restaurant-quality dining experiences in the comfort of your own home, office or chosen venue. From high-end dining to quirky social food experiences, the CHEFIN platform makes it effortless for you to access gourmet food that's worthy of a Michelin-starred establishment.
What you get:
Your very own 

private chef

 who is vetted and insured,

A customised menu for your needs,

24/7 concierge support,

Complete post-dinner cleanup,

A fun, stress-free, and unforgettable dining experience!
Looking for a top private chef to host your private functions? Check out – personal chef hire