Kugelhopf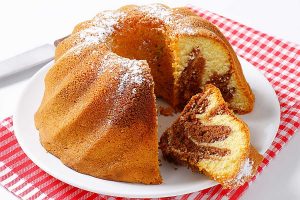 Kugelhopf is a yeast cake from Alsace baked in a large crown-like earthenware dish. It is similar to brioche, though less rich, and flavoured with currants or golden raisins and almonds. This is mainly eaten for breakfast.
---
Private Chefs, Art of Dining
CHEFIN is a private chef platform that's reimagining social dining.
You can easily connect with 1 of our 250 private chefs and treat your guests to restaurant-quality dining experiences in the comfort of your own home, office or chosen venue. From high-end dining to quirky social food experiences, the CHEFIN platform makes it effortless for you to access gourmet food that's worthy of a Michelin-starred establishment.
What you get:
Your very own 

private chef

 who is vetted and insured,

A customised menu for your needs,

24/7 concierge support,

Complete post-dinner cleanup,

A fun, stress-free, and unforgettably dining experience!