Kedgeree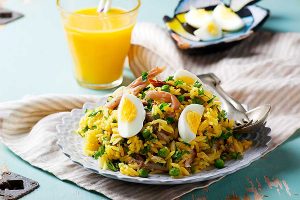 Kedgeree is a British variation of an Indian dish with rice, smoked fish, hard cooked eggs, and bechamel sauce flavoured with curry. Finnan Haddie is most often used, but smoked sturgeon or salmon are excellent substitutes.
---
Private Chefs, Art of Dining
CHEFIN is a private chef platform that's reimagining social dining.
You can easily connect with 1 of our 250 private chefs and treat your guests to restaurant-quality dining experiences in the comfort of your own home, office or chosen venue. From high-end dining to quirky social food experiences, the CHEFIN platform makes it effortless for you to access gourmet food that's worthy of a Michelin-starred establishment.
What you get:
Your very own 

private chef

 who is vetted and insured,

A customised menu for your needs,

24/7 concierge support,

Complete post-dinner cleanup,

A fun, stress-free, and unforgettably dining experience!