Barigoule
Barigoule is a type of mushroom known for being featured in the name of the iconic Provencial dish, artichokes à la barigoule. The barigoule mushroom is known as the saffron milk cap in English, and its botanical name is Lactarius deliciosus.
Artichokes à la barigoule
It is said that artichokes à la barigoule were originally designed to be cooked with this specific species of mushroom. The story goes that barigoule became a very rare type of mushroom and so it eventually dropped out of the dish. These days, barigoule is rarely known as a mushroom and is usually just referred to as an unknown part of the artichokes à la barigoule.
However, others dispute this fact and state that barigoule mushrooms were a later addition to the dish. The history of artichokes à la barigoule is itself murky. Some references state that the dish was originally made with mushrooms while others don't mentioning the fungus at all. The older recipes, in cookbooks like Larousse and Escoffier, state that asparagus à la barigoule should be stuffed with a mushroom mince.
Does artichokes à la barigoule have mushrooms?
Legendary French cookbook from 1927, La Bonne Cuisine, includes an artichoke à la barigoule recipe that insists on the inclusion of mushrooms. According to the book, recipes for the dish have existed since 1750. While man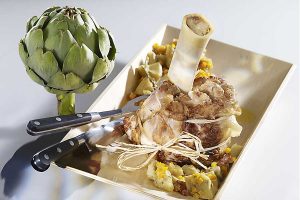 y variations have appeared, one consistent element has been the mushroom stuffing. La Bonne Cuisine refers to this sautéed mixture as duxelles.
This is disputed in Vieii Receto de Cousino Prouvencalo, an old French and Provencal cookbook. The recipe in this book calls for a simple ingredient list of just artichokes, garlic, olive oil, and bay leaves. Mushrooms don't make an appearance. As an iconic Provencal cookbook, there is likely some validity to the simplicity of this recipe. Elizabeth David's cookbook, French Provincial Cooking, also notes a lack of mushrooms in the ingredient list of artichokes à la barigoule. She refers to her recipe as being 'the primitive form' of the infamous dish. Again, it is just a simple mix of artichoke, olive oil, and water.
One French culinary website states that the inclusion of barigoule in artichokes à la barigoule is truly unknown. The recipe is said to have been changed significantly over the centuries. Food lovers and French culinary aficionados believe that the dish did not originally include mushrooms. Instead, the verdict is that the dish was prepared in a similar style to how barigoules were at the time. The artichokes are first trimmed like a mushroom cap, brushed with olive oil, and then grilled. Eventually, the name inspired a series of Provencal cooks to try and make a mushroom stuffing for the artichokes, ending up with the mushroom version of the dish making its way into several cookbooks.
Recipe for artichokes à la barigoule
This is a typical preparation of artichokes à la barigoule. Tender young artichokes are traditionally used, as they have not yet formed an inedible furry choke. If not using young artichokes, then first trim the artichokes down to their most tender and edible parts. You can either leave them in one piece, with the stem, or remove the stem. Clean the artichokes and then leave them while you prepare the other ingredients.
Sautee onions, carrots, and garlic in olive oil until tender. Add dry white wine, simmer, then add chicken stock, artichokes, and bouquet garni with herbs of choice. Cover and leave to simmer until all the vegetables are tender. After around half an hour, remove vegetables and leave the cooking liquid in the pan. Continue simmering the broth until it reduces and thickens. To finish, whisk in some butter and herbs and pour over the vegetables.