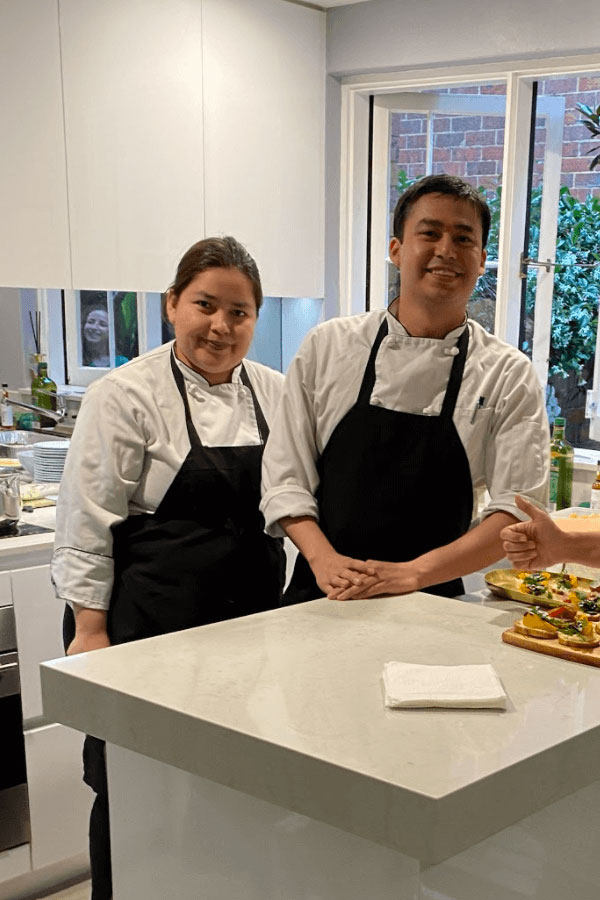 Short bio
Chef Manuel's career highlight was working in a Michelin-starred restaurant in France, where he had the honour of cooking for the Queen and Prince of Monaco. His career has opened the doors to exploring the entire world and he has experience working in top restaurants internationally. In Mexico, Chef Manuel was fortunate enough to work with and be mentored by one of the country's most important chefs, Patricia Quintana.
Experience rating
Talkativeness
Location:

Australia, Sydney

Events done:

9

ID verification:

Recommendation score:

90

Insurance:

Member since:

Sep-2019

Food safety certificate:
Bio
Chef Manuel is an intrinsically artistic person, Chef Manuel is an emotional being. The kitchen is where he can fully express and share this passion with the world, imparting his soul into each and every one of his dishes. He is passionate about capturing his emotions within a dish and allowing people to experience what he was feeling while cooking a particular dish. Cooking is a complete artistic process for Chef Manuel.
As a creative being, he loves the artistic freedom of creating new dishes and cooking in different settings. Some of the places his career has taken him include kitchens in cruise ships, hotels, pubs, and restaurants. Wherever he may be cooking from, Chef Manuel thrives at the chance to just let go and let his ideas and imagination go into creating something unique for his guests.
Favourites
Chef Manuel's favourite dish is Mexican Pipian Sauce with Pulque. It is a regional Mexican cuisine, traditionally eaten by the locals and their ancient ancestors. Originating from Central Mexico, the Pipan is a great sauce, hallmarked by the pre-Columbian technique of browning seeds to release their fat and then grinding them into an oily paste.
Cusines
Mexican
Modern Australian
South American
Reviews
⭐️⭐️⭐️⭐️⭐️ Very professional. Food was beautiful to eat and awesome presentation. Everyone raved about the service.

Beth Davenport

⭐️⭐️⭐️⭐️⭐️ The whole experience from initial enquiry to switching off the lights at the end of the night was fantastic…. the food beyond awesome and i cannot recommend Chefin any higher to anyone!!! Just brilliant!!! Thank you

Rachelle Juter

⭐️⭐️⭐️⭐️⭐️ The menu that Chef Manuel designed for us was spectacular. He took all dietary requirements into consideration when creating the menu.
Everyone enjoyed the experience and we will have Chefin again for our family Christmas in 2021.

Nicole Dowling

⭐️⭐️⭐️⭐️⭐️ Chef Manuel, sous chef Daniella, and our waitress Elle were the most amazing team! The food was delicious and our 15 guests left with smiles on their face. Thank you for making our event wonderful!

Elizabeth Clark

⭐️⭐️⭐️⭐️⭐️ The dishes were flowing nicely and Manuel was really passionate about the food he presented.

The snapper ceviche was a surprising delight with the crispy tortilla, tequila earthiness and the agave warm salt … delicious!

The entree had a great flavour mix although it could have done well with a bit of extra salt. Requires a bit of hands-on eating with the guests taking it by hand. The presentation was good, Went well on the white plates.

The main was a sensational dish, very delicious mole and the chilli profiles were incredibly good with the Mexican chocolate.

The chorizo canape was something everyone likes.

Customer

⭐️⭐️⭐️⭐️⭐️ The menu was creative and the canapés were tasty and in plentiful quantity. The crispy pork belly was excellent.

Jane