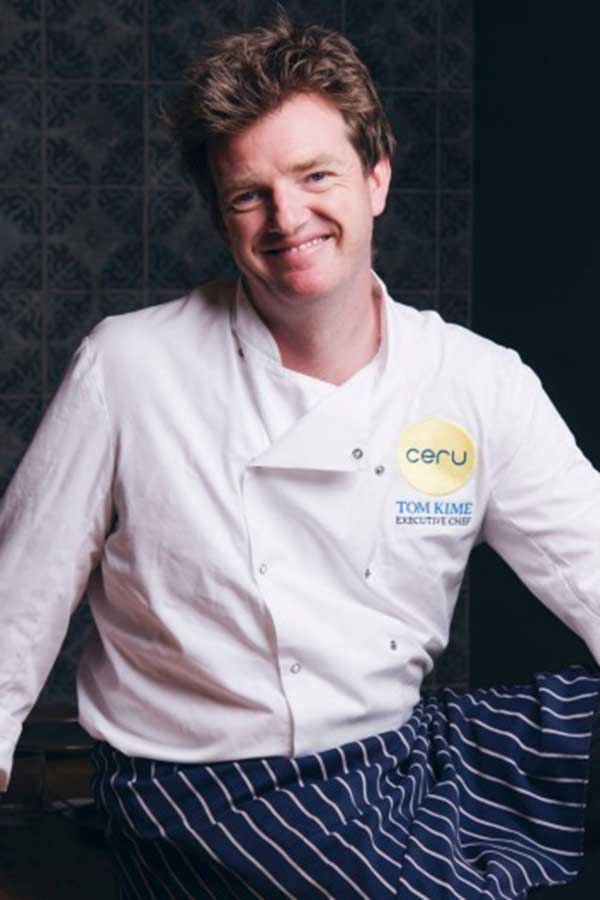 Short bio
Tom has cooked privately for international celebrities and royalty, by appointment including hosting Jamie Oliver's wedding. Tom has written six acclaimed books, filmed five series of Ready Steady Cook and presented three of his own TV series and set up six restaurants in London, Malta and Sydney.
He has travelled to 42 countries to sample, discover, and understand how to cook the world's best street food, and so brings a truly global approach to his work.
Experience rating
Talkativeness
Location:

Australia, Sydney

Events done:

66

ID verification:

Recommendation score:

85

Insurance:

Member since:

Mar-2018

Food safety certificate:
Bio
He worked at the Michelin starred le Pont de la Tour in London and then with Rick Stein at The Seafood Restaurant in Padstow. In Rick Stein's BBC series, an Asian odyssey, Rick used Tom to guide him through the food of Hanoi and referred to Tom as 'a real street food aficionado'.
Most recently, Tom was the executive chef of Goodtime Hospitality in Sydney overseeing the East Village in Darlinghurst and the West village in Petersham. Qantas voted the terrace at the East Village their no. 1 rooftop bar for 2017. The East Village won the Timeout award for Best Pub Revival 2017. Tom was the executive chef of Ceru restaurants in London and Sydney specializing in street food from the eastern Mediterranean and the Levant.
Tom is an acclaimed advocate and author on all aspects of Sustainable Seafood, organic, whole foods, seasonal, and sustainable produce.  Tom is a champion for ethical food production and a campaigner for the global impact and responsibility of our hospitality industry.  The "Free From" market is growing exponentially, Tom's global experience of NPD projects involving healthy and ethical food, enables him to problem solve and create delicious dishes, from ingredients that other chefs may not feel confident to work with. 
BOOK QUOTES PRAISE FOR TOM KIME
2015 Fish Tales honoured by the World Gourmand Awards as one of their 'Best of the Best books from the last 20 years.
Fish Tales winner of the World Gourmand Awards 'Best Sustainable Book 2010'
'The recipes are as enticing and simple as you'd expect from a food writer of Kime's caliber.  Fish tales is perfect for friends who worry about the world.'
Thomasina Miers the Times Nov 2009
The influential Dutch newspaper De Volkskrant named the Dutch version of Fish Tales 'Best Cookbook of the Year 2009'
De Volkskrant Holland November 2009
'An unrivalled tutorial in foods that sing with flavour – Tom Kime has a Perfect sense of the food we all love to eat.'
Rose Prince food journalist
'Tom Kime is one of Britain's most gifted young chefs and his books are stuffed full with the most delectable of recipes. Kime is fascinated by the combining flavours and his expertise in South East Asian food shines forth from every page.'
Tom Parker Bowles: Food Journalist the Daily Mail, Mail on Sunday 
'A challenging and exciting cookbook from one of our best and brightest young chefs'
Loyd Grossman: Master Chef Presenter England
'Take inspiration from Tom Kime's fantastic new book Street food, a tantalizing repertoire of fast food recipes from around the globe for busy people on the move who don't want to compromise on taste or quality. Enjoy!'
Anthony Worrall Thompson: Saturday Express magazine
'Dancing in the Street-Four stars…His writing style is witty and personal yet packed with nuggets of information…so whether you want to bring back memories of a magical time abroad or sample the delights of far-flung places this is the perfect book for you.' 
Andy Duncan Somerfield magazine
'Tom Kime has been smitten by the Asian notion of balancing flavours.  He offers an exciting array of dishes-a veritable kaleidoscope of sweet, sour, salty & spicy flavours that combine, and recombine, to create food that is both subtle, yet lively.'
Elizabeth Andoch: Author Washoku: Recipes from the Japanese kitchen
RESTAURANT QUOTES
Ceru Vibrant mezze that is fifty shades of bright and sunny 
'The Londonist'
Fish & Co.  One of three Finalists for the Seafood Excellence awards 2013 
'Best seafood restaurant in NSW
Fish & Co.  SBS Feast Magazine 
'Best fish and chips in Sydney 2012'
Fish & Co.  Channel 7 news and 2UE radio voted 'People's Choice 
Best fish and chips in Sydney 2011'
'Tom Kime has excelled himself at food @ the muse.
He is definitely one to watch.'
Jacky Parker London Etc magazine
'He uses the ingredients much like an artist would use his paint, to create a piece of gastronomic art.' 
In London Magazine
If only dinner parties had food this exciting. The flavours are vibrant and almost intoxicating.  It was a stunner with multiple flavours exploding on the palate.
Food @ the muse is a blast.' 
Guy Dimmond Time Out London Food Review
'I am shouting this one from the rooftops.
A dazzling side dish, which is an object lesson in how to put together a salad.'
'This food screams freshness originality and sensuality and is served up with love intelligence and sunshine. Blow me away talent from a chef who is going far.'
Jeremy Wayne The Guide Saturday Guardian
'The breathless pace of the food showed that the Muse is home to sensational adventurous cooking.' 
Marcus Scriven The Grove magazine
'The real star of the evening was Kime's lacquered duck where the savoury toffee apple crunch contrasted spectacularly with the juiciness of the meat. I will be back like a boomerang' 
Susannah Herbert The Sunday Telegraph Magazine UK
'The name on everybody's lips is Tom Kime whose super clever creations are wowing diners all over town.  Expect delicious things.' 
Food Drink Magazine
'Tom's ability to share his passion and knowledge of food, combined with his expertise in the kitchen is a great recipe for many wonderful meals. His food remains the centerpiece and is simply delicious, always exciting, stimulating and makes you want to come back for more. Another helping please, Mr. Kime'
Tim Lee category fruit director for Europe Tesco supermarkets
'Tom is the most amazing teacher. His knowledge and recipes are cutting edge but he's not intimidating, he can teach anyone.'
Ruth Edwards, principal, cutting edge food & wine school, England
'We use Tom for events and demonstrations where his talents as a chef and raconteur are invaluable. His food is always well researched, fresh and interesting: it looks great and tastes fantastic. Tom is a chef who can do more than cook.'
Alex and Christina Bastin principles of petit gourmet cooking school
Favourites
"I made a lemon and fennel risotto at a private dinner for Prince Charles. I have travelled extensively searching the globe for the best street food. I love taking these amazing dishes out of their Street food context and serving them for a dinner party".
Cusines
Asian Fusion
BBQ Charcoal Experience
Continental European
French
Indigenous Australian
Italian
Mediterranean
Middle Eastern
Modern Australian
Vegetarian
Vietnamese
Reviews
⭐️⭐️⭐️⭐️⭐️ Chef Tom Kime was an absolute delight to work with. He has amazing knowledge which he openly shared with all of us – knowledge of cuisines, knowledge of cooking processes; knowledge of flavour systems/flavour pairings and knowledge of product development, and importantly, what it takes to truly delight consumers. Both Tom's chef skills and his product development skills were "top shelf" and it made such a difference for us. Chef Tom was also truly humble (despite his amazing skills and standing in the culinary field). We felt truly blessed to work alongside him. We couldn't recommend him highly enough for anyone looking for culinary inspiration and a next level eating experience.

Suz

⭐️⭐️⭐️⭐️⭐️ All great

Lorraine