Never underestimate the power of catering when hosting a client meeting or business lunch. Especially valuable if you're meeting with people who are considering doing business with you, quality corporate catering sets a high standard for your first impression and helps create connections with your clients. Because really, what better way is there to connect with another human being than over food?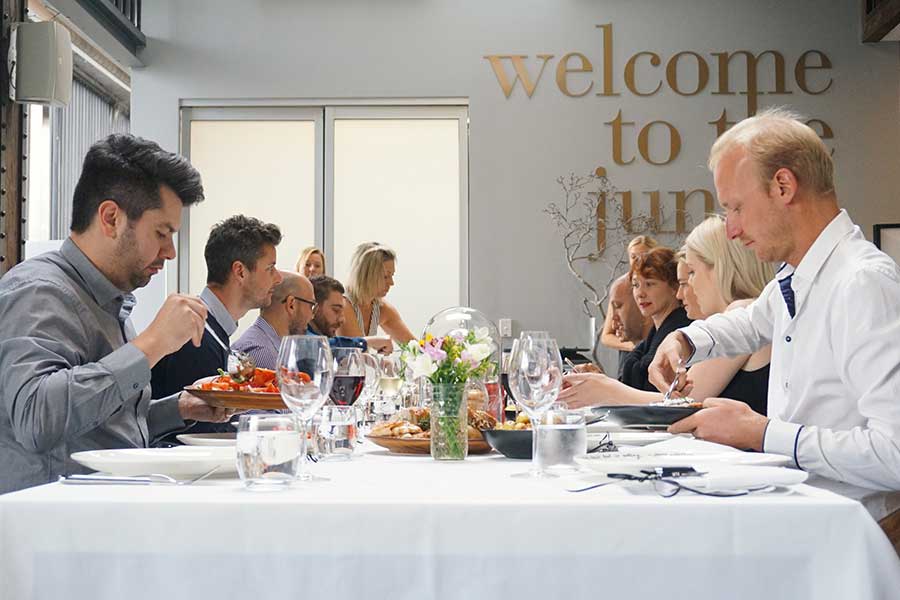 Of course, we're not talking sandwich platters and salad boxes from the cafe around the corner here. To truly convince a client to get on board or say yes to that proposal (or to impress those shareholders), you need to provide something a little extra. While corporate catering won't necessarily make or break your client relationship, it sure can skyrocket your reputation and make an impression.
From the "why should you" to the "what to think about", here's the ultimate guide to catering a business lunch or client meeting.
Why get corporate catering for business lunches and client meetings?
When you're a busy executive, shareholder, or investor, you've had your fair share of good meals. You've been wined and dined and tried the best restaurants in town, and it takes a lot to make an impression. Wraps and salads will do the trick to keep you full, but they lack that oomph that you're used to.
Of course, when we put it that way, then organising catering for that big client meeting or business lunch can be a stressful thought. But it doesn't have to be! Here's why organising corporate catering can make all the difference.
1. You can make a good impression
Corporate catering is a demonstration of a company's reputation. Consider the difference between bringing in catering from a fast food joint or a sushi platter versus catering that's served by waitstaff and cooked fresh on-site. Both do the trick, but give off two completely different impressions of your business. And when you're hosting shareholders and executives, you do want to make sure they're given a quality spread that's as good (or better) than those fancy restaurants they love to dine in.
2. You can have the restaurant experience, without the time-wasting
Many client meetings and business lunches are held in restaurants, where executives can talk business while others take care of the cooking and serving. But leaving the office to eat out can be a time-costly affair when you consider the Uber trips and the wait for food to be cooked.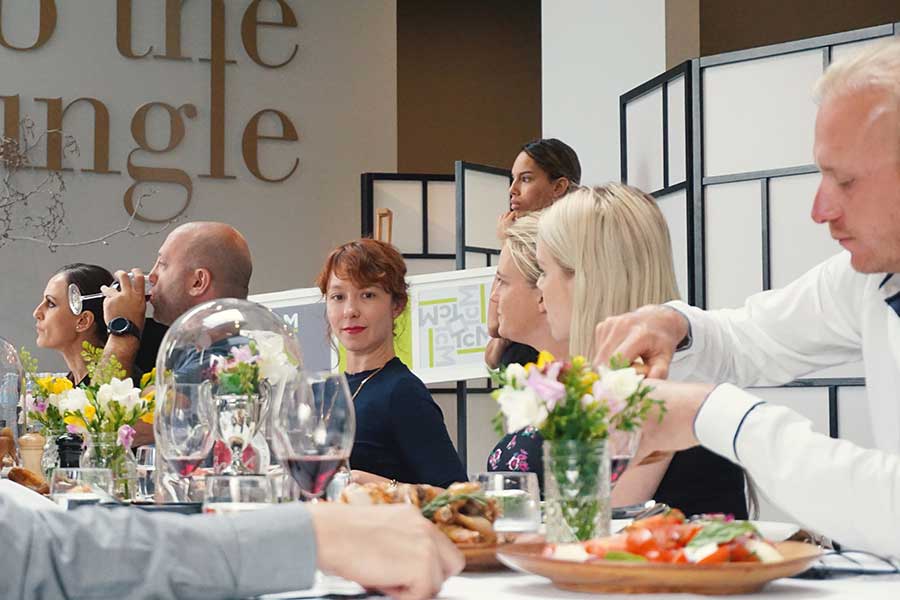 Corporate catering can provide the restaurant experience right in your boardroom, complete with glassware, silverware, and well-trained waitstaff. In fact, at CHEFIN we even provide an in-house personal chef to cook and prepare your meals on-site. It doesn't get any fresher than that!
3. You can do more with a lower budget
When catering isn't your forte (i.e. you're not a caterer for a living), it can be hard to figure out what to do with the budget provided for a client meeting or business lunch. Working with a corporate caterer, however, can stretch your dollars a lot more.
Professional caterers know how to work with different budgets so that you get more bang for your buck. A small budget can be distributed to create a boardroom smorgasbord full of fine foods and ingredients, using the money in creative ways that you could never have considered yourself.
4. You can easily cater for all diets and requirements
If you're hosting a bunch of picky eaters or clients with different dietary requirements, you absolutely need to ensure you cater for them without compromising on quality. That big shareholder who eats vegan and gluten-free? You'd better hope you're serving them more than just a dry salad.
Hiring a corporate caterer is a tremendous help when dealing with a full spectrum of dietary requirements and boardroom bosses who are used to eating the best of the best. You'll have peace of mind that the paleo vegan meal requested by the client is delicious, well-made, and sure to impress.
How to organise corporate catering for your business lunch or client meeting
Convinced that corporate catering is the way to go? Good on you – enjoy that peace of mind and free time while the caterer takes care of business. Here's how to make sure that your catering is a success.
1. Confirm your budget with the boss
Ordering business catering is exciting. You can browse through all these mouth-watering menus and start dreaming about all the leftover food that will come your way once the meeting is over. But before you get too excited, make sure you've confirmed your budget with the big boss.
If it's up to you to determine the budget, here are some things to consider beforehand:
What type of meeting is it? Are you establishing a new relationship with a client, impressing important shareholders, or trying to retain a client who may want to leave? This can help set the tone for how much money is worth throwing down on the corporate catering.
Who's on the guestlist? Is this a small boardroom lunch for the CEO and investors, a big affair with the whole office, an event for a team visiting from out-of-town, or a business lunch with VIPs who need to be shown a good time? Considering this will help you know how impressive the food should be – and therefore how much money to spend.
What's the purpose of the food? Are you catering the client meeting just to have some nibbles, or is the meeting happening throughout lunch or dinner time and therefore needs something more substantial? Is it an all-day affair that requires brain fuel and energy-rich foods, or more of a small meeting that could do with a few snacks?
2. Consider your space
Knowing where the meeting will be held can help you determine what kind of corporate catering to order and how to serve the food. Will people be eating in a boardroom, up on a rooftop, in a large space, or a smaller room? Is it an all-day meeting, an hour long chat, or a half-day affair? Will people be working in the same space, or locked away in private rooms, coming out only to eat?
Thinking about the space will help you (and the corporate caterer) understand how to best prepare and serve the food. This could be in shared platters, individual boxes, a sit-down dinner, or a self-serve station. Again, the caterer can work with you to organise the best way to distribute food, but thinking about it before you speak to them will make a world of difference in organisation and planning.
3. What time of day will the meeting be held?
If you really want to impress clients with food, then you need to make sure that food satisfies their cravings. And in the morning, that'll be a different meal than one served in the evening. If the client meeting is hosted earlier in the day, go for breakfast foods; at lunch, you want something more substantial; and at dinner time, a hearty and warming meal that's not too large. In between all those, you'll want canapes, finger foods, or grazing tables.
It's also a good idea to consider the weather and the season. Is it raining outside or a beautiful summer's day? Is it the time of day to have coffee and tea (and so, you'll probably want some pastries on hand?). Is it a longer meeting that might go on into the night and do better with a buffet?
4. Mix things up and have some fun
The beauty of bringing in corporate catering from CHEFIN is that you have access to your very own talented chef, each with a range of different specialties, cuisines, and skill sets to show off. If you're often hosting the same client or group in your office, it may get boring to serve them the same old thing every time. So mixing up your corporate catering with different cuisines or themes can make a world of difference in keeping those clients happy and impressed.
Go for Japanese, Chinese, Hawaiian, or Italian cuisines. For clients who are a bit funkier and down to try something different, could a dining experience be the trick to impress them? Australia Day is the perfect time to graze on native Aussie cuisine with local and Indigenous ingredients, and summer the best time for a delicious barbeque.
Consider your clients impressed
At CHEFIN we've catered for hundreds of corporate events, business lunches, and client meetings, and we know our way around a boardroom lunch or two. We can help you organise corporate catering that's made fresh on-site by a private chef, and deliver food with professional waitstaff, table settings, and anything else you need to replicate that fine-dining experience in the boardroom.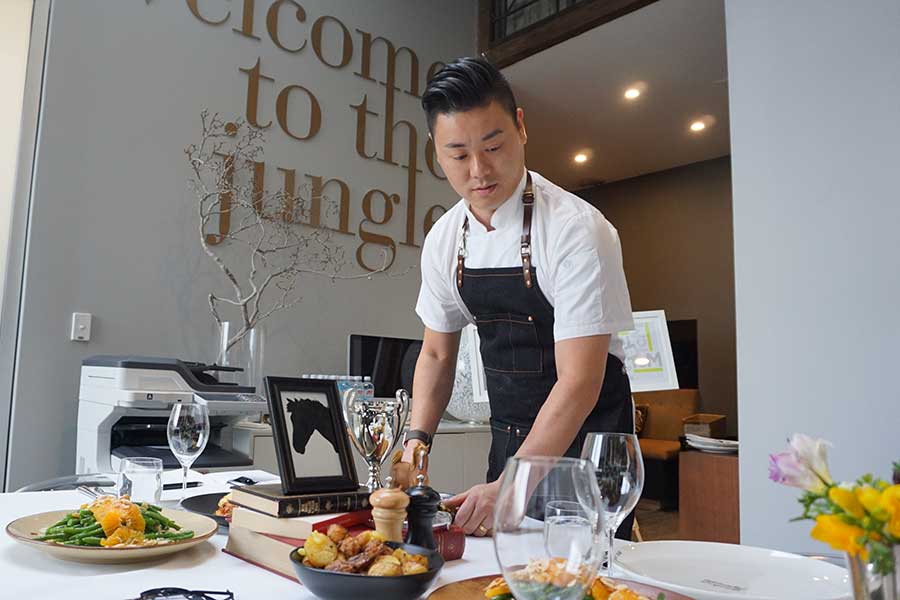 Best of all, our chefs create a customised menu every time. Whatever your needs and desires, we can help bring them to life! Get in touch with our team now and let's make an impression.