2021 was a crazy year for the food and dining industry. The pandemic brought about so many upheavals and changed the way food and dining looks in a way we never could have predicted. This year, we're expecting to see the dust settle and a lot of exciting 2022 food & beverage trends crop up as a result of being under quarantine and the changing nature of socialising. And who better to predict the incoming 2022 food & beverage trends than our team of chefs? Here are the biggest food, beverage, and restaurant trends that are set to define dining in 2022.
2022 Food trends
So, what trends can we expect to see this year? Some are already starting to bloom, having already had their roots in 2020 and the worldwide quarantine experience. Others are here only as whispers, changes that we expect to see unfold as the year progresses. Remember – you heard it here first!
Dining out is 'out' and dining in is 'in'
Like most of 2022 Food Trends, we've got COVID to thank for this one. Being forcibly locked in at home with nowhere to go over a year, we were forced to experience the art of dining in – and now we never want to go back! OK, maybe sometimes. But dining in is a huge new trend that will only continue to unfold as the year goes on.
People are learning to recreate the restaurant experience at home, in their own creative ways. We're learning that you don't have to eat out to enjoy an amazing dining experience with loved ones, there's plenty of fun to be had by dining in. Choosing the music, choosing the lighting, choosing the food – and even choosing the chef! No parking, no crowds, and no waiting… There's something about dining at home that adds an extra dose of intimacy that eating out simply does not have, and in a time when we're craving special social interactions it's more 'in' than ever to dine in. Not to mention, you can do it all in your pyjamas!
Crafty cooking
Social media has done a whole lot for the food world. A great meal isn't just one that tastes good, but one that looks good too – and the more novelty, the better! Now TikTok has taken the food game to a whole other level, introducing the concept of wonderfully weird and crafty foods. Suddenly, a new trend is born!
Remember whipped Dalgona coffee and mini pancake cereals? Those are just the beginning of a new trend that will sweep throughout this year with more whimsical food experiments. Why? Because people have spent almost an entire year at home, starved of boredom and creativity and looking for excitement in the day-to-day. People are actually looking forward to being in the kitchen, and if it involves some crazy food experience they can share ons social media, then even better. What'll we see next?! Stay tuned.
Interactive dining experiences
2021 was the year that we realised how lucky we are to have a close circle of family and friends, and being apart made us miss them more than ever. Zoom has become the new platform for social activities, and we've learned to do more than just chat to pass the time – cos that gets boring. We're playing games, we're trying new activities, we're having fun in more ways than just through conversation. And now that's being translated into dining, too. Who wants to just sit around eating a boring old meal these days? Nobody!
We want fun, exciting, new and different experiences (that we can also share on social media). As a result, we're already seeing – and expect to see more – increased interest in interactive dining experiences. These are social dinners where you can socialise and interact with your fellow diners beyond just eating and commenting on the food – picture things like blindfolded dinners, interactive eating, taste of the world banquets, and more. In 2022 there'll be a lot more cool dining experiences to be had both at home and in restaurants, and more risk-taking in a year where taking risks doesn't seem that far out anymore. Expect to see the interactive dining scene continue to evolve throughout the year!
Plant-based meats go mainstream
If it seems like more and more people are going vegetarian, it's because they are! With a larger number of the population going for plant-based diets, the food industry is responding accordingly. 28% of people surveyed by the International Food Information Council have said that they're getting more of their protein from plant-based sources now, and you can bet that'll translate into exciting new vegetarian dishes popping up everywhere.
One of the biggest 2022 Food Trends is set to be centred around plant-based meats and more vegetarian options both in restaurants and fast food joints as well as supermarkets. We'll be seeing not just plant-based burgers but also plant-based fish, chicken, duck, and all sorts of other veggie versions of our favourite meat dishes. Cooking for vegetarians is no longer a specialty but an absolute must for any self-respecting chef, and you can expect to see new and inventive ways of eating plants in 2022. No more opting for salad if you're a veggo, and more deliciously flavoursome veggie-based meals to be seen on menus everywhere. Interested in this topic? Read this 5 Food Trends in 2022 That Seek to Tackle Climate Change.
Breakfast goes gourmet
It seems like in the last few years we've rejigged all our meals, except breakfast. This year, we'll see brekkie become a gourmet meal of its own – no more cereals, smoothies, and quickie Up&Go breakfasts! In 2022, we'll be seeing more and more delicious breakfast options from both fast food takeaways and dine-in restaurants (including more all day breakfast options!) It is the most important meal of the day, after all.
With more people embracing a healthier approach and looking for more exciting 'foodie' meals, it's time that breakfast had a makeover. Bacon and eggs, we love you, but there's more to a hearty breakfast than just that. In 2022, expect to see a rise in done-for-you breakfast meal-prepping businesses as well as meal kits starting to include breakfast in their options (come to think of it, we're surprised they hadn't done this sooner). Oh, and when it comes to socialising? Goodbye brunch, and hello breakfast for great morning catch up before you go about your day.
Hiring a private chef
Hello, luxury! 2021 was the year of 'treat yourself' and 2022 is the year that private chefs finally step out of the luxurious celebrity landscape and into the homes of everyone else. We've seen so many cooking shows over the years, yet many of us still haven't considered the fact that we could hire our own private chef to come into our home and cook for us – until 2022, that is.
Private chefs are seeing a boom in eating out in restaurants, and they're great in more ways than just one. They offer more creative ways of cooking, bespoke individualised menus, and a whole extra element of fun and excitement to a dinner party. You can feel all fancy in front of your friends, and best of all, you don't even have to clean up!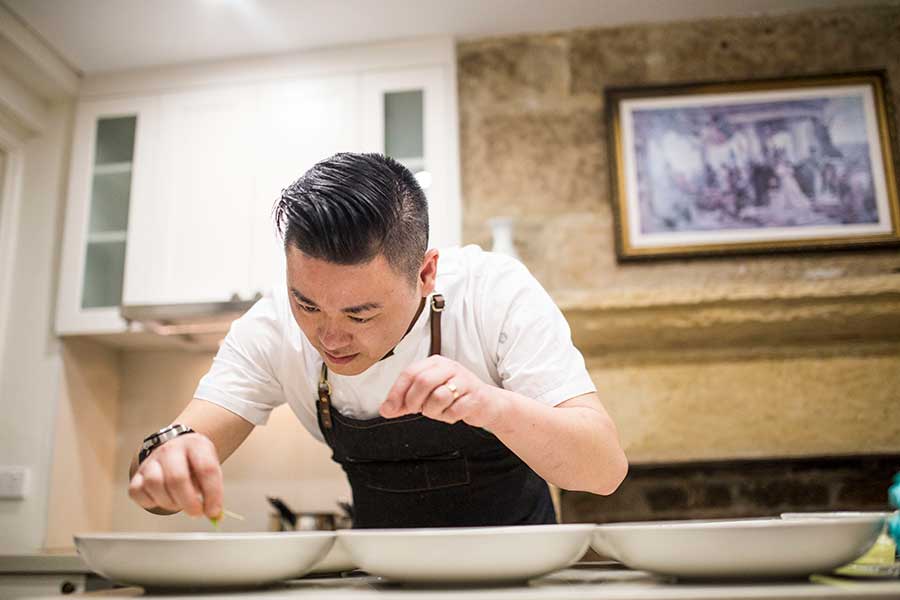 2022 is the year that private chefs become the new caterers, especially on special occasions and moments where you want to spoil someone you love (or yourself). Think Valentine's Day, birthdays, anniversaries, graduations… takeaway just won't cut it anymore, and personal chefs are a step above the usual restaurant experience. Personal chefs, it's your time to shine!
Cooking classes (in-person and virtual)
As we've seen throughout 2021, more and more experiences are popping up in the virtual realm. We've seen wine tastings and cheese tastings, and now cooking classes are set to be the huge new fad in 2022. We're more interested in cooking than ever, and at the same time, we're looking for new and different ways to socialise after playing way too many board games and trivia. Enter cooking classes – combining our newfound love of being in the kitchen with the desire to interact with more than just conversation.
Virtual cooking classes are a fun and safe way to socialise, get hands-on, and learn something new while you're at it. Not to mention you get to enjoy a delicious meal afterwards and learn some hot tips from a professional chef! Cooking classes in person are even more fun (did someone say food fight?) and another hot trend as we look for new ways to socialise in the post-pandemic world. Do this for birthdays, celebrations, parties, and just because you're bored. Grab a few mates, hire a private chef, and cook up something yum! We also expect to see more cook-offs… because who doesn't love a healthy dose of competition?
Cultural cuisines
We've always been partial to food from other cultures, like Indian, Italian, Chinese, and Middle Eastern… but what about Burmese food? Or Kenyan cooking? Have you ever tried Peruvian meals or food from Tajikistan? 2022 is the year that we'll see more and more foods from diverse cultures popping up around the place. Whether it's a home-delivery service, pop-up restaurant, or new dining space in a shipping container, expect new and exciting flavours to hit your palate.
This is another trend we can thank TikTok for. With the widespread popularity of the app, we've been seeing what's happening in kitchens from all over the world, and this is expanding our vision of what food is and what food can be. For those who never considered dabbling in other cuisines, there's a newfound curiosity emerging. And with all the boredom that's come with COVID-19 lockdowns, people are keener than ever to take a chance on food that's different (and Instagrammable… don't forget that part).
At the same time, we're expecting 2022 to be the year where we differentiate regional cuisines rather than using blanket terms. No more 'Chinese' cooking, but more Szechuan, Hunanese, or Cantonese cooking. Less 'Indian' and more Parsi, Konkani, and Bengali foods. Even when it comes to popular foods like Italian, we'll see more nods towards regions like Napoli, Tuscan, or Sicilian foods.
Multi-course meal extravaganzas
When you were stuck at home all day in quarantine, mealtimes become the highlight of your day – and nobody wants to stop at just one course anymore. We want multi-course meals, we want to eat the food we're seeing when binge-watching cooking shows on TV, and we want fine-dining! And all of this in the comfort of our own homes!
After a year of takeaway and home delivery, we're getting tired of fast food and the usual meals. We want to treat ourselves to something special, to reward ourselves for what's been a difficult 2021, and to try something new and different. We want slick and elegant multi-course meals to film and post on social media. And as a result, we'll be seeing a lot more banquets and feasts being offered in restaurants and more people interested in degustations and multi-course meals than just a single old dish. Whether that means eating out, bringing in a private chef, or trying to tackle it yourself is up to you!
Individualised menus
Now that many of us have abstained from eating out for a while, looking back at a generic menu won't be the same. We've been eating at home, ordering a lot of takeaway, and often that means everyone choosing a dish of their liking from a restaurant of their choosing. To go back to eating at one restaurant and all picking a dish from a single menu won't be the same. So in 2022, we're expecting more individualised and customised menus to be the norm – whether that's at restaurants, catering, or takeaways.
Heritage cooking
This one goes hand in hand with the increased popularity of cultural cuisines. We're going back to the past, baby! With more and more people interested in returning to our roots and origins, and also trying to eat healthier and more wholesome meals, 2022 will see food start to go back to where we came from. We're talking about more traditional heritage dishes that have been long forgotten, or considered a little too time-consuming for the home cook to try.
As a whole, we've seen the problem with processed foods and fast foods, and we've watched enough cooking shows to see how much thought and dedication goes into making traditional recipes. And as a result, more of us are embracing our roots and looking back to the past to take tips for the future. Think more restaurant menus with older, traditional dishes, as well as simple things like preserved foods and fermented food. At the same time, we'll be seeing more people trying to DIY foods that they would've traditionally bought ready-made from the supermarket – think making your own sausages, stocks, etc.
Making your own condiments
In 2021, we saw fermented foods becoming a huge trend, and in 2022 that'll go next level to amass all sorts of condiments. Preserve, pickle, ferment, and make your own jams, compotes, and sauces! With more home-cooking happening in the age of lockdown, people are looking for quick and easy ways to add flavours to their dishes, and it's the perfect time to see homemade and small batch sauces, spice blends, and condiments popping up.
There's a whole lot to love about condiment culture – they make food taste brighter and tastier, and it's a fun activity to do at home if you're bored and feel like doing something productive. We might even see condiments and cooking classes come together for a fun new social activity. People will be trying their luck at DIY chimichurri, sauerkraut, chilli sauce, and pickles. Make a whole batch and gift them to friends!
Hosting social dinner parties
House parties are out, dinner parties are in! With many clubs and bars practicing social distancing measures or being closed entirely, more people are finding fun and comfort in simply hanging out in someone's house and sharing a meal (probably a multi-course meal, from a different cuisine, featuring condiments and a throwback to heritage cooking). This year, it's all about showing off and impressing your friends with exotic new recipes and extravagant dishes you've been experimenting with over the lockdown period. Or maybe you just hire a private chef to dote on you and your pals in a year where eating out isn't as exciting as it used to be.
2022 Beverage trends
So we've seen what 2022 has to offer in terms of food, but what about bevvies? Beverage trends are just as much of a hit every year, reflecting the cultural climate and . Remember frozen nitro, Aperol Spritz, and adaptogen-infused beverages? They were the greatest hits of 2021, and now here's what you can expect to see in 2022 in terms of drinks – alcoholic or not!
Non-alcoholic drinks
2021 was the year that everyone started drinking at home, during the day, while in lockdown, and it's also the year that we've realised that alcohol isn't as healthy as we once thought. Funny that! In 2022 you can expect to see a rise in non-alcoholic 'adult drinks', anything from beer to wine to cocktails. People want the enjoyment of drinking a fancy drink, but don't always want to get plastered. Plus, there are the health benefits of going non-alcoholic too. It's no longer weird or frowned upon – non-alcoholic may even be the new norm!
Everything is now on tap
It's a fun novelty and makes it easier than ever to serve drinks at bars and restaurants. This year, we'll be seeing anything and everything 'on tap', whether it's rosé or hard seltzer, premixed cocktails or kombucha. And especially hard kombucha. Who knows what they'll dream of next? Coffee on tap? Iced tea? Stay tuned…
Anything will be alcohol
This year we're gonna be seeing a lot of non-alcoholic alternatives to traditionally alcoholic beverages, and the flipside will be true too. 2022 is the year that we'll see classically non-alcoholic beverages being served up 'hard'. As a culture, we want more ready-to-drink options and the beverage companies are listening. Expect to see lots of hard coffee, hard teas, hard lemonade… hard coconut water?! Who's to say. We want experimental drinks, and we want them now!
Healthy bevvies
With a worldwide increase in health and nutrition, and everyone being an expert on superfood and wellness, expect this health surge to hit the booze trend this year. And hard! In 2022 you'll be seeing new 'healthy' beverages like probiotic hard kombucha and spirits boasting antioxidant infusions. Who knows, you might even see cocktails bursting with collagen and other fancy 'health-packed' ingredients. The point is, more of us are looking for healthier ways to dabble in our favourite beverages, and booze companies are responding. Just watch out for all those health claims and don't believe everything you read on the label!
Canned cocktails
Brought to you in 2021, and becoming a worldwide trend in 2022! This year we'll see a lot more widespread availability of ready-to-drink high-end cocktails, whether they're in a can or in a bag. With the hospitality industry suffering due to COVID, ready-to-g cocktails are one of the easiest ways for bars and restaurants to diversify their offerings and make an extra buck or two. We'll probably be seeing cocktails in both alcohol-free and alcoholic options. Finally, we'll all have an option to enjoy a swanky drink at home without having to fork out $20 in an overcrowded bar!
2022 Restaurant trends
Restaurants were one of the most affected industries after COVID-19 hit last year. With more outdoor dining, an emphasis on hygiene, and more people ordering takeaway and delivery than ever, restaurants have had to make some massive changes. This year, we'll be seeing restaurants adapt and transform in order to stay sustainable into the future. Here are some of 2022's biggest predicted restaurant trends.
No more single use plastics
Thanks to the pandemic, single-use packaging has been massively on the increase. In 2022, more businesses are going to start embracing more environmentally responsible and sustainable packaging choices. We didn't have time to think about it before, but now we do. With more consumers looking to embrace a more eco-friendly lifestyle, businesses will have to show their commitment to doing better for the earth. As a result, expect to see more packaging made from recycled materials, compostable boxes, and more.
Hybrids and overhauls
Restaurants have been hit hard with COVID, and 2022 will see a huge overhaul in the restaurant industry. To survive, you need to adapt, and restaurants are going to need to come up with new and creative concepts to catch up with the drastically evolving food scene and meet the demands of at-home diners. We're expecting to see more restaurant/store hybrids this year, like fried chicken/sneakers or sushi/vinyl records, as well as more restaurants offering takeaway & delivery options or an in-store grocery shopping experience.
Takeaway will look & feel nicer
One of the biggest changes experienced by the restaurant industry last year was the heavy emphasis on takeaway meals, and this is set to continue as chefs dream up new and inventive ways to bring the restaurant experience back home. Things like food presentation and serving styles will be creatively reinterpreted so your at-home dining experience is more fun than simply unboxing a plastic container. This is especially important for restaurants that pride themselves on their food presentation and dining experience – they need to come up with ways to recreate that experience in guest's homes.
Destination restaurants
This year, we're going out of the city and into the country to try all those fabulous little places we never had time for. Border shutdowns have made holidays impossible, and more of us are keen to get out and explore our own backyards. As usual, food is the flavour of the year, and more of us will be heading out on day trips and overnight stays to foodie destinations to try those restaurants in far flung places. We want to be immersed in nature, we want road trips and the vacation experience, and we want great food while we're at it!
Restaurant diversification
Going off the point about restaurant hybrids, we're going to see a lot more diversification happening in terms of what a restaurant offers its visitors. The traditional restaurant as a place to sit down and eat may be completely transformed with new and exciting offerings. This could be anything from cooking classes and take-home meal kits to dining experiences and bottled 'secret sauces'. It's all about adapting to the changes and trying to reach a larger audience than what you'd normally squeeze into a restaurant dining room.
Focus on comfort & hospitality
Instead of hyping up a restaurant's trendy new dish or their superfood-packed menu, in 2022 we'll see restaurants standing out due to their fantastic hospitality. In the age of the pandemic, guests want to feel comfortable, looked after, and experience excellent hosting (a throwback to heritage cooking and old-school hospitality). Guests want to gather with friends while feeling safe and secure, and hosting is a part of that experience. So, at last, restaurants will be noted by their genuine hospitality and straying from the need to market weird and wacky menu offerings to get attention.
Safety in cleanliness
Who knew hygiene could be such a popular buzzword? Something that generally wasn't considered when eating out is set to be at the forefront of people's minds when heading to a restaurant. Once you go clean, you can't go back! In 2022 we'll see restaurants continue to emphasise their dedication to hygiene and cleanliness, offering single-use, non-reusable items (but more environmentally-friendly), and wearing masks, gloves, and hairnets. Customers will want to know all about these finer details of sanitation – no more mystery kitchens! Health and safety measures will be at the forefront of a restaurant's marketing, and more readily available for consumers to know about. To be honest, we're surprised it took this long for sanitation to become a 'thing' in restaurants, but we're glad it's here to stay.