Australia is seeing a boom in the market for private chefs. More and more families are opting to hire a private chef to come and cook for them on special occasions. This trend is especially popular among busy families who want to spend quality time together.
But what's the next big thing in hiring a private chef in 2023?
1. Airbnb + Hire a Private Chef = Breezy Holiday!
Travelling can be a thrilling experience, but there is also much to consider when it comes to pre-planning—especially if you typically stay in Airbnbs. With grocery shopping, meal planning and restaurant reservations – all while accommodating varying budgets, dietary needs and tastes of many friends on vacation – the task of preparing for your getaway may quickly deflate that holiday spirit! CHEFIN's experienced team will tailor your gathered meals specifically to fit all these requirements so that your next trip runs smoothly with no loose ends.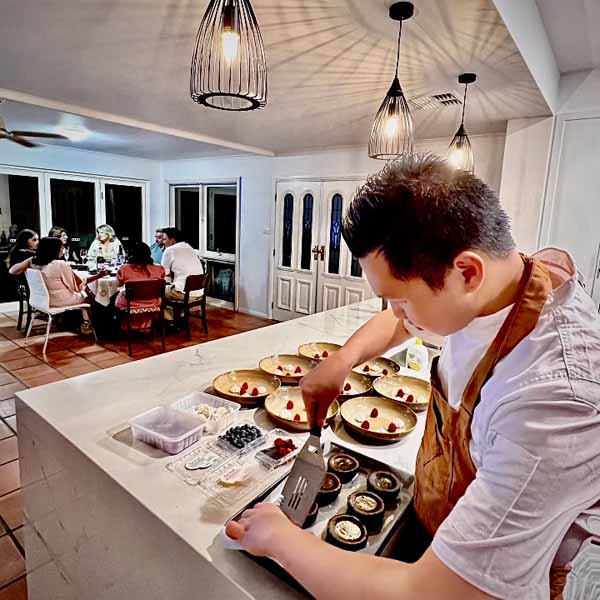 CHEFIN covers most of the cities and major towns in Australia. Find out if your next holiday destination is included in our service areas:
NSW – Sydney, Newcastle, Wollongong, Port Macquarie, Orange, Byron Bay, Tamworth, Blue Mountains, Kiama, Nowra, Hunter Valley
ACT – Canberra
VIC – Melbourne, Geelong, Ballarat, Mornington Peninsula
QLD – Brisbane, Gold Coast, Cairns, Sunshine Coast
SA – Adelaide, Barossa, Lime Coast
WA – Perth, Broome, Margaret River
NT – Darwin, Alice Springs
TAS – Hobart, Launceston
2. Omakase at Home
What is Omakase? Why has it been getting so much attention recently? Omakase, is a Japanese phrase meaning "I'll leave it up to you". It's used to describe an experience in which the customer trusts that the chef will send out a selection of dishes tailored to their taste. That is, instead of ordering off the menu, customers leave it up to the chef to decide what should be served.
This new trend of private dining takes the pleasure of going out for dinner and brings it into your home. There's no need to visit an expensive restaurant when you can have a high-end culinary experience come to you!
And, as Omakase is merely a dining style, you can enjoy this tailored experience with any type of cuisine – French, Italian, Chinese, or Japanese…you choose the cuisine and input your dietary requirements, and the CHEFIN booking algorithm will take your preferences & match these with the best-matched chef just for you.
Check out CHEFIN Omakase package.
3. "The World's Best Restaurant" is In-home Fine Dining
"The World's Best Restaurant" Noma is closing as Chef René Redzepi said because its model is "no longer sustainable". Running a Fine Dining restaurant is never easy – it requires a large highly-skilled staff, high rent costs and just high ingredient costs.
So what could be an alternative solution to get the same level of dining quality? CHEFIN has the answer – Private In-home Fine Dining. It's a great way to not only get restaurant-level food but in the comfort and privacy of your own home. With CHEFIN, you can hire professional chefs to bring five-star meals directly to your door.
CHEFIN chefs are usually current or past Head Chefs or Sous Chefs of fine dining restaurants, and 5-star hotels. They came to Australia from all around the world, with creativity, passion, and drive to consistently bring up the best food to their guests. They're always discovering new and obscure ingredients, special techniques, and intriguing ways to present their foods. They want to engage people's senses, to spark conversation, to leave a mark on your memory.
Ready to host your next special occasion? Make it memorable with CHEFIN!