We've been in and out of lockdown for a couple of years now. A lot of us have felt lonely during that time, separated from family and friends and unable to partake in the usual midweek and weekend socialising that we're used to. Some people have lost friends while others feel as though their social skills fell apart – what did socialising in a group feel like again? And many of us are starting to wonder what socialising is going to look like in a post-covid world. Will things ever go back to the way they were?
Our social lives after covid
A late-2021 study by The Conversation found that many people felt increasingly lonely and disconnected during lockdown. Friendly interactions didn't feel the same – and it continued to feel that way even after we came out of lockdown. People reported feeling as though they drifted apart from their friends and that everyone was feeling more withdrawn. Friendship networks also seemed to shrink as people didn't stay in touch with those in their outer circles throughout the lockdown period. Contact was maintained with close friends but dwindled with acquaintances and other distant connections. Soon, enough time had passed that it felt like those connections were simply gone and unlikely to be repaired.
Now that the time has come for us to resume socialising, a lot of us are feeling a little rusty. We've spent too much time indoors, with a small selection of people, that we kind of forgot how to socialise – especially in larger groups. Many people are feeling awkward or socially anxious for the first time in their lives. And there's a science behind all of that.
What covid lockdown has done to our brains
Loneliness and isolation – two very prevalent feelings during the pandemic – are linked to cognitive decline. People with smaller, less complex social networks have been shown to have a small amygdala (the brain's emotion-processing centre). Chronic loneliness can put someone at risk of depression, making them more paranoid and negative. And prolonged isolation has also been shown to affect memory and verbal recall.
Being the social animals that we are, humans need lots of interactive stimulation to keep our brains sharp. Being locked up at home and not socialising means that a lot of us are now struggling to find the right words in conversation. We're either talking too much or failing to articulate ourselves properly. Cue more social anxiety! And then there's the stress about whether you should hug or bump elbows… or what if you run out of things to talk about? After covid lockdowns, more adults are feeling stress over social interactions than ever before. And the thing is, that's completely normal.
But wait, I can hear you asking, weren't we hosting virtual drinks and fun online games nights? Yep, but digital connections just couldn't match up to in-person friendships according to the The Conversation study. In-person socialising simply hits different, and in a post-covid world we need to put more attention than ever on maintaining meaningful connections with our loved ones – in real life.
How to ease yourself back into socialising post-covid
Our brains might require a bit of retaining to get us back up to scratch and socialising the way we used to before covid. Unfortunately, things won't just 'resume back to normal' unless we make a concerted effort to meet up in person, do fun and different things, and reignite the spark that may have been lost during lockdowns.
To make things easier for you, here are a few tips:
Get used to the weirdness. It might feel odd to make physical contact with people but ease yourself back in. Don't avoid the struggle – jump into it and it'll wash away.
Take it slow. Find out how safe your friends feel about socialising post-covid and talk about what they feel comfortable doing. Are hugs OK? Still want to elbow-bump? Clarify it and avoid the awkwardness of trying to guess.
Start with small & safe gatherings at home. Ease yourself back in with a close knit group of friends that you feel comfortable around before you start tackling bigger group situations.
Be patient with yourself. And remember that everyone else is feeling the socially awkward struggle too. It's not just you!
3 ideas for socialising with friends post-covid
Ready to reignite your social life? Kick things off with a bang and hire a private chef to host your catch up party. Here are a few reasons why we think a private chef will make your post-covid socialising a lot easier and more fun:
You can start with small and safe gatherings in the comfort of your own home. If you're still not comfortable about dining inside restaurants, this is how you can treat yourself to an extravagant meal without having the added pressure of being outdoors amongst crowds.
All our chefs are fully vaccinated & rapid testing is done before the event day. So you can comfortably welcome them into your home without a worry.
All our chefs are required to wear face masks, disposable gloves, and professional uniforms during your event. So you can socialise without having the added pressure of worrying about covid.
You can socialise as much or as little as you want to. The perfect way to ease yourself into socialising with strangers – the chef is there if you want to chat but if you don't, that's totally OK too. Start small!
Flexible with reorganising or cancelling events if needed. We know that nothing is predictable these days and things can change in an instant. We're flexible with reorganising or cancelling, so you're free to organise your post-covid catchup without worrying about being locked in.
So, here are three different ways a private chef can spice up your post-covid catchup and make it the ultimate reunion event. Best of all – you won't have to worry about how to chat around the dinner table!
It's like wearing a mask, except the mask is covering your eyes instead of your mouth. Our blindfolded dinner event is one of our most popular food journeys, a multisensory extravaganza in which you're served a multi-course meal that you eat while blindfolded. With your eyes covered you'll only be able to use your sense of taste, touch, and smell to discern what exactly it is that you're eating. Take turns with your guests trying to guess the ingredients in your dish, and then take off your blindfolds and let your chef reveal the dish before you resume eating. Fun, exciting, and a little competitive, the blindfolded dinner is a truly unique food experience that'll have you forgetting you were feeling socially awkward to begin with!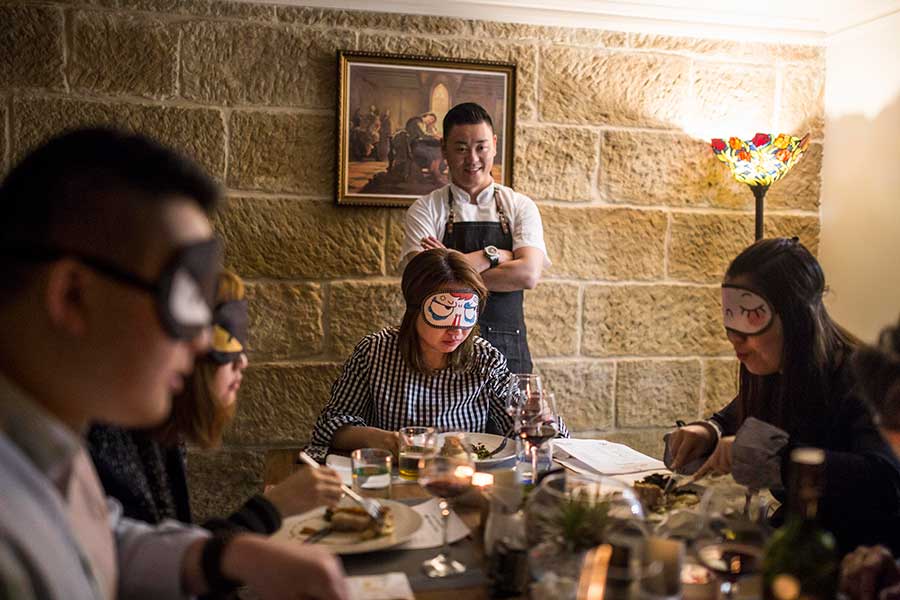 If you're worried about what to talk about or dying for a bit of action after lockdown, this is for you. Gather 3 or 4 of your closest mates and get silly, creative, and seriously good at cooking with a cooking class led by a private chef.
Always wanted to learn how to make pasta? Or maybe you're more interested in dumpling making. What about pizza dough? Or cooking with edible flowers? Maybe you'd rather dive into some molecular gastronomy… whatever it is that takes your fancy, a private chef can teach you the tricks. Our private chefs have cooked all over the world, in all sorts of cuisines, and will pass their knowledge on in a fun, interactive, and hands-on way. If you're feeling competitive – turn the cooking class into a masterchef cook off!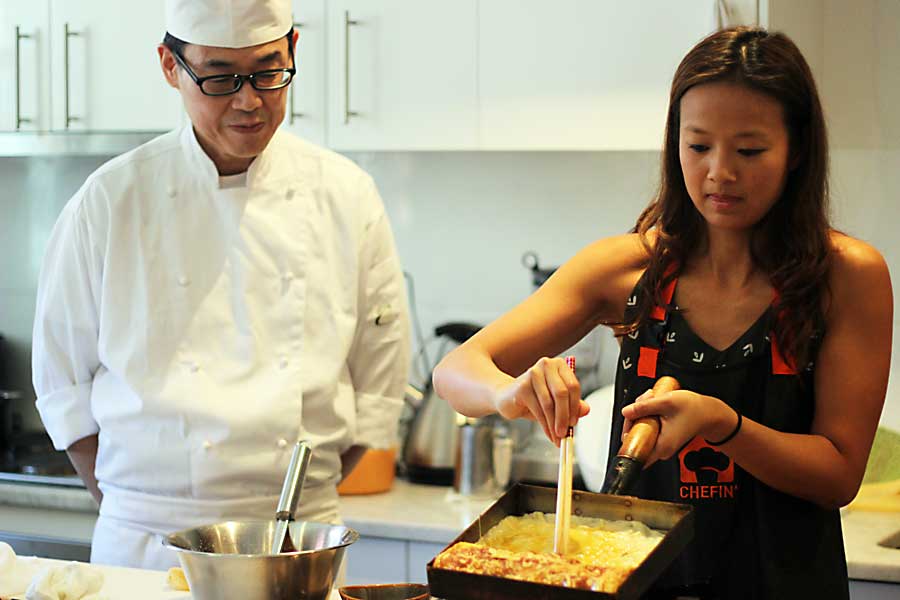 Bake-off
If you're craving human connection, sometimes the best way to find it is through food. Maybe that's why so many people have turned to baking as a way to pass time during covid lockdowns. If you're one of those people – and even if you're not – why not host a bake-off with your friends and family? It's a great way to socialise, share some laughs, and enjoy some homey comforting food while you're at it.
Gather a few friends and plan a day for the bake-off. Let everyone arrive at the designated kitchen with ingredients ready and their own appliances (we don't want any fighting here!) Give yourselves a time limit for delivering the goodies, and get to it. When the food is ready to present, take the role of judges and critique each other's masterpieces. A real gem of a day – and you don't even have to leave the house!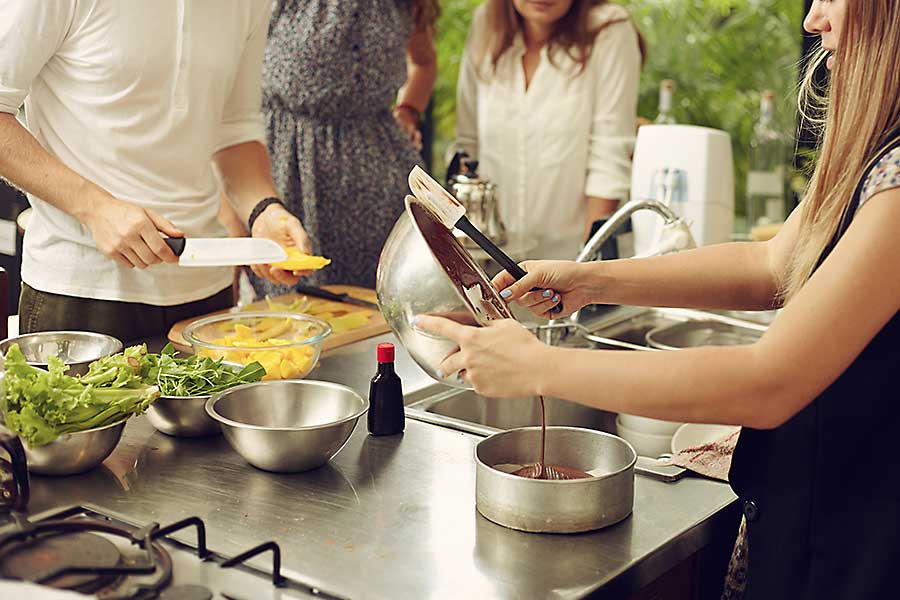 Book your post-covid event now
Ready to start filling your social calendar again? Great, because our private chefs are ready to make sure you're socialising with the finest food out there. Whether you already have ideas in mind or you need some help thinking of fun ways to socialise with your friends, we can help. Get in touch with our team and we can help you book a post-covid social event that satisfies your belly and fills you up with that human connection you've been missing out on for far too long.
---
Private Chefs, Art of Dining
CHEFIN is a private chef platform that's reimagining social dining.
You can easily connect with 1 of our 250 private chefs and treat your guests to restaurant-quality dining experiences in the comfort of your own home, office or chosen venue. From high-end dining to quirky social food experiences, the CHEFIN platform makes it effortless for you to access gourmet food that's worthy of a Michelin-starred establishment.
What you get:
Your very own private chef who is vetted and insured,
A customised menu for your needs,
24/7 concierge support,
Complete post-dinner cleanup,
A fun, stress-free, and unforgettably dining experience!