Whimsical soda that evokes the heart of the Aussie bush
The people at PS Soda do things a little differently… We're talking boutique bubbles in far-off flavours the world hasn't seen before.
PS Soda is a journey of alchemy, combining botanicals from the bush with out-there soda flavours to give you fabulous mixers that elevate a drink from something great to something truly extraordinary. All made by hand, using local ingredients, and mixed right in the heart of Sydney.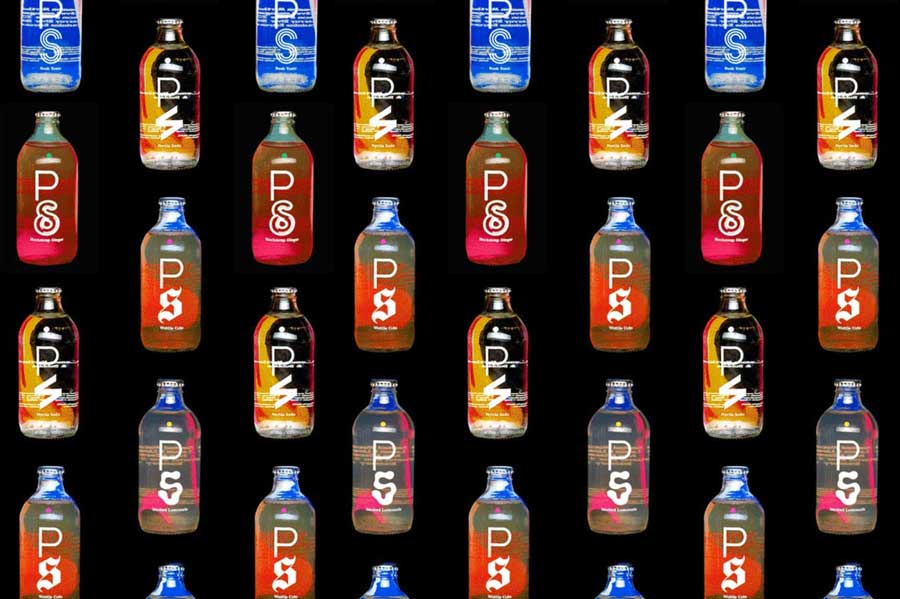 Transformative magic that turns cocktails on their head
It all started in one of Australia's best cocktail bars and Time Out's Sydney Bar of the Year, PS40. In 2015, the trio running the bar – Thor Bergquist, Livia Lima, and Michael Chiem – recognised the many different options for spirits but the relatively few options for mixers. There's Coke, tonic, fruit juice… and then what? To elevate their cocktails and infuse the heart of local Australian flavours into a delicious soda, the trio set out to traverse the bubbleverse.
The cocktail-obsessed team started experimenting with sodas, making their own flavours and seeing how they worked in different drinks. Eventually, they were happy enough with their creations that they started bottling them and selling them from the bar. Over the years, the crew continued to develop and tweak the recipes for their core flavour range, taking inspiration from the food and art worlds and combining it with the inventive feedback coming in from guests. Five years later, they were happy enough with their core range of flavours to show it off to the world.
In a team of three, it helps to have different talents and skillsets. Thor took charge of flavour development and bubble control while Liv handled the visuals, commandeering the quirky branding and photoshoots of PS40, and Michael ran the company. In 2018, PS Soda was officially launched and started putting out its never-before-seen range of sodas. 
And the drinks are bubbles of the most extraordinary kind. Lemonade is smoked, Cola is made from wattle seed, and everything is made fresh by hand using largely local and native ingredients. In case you didn't notice by the sheer creativity, all of PS Soda's drinks are entirely unique creations that make a point of not imitating other brands or doing things that have been done before.
Whimsical soda that evokes the heart of the Aussie bush
At the heart of PS Soda is the aim to create a soda company that truly represents Australia. Yes, it's also about making incredible mixers that blow your mind and tingle your taste buds, but it's Aussie first and mixers second. To infuse the flavour of Australia in their drinks, the crew work with nearby producers and suppliers to source the best native ingredients for their whimsical beverages. Everything is natural, cooked from scratch, and made by hand in Sydney. What could be more authentically Aussie than that?
First there's the PS Bush Tonic, with lemon myrtle and native lemongrass combined with quinine from Peruvian red Cinchona bark. And then the award-winning Smoked Lemonade, an intriguing beverage inspired by the grilled lemonade from the American South and smoked by homegrown LP's Quality Meats in Sydney. The Smoked Lemonade is given a punchy taste with rosemary, Murray River salt, cane sugar, and lemon and lime juice. Oh, and smoked water.
Then there's Blackstrap Ginger, a non-alcoholic ginger beer made with blackstrap molasses, Australian ginger, pimento (allspice), citrus, and cane sugar. And Wattle Cola, a drink that truly represents Australia's native flavours, zesty and spicy. Toasted wattleseed provides a warm coffee and hazelnut flavour, gently married with a blend of cinnamon, star anise, nutmeg, coriander seed, lavender, citrus zest, vanilla, kola nut, and cane sugar. Finally, there's the complex Dark Cacao Soda x Meltdown Artisan, a bittersweet and savoury drink that's just like a spiced hot chocolate but cold. This unique drink highlights the flavour and tannins of cacao husk and elevates it with cherry blossom, local honey cinnamon, and a good dose of lemon zest.
With flavours like these, it's no wonder the company has already racked up several awards – including Best Soft Drink at the Paris Cocktail Spirits Innovation Awards for their Smoked Lemonade – and room on the shelves of the country's best cocktail bars, restaurants, hotels, and cafes.
It's like the Willy Wonka of sodas
PS Soda may be designed with mixing in mind, but they make excellent drinks all by themselves. The whimsical flavours evoke the experimental creativity of Willy Wonka's chocolate factory, a symphony of flavours and ingredients that bedazzles the mind and takes you on a journey you've never been before while challenging the way you think about sodas.
Besides the brand's core flavour range, there's an ever-evolving release of seasonal flavours and collaborations. The Professor Pepperberry flavour infuses native mountain pepperberry with a spicy blend of cassia, juniper, cardamom, nutmeg, allspice, birch, ginger, molasses, liquorice root, coriander seed, sarsaparilla, and lemon zest.
The team are also big on weird and interesting limited runs, like the Crumpet Soda they made, inspired by Russian Bread Kvass. The buttery, spicy, and bready soda was made using buttery crumpets that had been fermented for five days. Collabs are just as bizarre as anything else, one such collaboration being the infamous Green Ant flavoured soda produced alongside cocktail bar Scout.
This is a seriously exquisite range of sodas that will tempt you into trying more than just a few drops. Once you've had one, you'll want to try the rest, and then you'll keep coming back for more. Besides their out-there drinking flavours, gorgeous bottles, and funky designs, PS Soda inspires you to do things a little differently. They give you an alcohol alternative in bars and restaurants that's much more exciting and flavoursome than the usual sodas. It's a heap of fun and a real and fresh drinking experience that shakes the soft drink world by creating complex and thoughtful flavours that aren't overpowering.
Read about some of the exclusive & most passionate producers in Australia in CHEFIN's team deep dive into New South Wale's best producers.