Chef de cuisine Nick Guan could very easily have spent his life crunching numbers instead of being in the kitchen doing what he loves. Three years into an accounting degree in China, the chef sensed something was off and dropped out, choosing instead to fly to Adelaide and start a new life. The bold move paid off, and Chef Nick Guan went on to work at some of Australia's most renowned restaurants before carving a fruitful career as a head chef.
It's safe to say that Chef Nick has never looked back on his decision to fly across the world. After years working with some of the country's most talented chefs, he took another leap of faith and dropped out of restaurants to pursue the opportunity to advance his career as a private chef. Now, he wakes up everyday doing what he loves: designing menus, cooking amazing food, and working closely with clients to create fun and memorable dining experiences in their homes.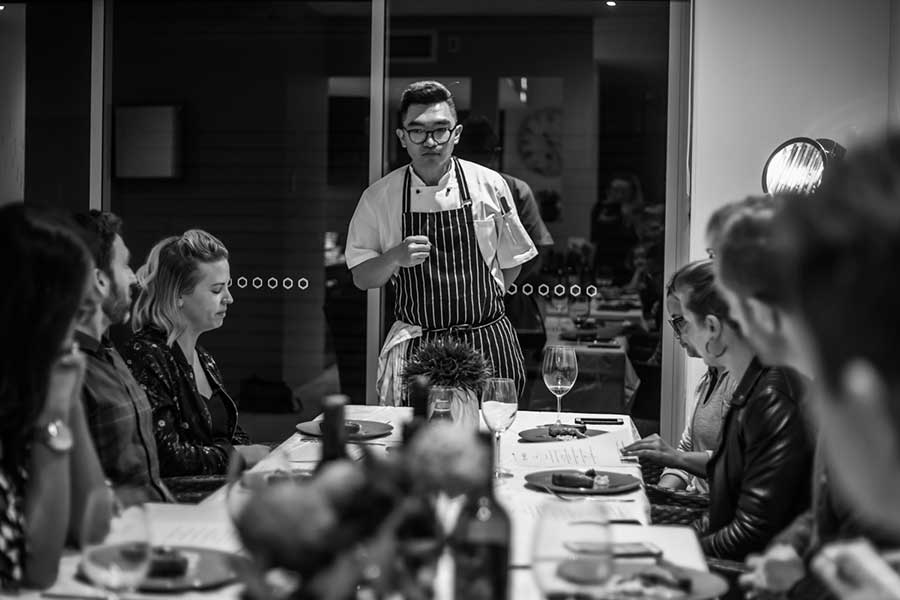 Tell us about your life before becoming a chef. What led to that 'a-ha' moment that made you realise cooking was what you wanted to do?
When I first moved to Adelaide I studied Hotel Management. I did a work placement doing room service at the Sheraton Hotel, and sometimes I'd help out in the restaurant kitchen. The more I connected with the chefs in the kitchen, the more I realised, 'Damn. That's my life, that's what I want to do'. So I changed to Commercial Cookery and that's when my career started.
Where did you go from there?
I studied at Le Cordon Bleu in Sydney and did placements at Rockpool, The Studio Cafe in the Opera House, and Opera Bar. Slowly, I climbed up the ladder from commis chef to sous chef. Then I moved to Melbourne where my sister was – it felt closer to home – and worked at Red Hill Winery. I met a lot of great chefs and colleagues there who I learned a lot from.
Again, I started from commis chef to chef de partie to sous chef, and then my head chef moved back to Japan so I took over the head chef role. Then COVID started in 2019, so I dropped restaurant work and started private cheffing. That's basically been my career path.
Is there a person who has inspired your career or cooking?
Yes – and not just chefs. Someone who really made their mark on me was the manager at the Opera House who ran all the catering, cafe, and restaurant… He was a really hard-working guy who worked from 5am until close. I always left before him, so I don't even know what time he finished work! He was a true inspiration. From him, I learned to be punctual, hardworking, take responsibility, and get your hands dirty.
The head chef at Red Hill Winery was another big inspiration. I learned so much from being his right-hand man for four years. He taught me how to cook, do business, operate the kitchen… He's my role model, really. I wouldn't be who I am now if I hadn't met him.
What would you be doing if you hadn't decided to become a chef?
If I wasn't a chef, I'd definitely be running a factory. That's what my father does in China. If I wasn't a chef now, I'd just be taking over his business – a whole different life to what I'm living now.
What drives you and what are your values as a chef?
I am mostly a people person, I like to talk to people. I also love trying new things, being in new places. Everyday is a new challenge to me. Being a chef is also about being creative – I always tell my friends and my wife that I'm actually an artist, not just a chef!
How would you describe your style as an artist?
I think that, as a chef, I'm still quite young. I wouldn't say that I have my own style of cooking just yet. This is why I'm doing what I'm doing – experimenting a lot, trying new things. Working as a private chef is great, because I can customise the menu to different customers. I can take an idea that exists only in my brain and make it a reality, then try it out on customers and see if they like it.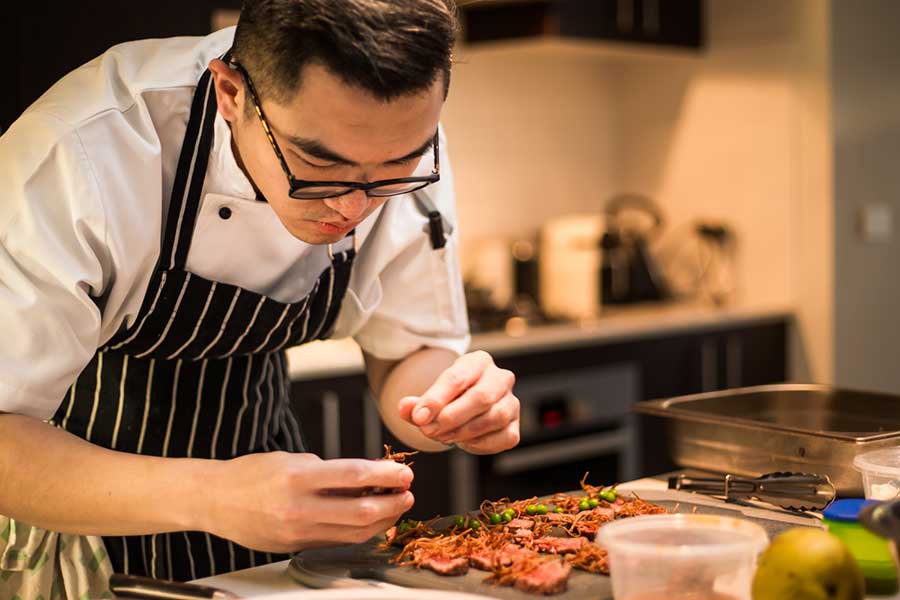 How do you describe your cooking style?
I'm Chinese, so I would definitely say it's Chinese food. But I'm always trying to recreate my childhood memories of food and make them new and interesting. I love combining Australian and French flavours with Asian textures and ingredients… So if I needed to describe my cooking style, it would be Chinese fusion.
What were your biggest pain points as a chef, and how has it been different as a private chef?
When you work as a head chef, cooking actually isn't the most important part of the job. In my memory, when I was a head chef not even 30% of the job was cooking. There was broken equipment to deal with, staff conflicts, and taking care of those things uses up a lot of your time.
Being a private chef means you can start cooking again and creating menus. I can create a new menu every week, or even every day! But as a head chef you'd probably make a new menu like once a month – if your boss allows you to. As a private chef you can also try new ingredients…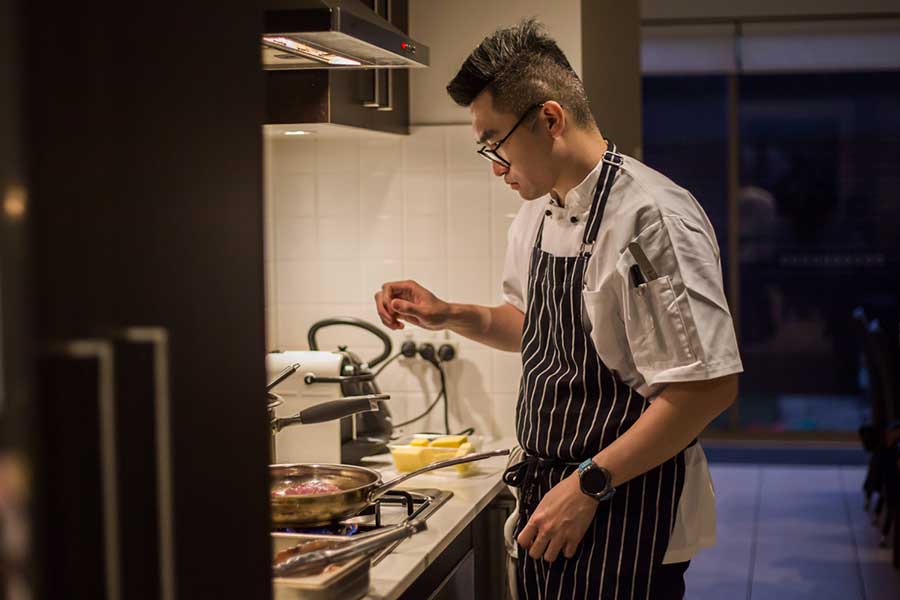 Surely there are challenges to being a private chef as well?
Yes, mainly that I need to manage myself, follow a timeframe, and organise my own storage. I have one fridge at home, so I need to separate my prep stuff from daily house stuff – that stresses me out every time cos I don't have enough space! I also need to carry everything from my house to the client's house, which can sometimes be quite far… the longest distance I travelled for a client was almost two hours. So making sure my cream or ice cream doesn't melt by the time I arrive can be really hard.
What is your food philosophy and what makes the perfect dish for you?
Flavour always goes first, of course. After that, it's the vision. You've gotta make the food look nice and attractive, sometimes colourful. But I think what makes a dish perfect is the way you present it. It's not about what's on the plate but the process that goes on from the moment you put the dish on the table to the customer eating it. How you present it, how you serve it, how you describe the dish to the customer.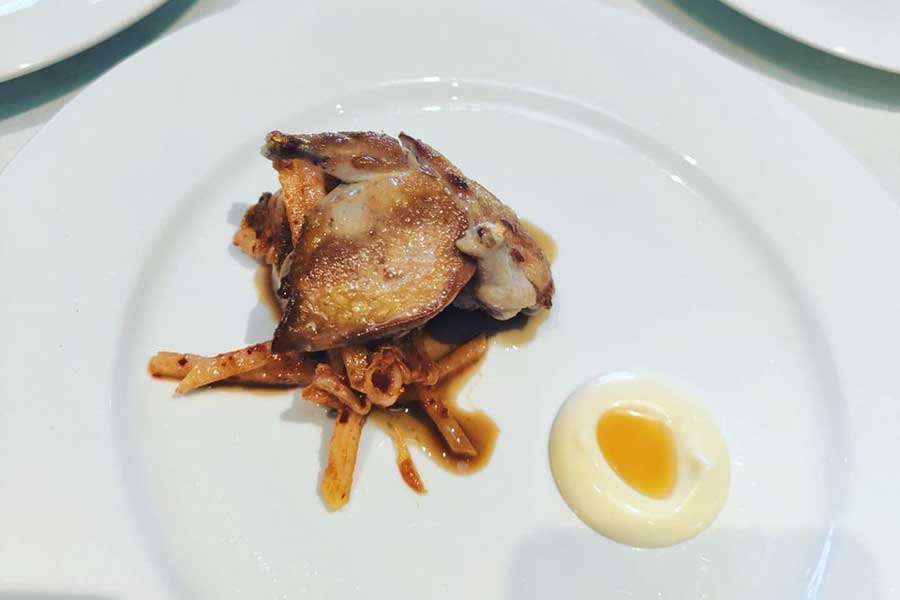 What food trends are out there that diners are looking for?
Asian fusion is getting trendier, as well as smaller eateries and bistros. People like to try new things and taste something they haven't before. Trying something new, more exciting and interesting is definitely the trend.
How do you design a menu and what are you trying to balance in the menus you create?
It all depends on the customer's requirements. I customise the menu for their requirements and work around their preferences. Generally, I try to balance vegetables, meat, and seafood in the menu. I always try to use seasonal ingredients and balance sweet, sour, salty, spicy, and bitter flavours. Bitter is a really useful flavour for opening the palate. When I have all these flavour elements in a menu, people really enjoy the food.
Interested to know more about chefs? Check out Chef Nick Guan's profile.