Sure, we may not be American, but who can say no to celebrating another festivity? We're all about the joy of bringing people together, and celebrating US Independence Day in Australia is just one more way you can squeeze in an extra fun into your life. There's no need to go all out, either – just think of it as an excuse to do things a little different from normal for a day. Binge on some Americana foods, listen to patriotic pop music, host a movie marathon with back-to-back doomsday classics, and get physical with some typically American sports. What's not to love?
Why should you celebrate the 4th of July?
If you haven't considered celebrating another national holiday before, now is the time to start! There are no rules around festivities – you can get your party at any time of year, for any celebration! Just because it's not a national holiday in Australia, it doesn't mean that it's not a chance to have some fun, dress up, and eat some tasty foods with your nearest and dearest. Here are some reasons why you should celebrate the 4th of July in Australia:
It's winter here. US Independence day in Australia is right in the heart of Australian winter, and we all need something to keep us going during the cooler months. Whether it's binge-eating popcorn, having a smokin' American BBQ, or pretending it's summer in the USA, it doesn't matter. Just find a reason to enjoy yourself and warm your soul in the coldness of winter.
If you're a business, you may have American clients or employees. Celebrating the 4th of July with your team is a great way to promote team spirit and international appreciation. Let the Americans in your team feel seen and heard, and show your American clients some love in this time.
Let's face it: we can't travel thanks to COVID restrictions. Any excuse to immerse ourselves in a bit of culture is a good excuse. Even if that culture is Americana. Use this opportunity to imagine you're off in the USA, surrounded by big hearty feasts and overflowing glasses of cold beer. Because we're all getting itchy feet from being stuck here for too long.
What is the 4th of July?
Not sure what 4th of July is all about? The holiday is a nationwide celebration in the USA that commemorates the passing of the Declaration of Independence in 1776 (hence why it's also referred to as Independence Day). It's a patriotic holiday in the United States and celebrated with parades, ceremonies, fireworks, and lots of parties and barbecues. While the 4th of July is the heart of Australian winter, in the USA it's midsummer, and people go all out to soak up the sunshine and national pride.
How to celebrate US Independence Day in Australia
There's no rigidity when it comes to celebrating the 4th of July. It's all up to you and how you want to celebrate American culture. Here are some ideas for how you can celebrate US Independence Day in Australia at work and at home with your friends and family.
1. Throw an American BBQ
The easiest (and yummiest) way to commemorate the 4th of July is by hosting an American BBQ with your friends, family, or workmates. Specifically, American BBQ refers to meats that are hot smoked or cooked 'low n slow'. It's exactly what it sounds like – a low heat and slow cooking, anywhere from 4 to 24 hours. The end result is a tender, melt-in-your-mouth meat that's smoky, sticky, and delicious.
Pop some bibs on and prepare to get your hands dirty with some sticky ribs, beef brisket, pulled pork, spicy wings… and don't forget the sauces and sides! Go crazy with some coleslaw, corn on the cob, collard greens, mac and cheese, scalloped potatoes, corn pudding, and – yes – baked beans. An American BBQ is a true thing of beauty. Sound like too much trouble, or don't want to man the BBQ and miss out on socialising? Hire one of our private chefs to deliver the ultimate American BBQ experience for your workplace or private party. You just sit back and drink the cold ones, and have hot, smoky, tender meats delivered to you ready-to-eat.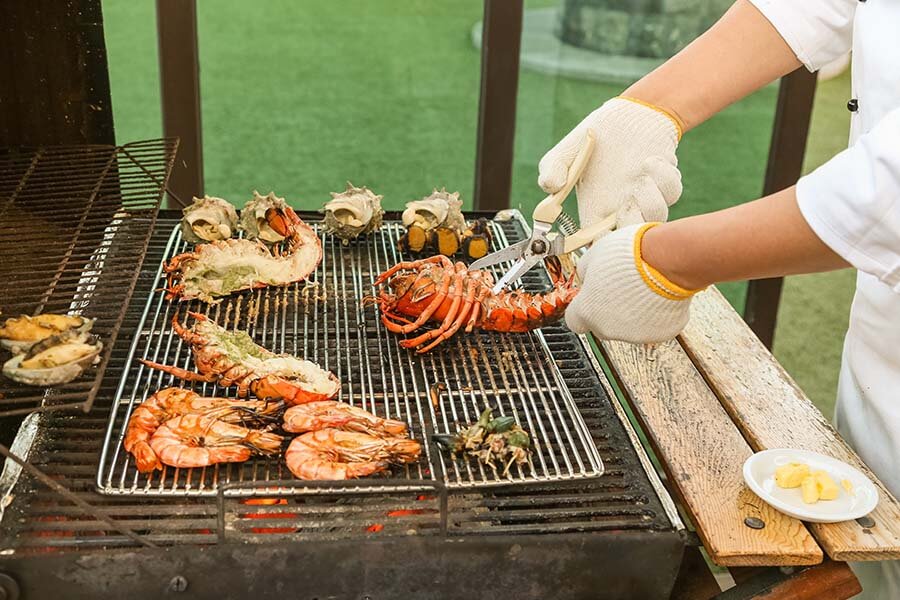 2. An Americana dance party
It's no lie that American pop music has reached the ears of most of the global population. So get patriotic with an all American playlist and listen to it from wherever you may be – the office, the car, at home, or in the club. Pop on some true Americana pop classics – think Bruce Springsteen, Bob Dylan, Elvis Presley, Johnny Cash, Motley Crue, Aerosmith… it'll be one hell of a dance party, that's for sure.
Pour your bevvies in red cups a la American teen movies, have plenty of snacks to keep you energised, and dance like crazy to keep yourself warm in the heart of winter! Don't want to dance? That's OK – pop on the playlist and snuggle in front of a fire or by the heater for a more relaxing American music experience.
3. Get sporty with some American games
This is a great way to celebrate the 4th of July at work while also indulging in a little team building exercise. Gather your friends or teammates round and go head to head with some truly Americana sports. We're talking baseball, basketball, hockey, and – of course – American football. Hire out a court, get physical, and make sure there are enough hot dogs to enjoy at the end of the game (complete with mustard and ketchup – a must!). Don't forget to award the winning team with some truly American-themed prizes – some ideas: a six pack of American beers or American snacks like buffalo cheese chips.
4. An American movie marathon
OK, what screams USA more than a classic doomsday film? This is American cinema at its finest. Gather your friends and family – or coworkers – and get cosy this 4th of July with an Americana movie marathon. Prepare your favourite doomsday flicks and settle down for a few hours of truly patriotic cinema vibes. Some ideas to get you started: Independence Day (of course!), Apollo 13, The Day After Tomorrow, War of the Worlds, Oblivion, and a real classic, Armageddon. Prepare a bingeing table with American snacks to keep it within theme – lollies, Reese's peanut butter cups, Sour Patch Kids, Hersheys, Cheetos, Funyuns, potato skins – and gorge yourself on milkshakes, American beers, and sodas like root beer or Dr. Pepper.
5. Honour the traditional land owners
With all the fun and games of the 4th of July, it's important to acknowledge the original owners of the land on which the United States stands on. Celebrating the USA wouldn't be possible without honouring the Native Americans who lived on the land long before it became the country it is today. This is a 4th of July celebration that goes beyond the fun and games of the USA but extends to its important history and the culture that has existed there for thousands of years.
Listen to some music from traditional Native American tribes like the Cherokee, Apache, Navajo, or Sioux, watch their dance ceremonies or absorb a documentary that goes deep into the heart of Native American stories and history. Cuddle up on a couch somewhere and read a book by a Native American author like Louise Erdrich, Sherman Alexie, or Joy Harjo, and take in their stories.
Enjoy some unique dining experiences this US Independence Day, and get a private chef to curate a special meal for the ones you love!