Gion Matsuri is one of Japan's oldest and popular festivals, held in Kyoto throughout the month of July. Also known as the festival of the Yasaka Shrine, Gion Matsuri has been celebrated every year since 869AD and is one of the longest running festivals in the world. It first began as a religious ceremony to appease the Gods during an epidemic. Now it is celebrated with the intention of helping to purify and eradicate disease-causing entities. The highlight of Gion Matsuri is a procession of spectacular decorated floats that are pulled throughout the streets and attract crowds of spectators.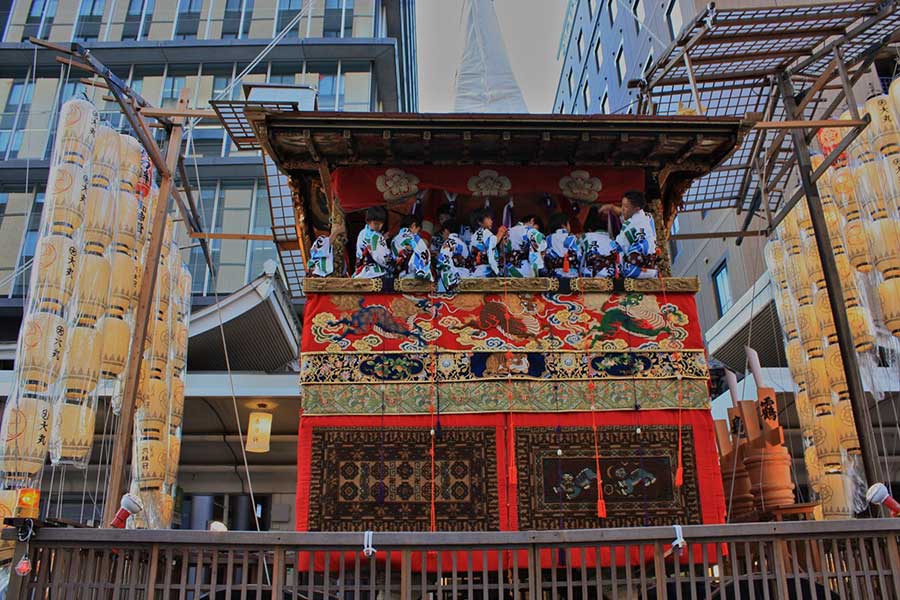 The float procession at Gion Matsuri
There are two types of floats seen at Gion Matsuri: yama and hoko. The hoko floats are large and can be up to 25 metres tall, with wheels as large as a person! The yama floats are much smaller. Collectively, the two types of floats are referred to as Yamaboko. Both floats are super impressive and spectacularly decorated in unique themes using tapestries that are either locally made or imported from around the world. The floats are pulled down the streets with massive ropes while musicians play music inside and throw good luck favours to the surrounding crowds.
The parade itself is called the Yamaboko Junko. There are two main float processions at Gion Matsuri: the first is on July 17 and features 23 yama and hoko floats, and the second on July 24 features 10 yama and hoko floats. The floats are paraded down a 3km route, with formal seating available all along. People can buy tickets in advance to make sure they have a good spot to watch the massive floats go by. On the 17th, the Guardian Gods are taken from the Yasaka Shrine and into the centre of the city. They stay there for a week inside a temporary dwelling. On the 24th, they return to the shrine and stop at the imperial garden on the way.
The highlights of Gion Matsuri happen on the banks of the Kamo river. You can even go inside some of the floats and marvel at the amazing work yourself! In the three nights leading up to the parade, downtown Kyoto transforms into a pedestrian heaven, with street stalls selling yakitori, takoyaki, taiyaki, okonomiyaki, sweets, and more. Let's talk more about the food at Gion Matsuri!
The food at Gion Matsuri
Gion Matsuri is fuelled by food and beer. At night, stalls will be selling everything from yakitori to fish-shaped taiyaki cookies, and okonomiyaki pancakes.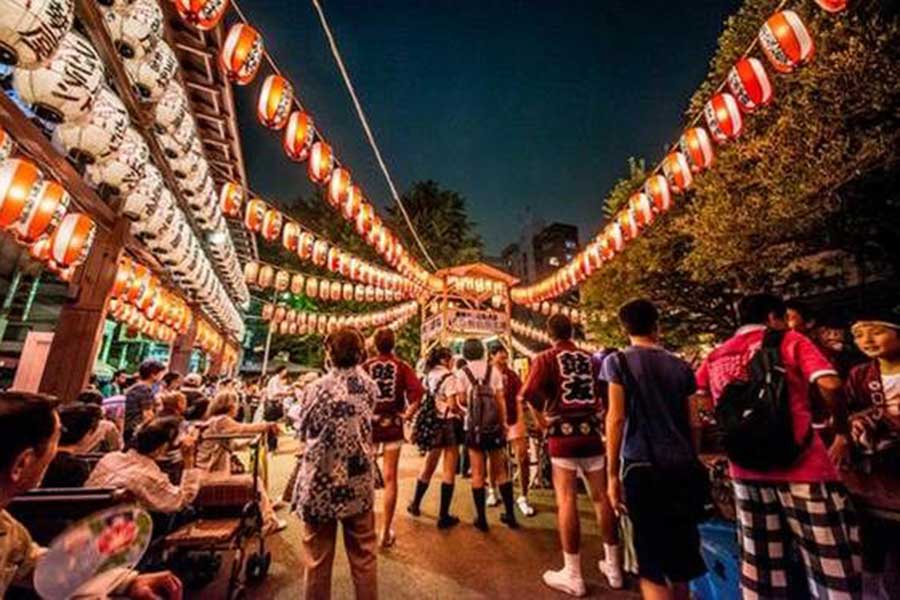 Okonomiyaki
There really is no better snack in Japan than okonomiyaki. These pancakes are sometimes referred to as 'Japanese pizza' and can be stuffed with all kinds of fillings, from seafood to meat, to vegetarian. You can have the okonomiyaki any way you like it, and that's what makes them such a well-loved snack.
Yakitori
If there are street food stalls, you can bet there'll be yakitori somewhere. One of Japan's most iconic dishes, yakitori is an essential part of Gion Matsuri. The skewered grilled chicken snack is usually seasoned with salt or sauce and can be spiced up with various peppers. Don't be overwhelmed with all the different yakitori! Simply experiment and find the best combo for you – or ask the vendor to make one just the way you like it 😉
Chigo mochi
This type of mochi is specially made for Gion Matsuri and is slightly sweet and salty. It's made from white miso, rice cakes, rice flour, and lightly sprinkled with ice. Legend has it that these sweets were made by God and a child served them outside of the Yasaka shrine. Those who ate the chigo mochi maintained good health for the entire year!
Taiyaki
How's this for a bit of fun? These fish-shaped cookies/cakes are made with a special mould and stuffed with all kinds of delicious fillings. You can find taiyaki stuffed with red bean paste, sweetened adzuki beans, chocolate, cheese, or custard. They're extremely popular during Gion Matsuri and make for a fantastic dessert once you've stuffed yourself with all the other delights…
Get a taste of Gion Matsuri in Australia
Want to feel as though you're walking amongst the incredible aromas of Gion Matsuri? Let us give you a taste of the festival's best foods and snacks with a special experience from one of our private chefs. Whether you're after a street food banquet or want to try high-end Japanese food with an Omakase dining experience, our chefs can curate a food experience that's just as dazzling as the sights and sounds of Gion Matsuri! Speak with one of our team members or book your feast today!