Christmas in July themed team building exercises
It's the mid-year event that gives Aussies a chance to experience a wintery Christmas, and no workplace should leave their employees out of the fun! Christmas in July (or Yulefest) is our chance to relish in the warm, hearty goodness of a Christmas spent indoors with hot beverages, good company, and lots of food, and it gives employees a chance to relax, cozy up, and get a much-earned break in the middle of the year.
If you're looking for fun ways to get the team together in the festive spirit, we've got a few ideas up our sleeve. These Christmas in July team building exercises will leave your hard-working colleagues feeling happy, satisfied, and maybe in a bit of a food coma.
1. Throw a themed Yuletide party
Deck the office out in pagan themed Yule decorations and threw a themed party for your team. Some festive decoration ideas to get you started:
Drape holly, mistletoe, fairy lights, and fake snow along with the ceilings and walls. Avoid tinsel as it's not very Yule-y,
Bonbons, candy canes, & Christmas socks on the desks with little gifts to bring a spark of joy to everyone's face in the morning,
A cauldron of mulled wine where the water cooler should be,
If it's safe, light some candles to create a warm, cozy atmosphere.
With the office all decorated, your team will immediately feel the Yuletide cheer when they walk in. To keep the joy going, get the team together with the following Christmassy activities:
Christmas jumper comp – It's unfair that we can't wear our Chrissy jumpers without breaking out a sweat, so Yulefest is a chance to bring out the tacky Christmas jumpers in a season that's appropriate for them. Host an Xmas jumper comp in your office and reward the employee who shows up with the kitchiest jumper,
Christmas themed charades – Get your team into the creative mode by having them enact Christmas characters, films, carols, and stories with a round of Chrissy themed charades. Split the office into teams (try to mix departments to get them all mingling), and if you throw mulled wine into the mix then it's sure to be a good time,
Christmas movie trivia – Who doesn't love a good Christmas classic? Test your team's knowledge of Christmas movies with a round of Xmas movie trivia. Be sure to have a prize ready for the winning team!
Want more ideas? This will give you some great references CHRISTMAS BUCKET LIST: 15 CHRISTMAS IDEAS IN AUSTRALIA
It would be a crime to throw a Yuletide party without an enormous feast, so after a tiring day in the office playing games and drinking mulled wine, be sure to bring the team together for a hearty Christmas feast. CHEFIN's private chefs and corporate catering can deliver a complete Yuletide meal fit for a king straight to your office for the most leisurely gourmet meal you've had.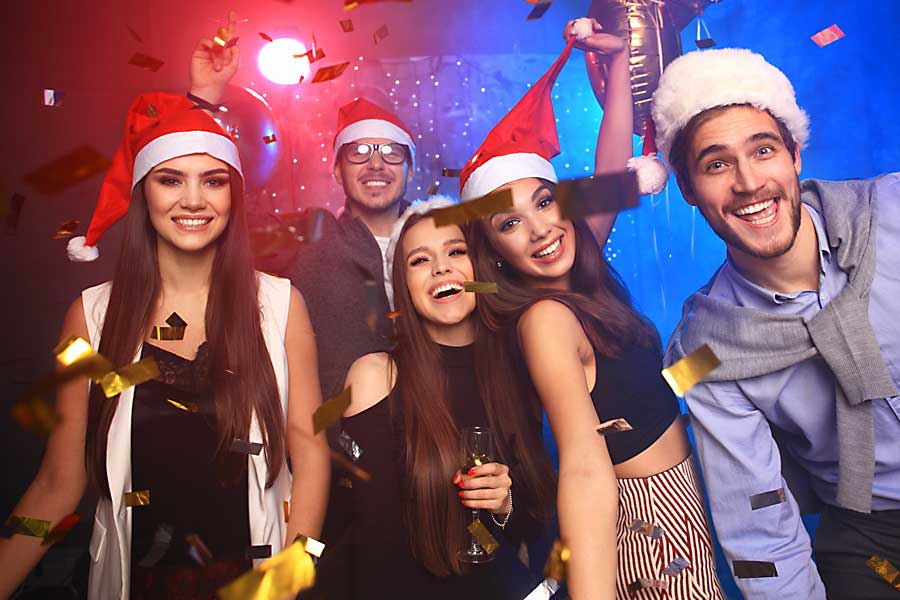 2. Host a blindfolded Christmas in July dinner
If there's one thing people look forward to in Christmas time, it's food. Turn things up a notch this year and deliver the ultimate feasting experience to your workplace with a blindfolded dinner. If there's anything that'll bring your team together, it's tasting delicious food without being able to see what it is – trust us on this one!
Tantalise your taste buds with a gourmet Christmas feast – ham and all! Fun, interactive, and a one-of-a-kind experience that'll have your employees boasting to their friends, a blindfolded dinner brings a new sense of awareness to our senses. Sit, be blindfolded, and enjoy a culinary journey with your workmates. During each course in the blindfolded dinner, the guests can write down what they think the dish is. In the end, you can reveal the menu and reward the winning team member (with more food, perhaps?)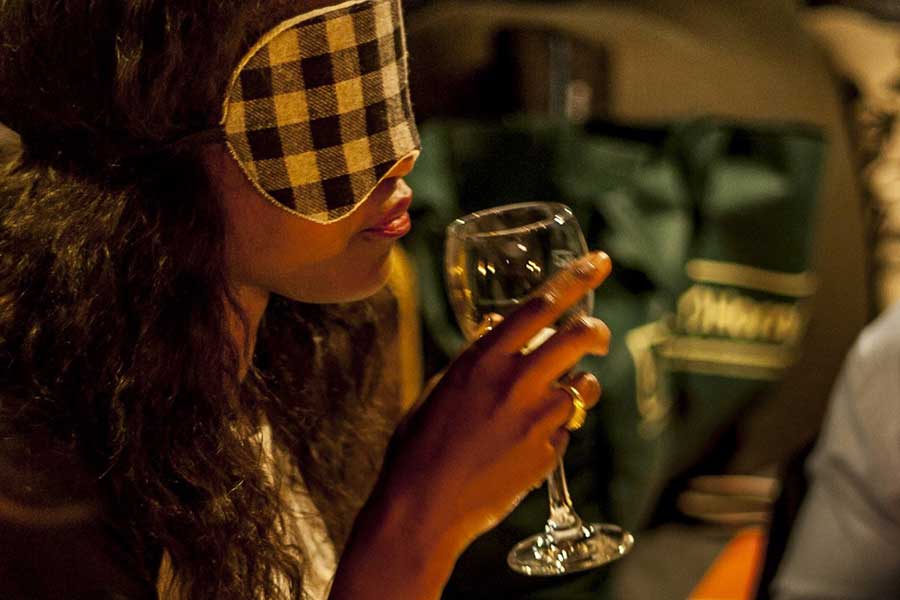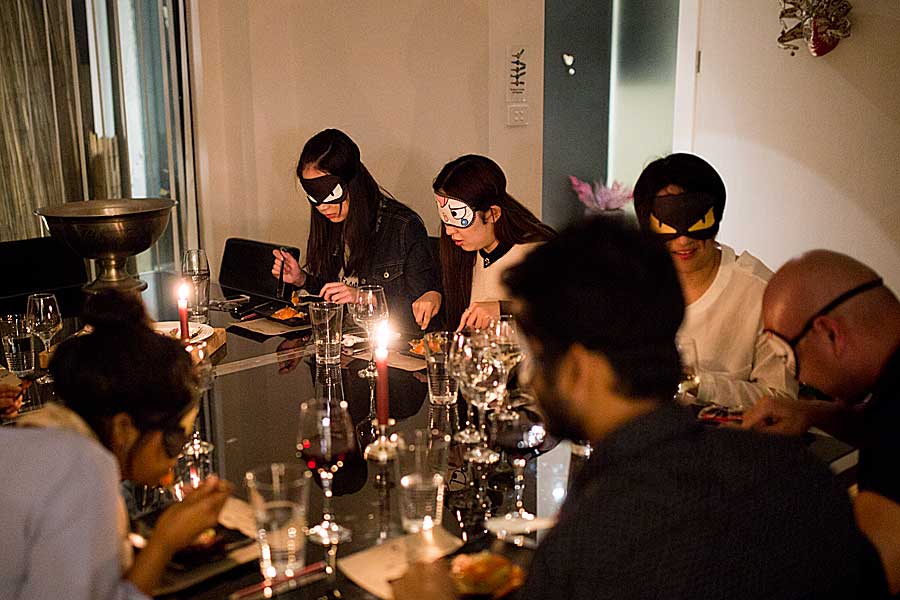 3. Organise a cooking class
Take Masterchef into your office with a wintery cooking class! The thing about food is that it always brings people together, whether that's during the eating of it or the cooking of it. For a fun team building exercise, nothing beats a good old cooking class. It's one of those things that everyone wants to do but doesn't, and bringing your team together in the spirit of food will form bonds that will only bring positivity to your office environment (as long as you don't have any Gordon Ramsay's!)
At CHEFIN we can arrange a cooking class with one of our many expert chefs, ready to bring fun and culinary skill to your office. Whether you want to learn winter cooking, raw cooking, vegan cooking, or European cooking, our chefs are multi-skilled with plenty of tasty recipes up their sleeve. Divide your office into different teams and have them each taste each other's meals at the end for a relaxed and easygoing Christmas in July activity.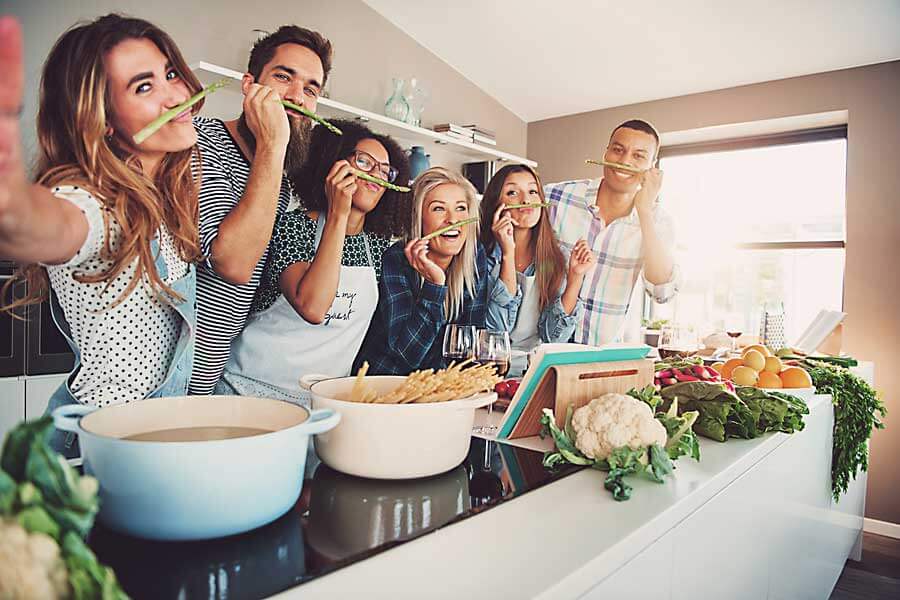 4. Take your team ice skating
There may not be snow, but there will be ice! A great team building exercise and fun adventure for your team are to go ice skating. Unleash your employees into a winter wonderland where they can connect, move their bodies, and do something refreshingly different together. Couple this adventure with a gourmet Christmas in July lunch or delicious picnic to give your team even more time to connect and soak in the Chrissy atmosphere.
If you're in Sydney, there are plenty of pop-up ice skating rinks you can take your team to:
Prince Alfred Square in Parramatta is the only place in Western Sydney where you can take your team ice skating in an outdoor winter wonderland. More than just a skate rink, the Winterlight Festival also has a few carnival rides and booths, making this a great option if you plan on including employees' families & kids in your Christmas in July celebrations.
St. Mary's Cathedral in Sydney CBD is playing host to an outdoor ice skating rink that's open all day and late into the night (for those of us having our fair share of mulled wine). If you want to feel like you're skating outside Hogwarts in a cold English landscape, this is a seriously beautiful and cosy spot where you can soak up some winter sun and treat your team to some hot choccy afterwards.
How's this for a bit of fun? If you're looking to shake things up this Christmas in July, treat your team to a day out in Luna Park, where there's a pop-up ice skating rink under the Ferris wheel. Go for a skate, hop on a few rides and share some thrills with the team, and have a few stories to share afterwards. To take things up a notch, treat your team to a Christmas in July picnic feast by the water afterwards, complete with a private chef.
Need more help or information on choosing the best dining style for your Christmas in July Party? Get in touch with us today for advice and an obligation-free quote.