Valentine's Day is a time to show your loved ones how much you care. Why not do something different this year and add an element of surprise to your Valentine's Day dinner? With a private chef, you can create a one-of-a-kind dining experience that will leave your special someone feeling loved and pampered. As Art of Dining experts, We'll give you some tips on how to make your Valentine's Day dinner extra special.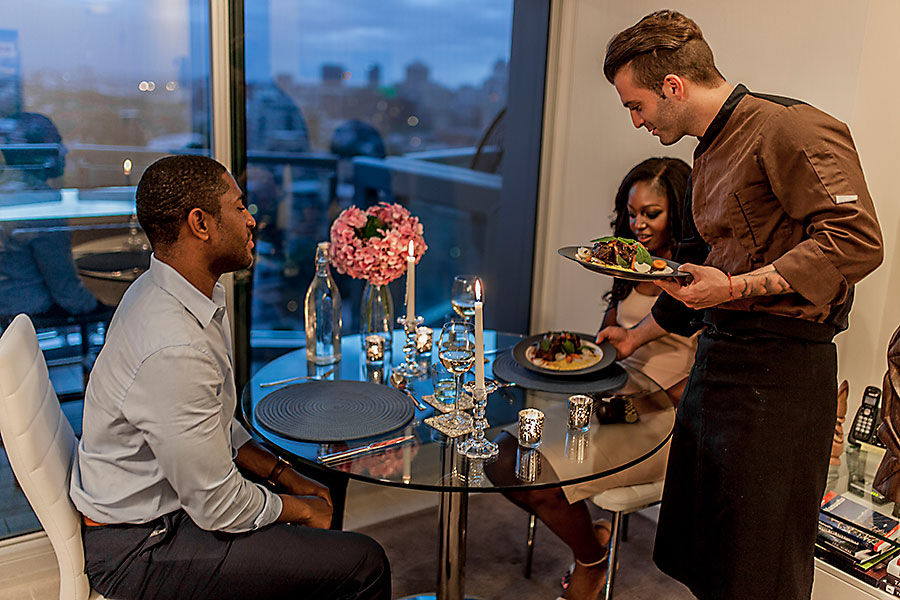 1. Plan Ahead:
If you're planning on hiring a Private Chef, make sure to book ahead in order to secure their services – Good Private Chefs are highly sought after and fill up quickly! Call CHEFIN to discuss your ideas and requirements in detail. That way, you can make sure that your chef can provide the truly unique experience you are looking for on Valentine's Day. Typical CHEFIN Valentine's Day Dinner Package includes:
Your own private chef,
5-course fine dining meal (all dietary requirements are accommodated – let us know in advance),
1 premium rose bouquet,
1 bottle of French champagne,
Post-dinner cleanup.
We can also arrange other special add-ons including a couple's massage, rose petal baths, babysitter, and more.
2. Create an Ambience:
Ambience is key to setting a romantic mood for your Valentine's Day dinner. We suggest going with a cozy yet elegant theme and turning your home into a restaurant-like atmosphere. Dim the lights, light some candles, set up the table with fine linens and place settings for two, pick a smooth romantic playlist, and arrange fresh flowers as centrepieces. CHEFIN has prepared a bottle of French champagne for you. A glass of champagne each to start will set the tone for a special evening. Here are some tips how to create Valentine's Day ambience at home.
3. Get Creative With the Valentine's Day Dining Menu:
No two couples are alike – so why not personalize your meal? Have a brainstorm with the chef on meaningful dishes you and your partner enjoy and make part of your Valentine's Day dining. It could be the simple things like your favourite ingredients or a special dish that reminds you of your past together. You can also surprise your special someone with their favourite meal and add a personalized message on the plate.
Our chefs specialise in designing a personalized menu according to your preferences. Let CHEFIN know what your partner likes and our Private Chef will craft a 5-course meal tailored to her taste.
4. End On A Sweet Note:
Valentine's Day wouldn't be complete without something sweet. Surprise your loved one with a homemade dessert or have CHEFIN arrange for an incredible, showstopping cake as the grand finale. Personalize it with fondant hearts and words of love – your partner will definitely appreciate it!
5. Make Her Undreamed Of Memories – Keep it Under Wraps Until The Big Day!
Keep the surprise under wraps until the big day. Let your partner know that you have something special for Valentine's Day without giving away too much. And on the big day, come out with all surprises – from the private chef to the champagne and finishing off with a cake.
By following these tips, you can make your Valentine's Day dinner extra unique and memorable. With CHEFIN, you will receive a truly amazing private dining experience that your partner won't forget. From the personalized menu to the beautiful ambience, it is the perfect way to express your love. What's even better? You don't even need to clean the kitchen at the end!
Find a Private Chef Near Me
Meet some of the best chefs this country has to offer. To date, CHEFIN have onboarded 250 private chefs in these locations:
NSW – Sydney, Newcastle, Wollongong, Port Macquarie, Orange, Byron Bay, Tamworth, Blue Mountains, Kiama, Nowra, Hunter Valley
ACT – Canberra
VIC – Melbourne, Geelong, Ballarat, Mornington Peninsula
QLD – Brisbane, Gold Coast, Cairns, Sunshine Coast
SA – Adelaide, Barossa, Lime Coast
WA – Perth, Broome, Margaret River
NT – Darwin, Alice Springs
TAS – Hobart, Launceston
Let us help make this Valentine's Day magical for both of you! 💞