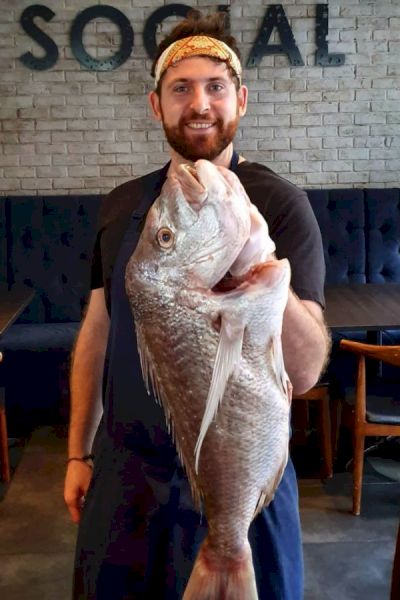 Short bio
Currently, Chef Rudy is combining his knowledge of different cultures from his travels, modern techniques and products, using his creativity to develop dishes and menus.
Experience rating
Talkativeness
Location:

Australia, Gold Coast

Events done:

2

ID verification:

Recommendation score:

90

Insurance:

Member since:

Aug-2021

Food safety certificate:
Bio
Chef Rudy was born and raised in a small village of the oltrepò Pavese in Italy, just outside Milan.
Being the youngest in his family, he watched and learned how to cook from his loving Mum and beloved Nonna.
Starting at the age of 8, Rodolfo cooked lunch for his brothers after school because his parents' work demanded so much of their time.
His brother who loved his dishes was the driving force for him to start his career in cooking. Working at a local farm to table restaurant near his hometown at the age of 18 was the starting point of Rodolfo's culinary career.
At the age of 19, Rodolfo started his journey in England, working there for 5 years. During that time he worked for the world-famous chef, Jamie Oliver at Union Jack. Later, after landing a position for a Michelin star restaurant Galvin at windows, he learnt French and Asian cuisine. After moving on to work at a prestigious private club in London where the famous frequently visited, such as the historical Annabel's club in Mayfair.
Following his time in England, Chef Rodolfo cooked for 5 stars luxury resorts in some of the most popular holiday destinations Bermuda & Costa Rica.
Rodolfo decided it was time to move and come to a place he has always wanted to visit, Australia. Here he cooks for passionate foodies in a well known casual-fine dining restaurant in Broadbeach, Social Eating House as a sous chef and visits one of the most famous kitchens in the country, Quay by Chef Peter Gilmore in Sydney.
Message from Chef Rudy to his friend Matteo:
With this post, I wanna thank one of the best friends I have here in Australia, who's also been my mentor for the last 4 years…Jeffo!
Since I've started my journey in Australia he has been one of my biggest pillars.
He taught me how to be a better chef, taught me techniques, how to develop and trust my palate, and most of all humanity!
If I'm the chef that I am today, it is because Matt always gave me the space and freedom to explore my creativity and express myself with my dishes.
I will never thank you enough chef for all the opportunities and support that you gave me since I've met you!
I feel blessed and honoured to have worked side by side with such an incredible chef and amazing human!
Love you brother!
Pura Vida Matteo!
Favourites
Risotto is definitely one of my favourite dishes to cook. Back home, we take Risotto very seriously :) The process of cooking it is absolutely fascinating.
Cusines
Continental European
Italian
Modern Australian