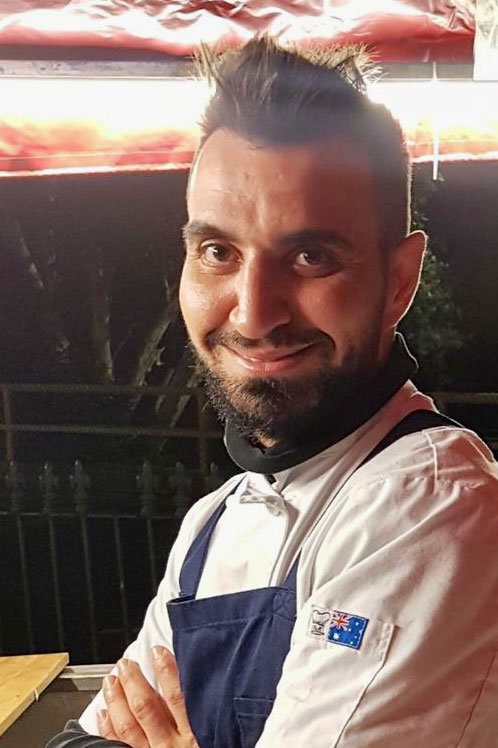 Short bio
I'm Chef Riccardo Tasca, and my culinary journey began in the picturesque Sicilian countryside, known for its rich flavors and beautiful summers. Leaving my hometown at 18, I embarked on a culinary adventure, traveling across Europe to Australia. It was in Sydney that I discovered my passion for the art of food. My background in cooking wasn't always easy, but my travels and experiences in kitchens worldwide taught me the true essence of being a chef and the art of creativity. Now, I'm excited to bring my unique culinary vision to your table, offering you an unforgettable gastronomic experience.
Experience rating
Talkativeness
Location:

Australia, Sydney

Events done:
ID verification:

Recommendation score:

90

Insurance:

Member since:

Sep-2023

Food safety certificate:
Bio
Hailing from the picturesque countryside of Sicily, Italy, I am Chef Riccardo Tasca, and I'm not just a culinary expert; I'm a visionary intrapreneur in life itself. My journey began in a quaint village surrounded by islands and the bountiful sea, where I was immersed in the rich culinary traditions of Sicily, known for its delectable cuisine, fresh seafood, and splendid summers.
At the age of 18, I embarked on a culinary odyssey that took me from the serene landscapes of my hometown to the diverse culinary landscapes of Europe and eventually Australia. It was in Sydney that I discovered my deep passion for the artistry of food.
My culinary journey was not without its challenges, particularly during my apprenticeship in my hometown. However, these early experiences fueled my determination to create something truly extraordinary in the world of gastronomy. As I traveled and honed my craft around the world, I had the privilege of working in renowned establishments that imparted invaluable lessons, not only in cooking but in the essence of being a chef and nurturing creativity.
Today, I aspire to offer you a unique culinary experience, one that reflects my boundless love for food and my commitment to creating something truly exceptional. It is my pleasure to bring the flavors of the world to your table and craft unforgettable moments through the art of gastronomy.
Favourites
I take pride in all my culinary creations; it's not about one specific dish, but the passion and love I infuse into everything I make.
Cusines
Continental European
Italian
Modern Australian