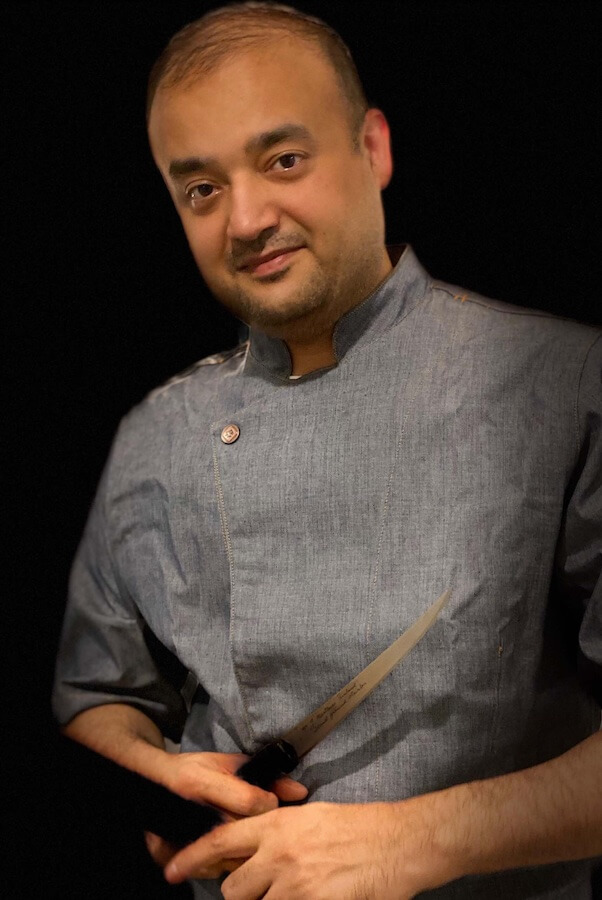 Short bio
In today's world of instant gratification, Chef Miku still believes that great food is a labor of love. It is his belief that a great meal can make someone's day, create a lifelong memory, or even change someone's life! One of his favorite quotes is, "A bite of food has more philosophy than all the books of the world".
Experience rating
Talkativeness
Location:

Australia, Sydney

Events done:

40

ID verification:

Recommendation score:

100

Insurance:

Member since:

Nov-2019

Food safety certificate:
Bio
Chef Miku has been cooking since the tender young age of five. His love for cooking has pushed him to pursue formal education in the culinary arts, and he now holds a Masters degree in Hospitality. For the last 21 years, Chef Miku has roamed the world picking up new culinary treasures and recipes, meeting amazing chefs, and learning from all who he encounters. He brings this wealth of knowledge from all over the globe straight to your dinner table.
Miku has worked in many Five Star Luxury hotels & resort culinary operations across 10 countries. India (Mumbai, Bengaluru), UAE (Dubai), Saudi Arabia (Jeddah, Riyadh), Jordan (Amman, Dead Sea), South Korea (Seoul), Singapore, France (Paris, Nice), Monaco, Italy (Sardinia, Lake Como), and most recently in Australia (Sydney, Blue Mountains).
From earning a Batchelor's degree in culinary education and then completing masters in hospitality, Miku has spent a good part of the last 2 decades working with some incredible people, chefs of repute and passionate hotel owners. He trained with Chefs from Nobu, worked at Taillevent (2 Michelin) under chef Alain Solivérès, Le Duc Paris and at Chef Joël Robuchon's restaurant (2 Michelin) at Metropole Monaco.
Miku has also trained in the California Sushi School. As an astute Food and Beverage operator, he has been involved in the pre-opening planning and opening of 2 royal palaces, Ritz Carlton Riyadh, Taj Bangalore & 2 luxury yachts. He started his Australian journey as the Director of Food and Beverage of Shangri-La Hotel Sydney, running Altitude & co-creating high tea at BluBar.
He also run operations for The Westin Hotels, Pier One Sydney as the Director of operations. In the Mediterranean and France, Miku had the honour of cooking for Prez. Jaques Chirac, Rupert Murdoch, Ellie Saab, Donatello Versace, Chris Tucker, Michael Jordan, Janet Jackson, PM Saad Hariri, Jackie Chan, Alessandro Sartori (Berluti and Ermenegildo Zegna), Tony Fadell (iPod's/ Nest creator), Henry Cavill, Sarah Jessica Parker, Aishwarya Rai, Sachin Tendulkar, Mathew Hayden, Ravi Shastri, Amitabh Bachchan, Shane Warne, Steve Waugh, Sir Ian Botham and many more.
He has also managed a launch for Gucci in Mumbai, the wedding of the World's youngest billionaire Hind Hariri in Paris, Liz Hurley's pre-wedding and multiple high profile events including royalties, Kings and Queens under NDA's. He is a versatile & highly experienced Chef who enjoys the challenges of modern cuisine and work in the kitchen to satisfy people with mutual admiration for fine cuisine. Miku loves to deliver food, beverage and create events that would bring happiness for all involved.
Favourites
I respect ingredients in their natural form, but do love the balance that cooking can bring. One of my personal favourites is a seafood bisque with a rustic sourdough or ciabatta.
Cusines
Asian Fusion
French
Modern Australian
Reviews
⭐️⭐️⭐️⭐️⭐️ Chefin and chef Miku created a beautiful menu for our intimate wedding reception. The team set up everything and were very pleasant and professional. They made it easy for us to enjoy our day and took care of all of the important details. I would highly recommend Chefin for similar events.

Elyssa

⭐️⭐️⭐️⭐️⭐️ Outstanding chef Miku was outstanding the food was awesome also along with the food was the service was amazing

Thank you will definitely use you again

Danny

⭐️⭐️⭐️⭐️⭐️ Chefin provided us with a memorable experience In celebrating our 1st year wedding anniversary..
They went out of their way to communicate with me in providing a menu that best suited me and my husband..
Definitely would recommend them and would use them again..
Our chef Miku provided us with very tasty and quality food..
He left my kitchen in the Same way he found it..
I can't fault the chef or company Chefin at all..
Thank you

Denise

⭐️⭐️⭐️⭐️⭐️ A wonderful experience with fantastic food. Miku and his assistant were great, so professional and friendly. All of our guests were so impressed. Would absolutely do this again and would recommend without hesitation.

Gary

⭐️⭐️⭐️⭐️⭐️ Such an amazing experience of having our own private chef cook for us. Having Chef Miku come to our home allowed us to sit back, relax and enjoy the experience and something that we all enjoyed. The food was excellent. Thank you to Chef Miku for designing such a wonderful menu for us.

Nicole