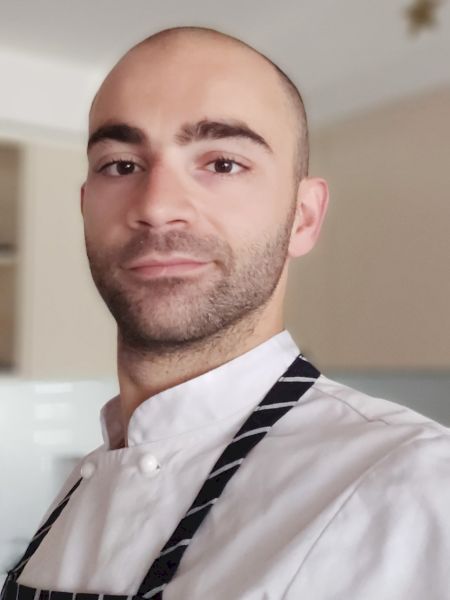 Short bio
I love working as a private chef because it allows you to create, experiment and be able to communicate directly with guests in an intimate context.
Experience rating
Talkativeness
Location:

Australia, Queensland, Broadbeach Waters, Brisbane

Events done:

2

ID verification:

Recommendation score:

90

Insurance:

Member since:

Apr-2022

Food safety certificate:
Bio
Born in Puglia, the heel of the Italian boot, a region of Southern Italy famous for the quality of typical products expressed through a deep culinary tradition with which I grew up accompanied by the teachings of the women of my family. I had my first experience as a chef at the age of 17, working in the large tourist villages scattered on the Ionian coast. In 2014 I started a journey that led me to work in Tunis, Tunisia, where I learned to work as a pizza maker after I lived 3 years in London and learned so much about the basics of European cuisine working in private clubs, Bulgari Hotel and at the Alain Ducasse Grill at Dorchester with talented chefs. I have been living in Australia for 4 years and I have approached fascinating Asian cuisines. I am very passionate about my work and I love to create culinary experiences.
I became a chef because since childhood guided by the women of my family, my mother, first of all, my life has been surrounded by good food and wine and the desire to discover and test new horizons was born in me. Other sources of inspiration and also the awareness and respect of the raw material, which is the basis of an ethical chef.
Favourites
The dishes that make me proud are the dishes of traditional Italian cuisine that I try to reproduce in an authentic way in taste and modern in presentation and fusion dishes, my favourites, are born from the mix of Italian, French and Asian culinary techniques combined with new food requirements such as vegan cuisine, Gluten Free, etc.
Cusines
Asian Fusion
Continental European
Italian