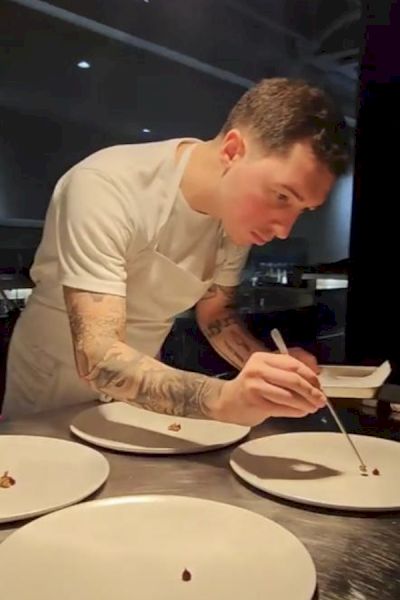 Short bio
Meet Chef Icaro Conceicao, a seasoned culinary professional with an exceptional flair for fine dining and a passion for cooking that ignited during his formative years. Growing up in a family butcher shop, Chef Icaro's early exposure to sausages and BBQ laid the foundation for his culinary journey. Having graced the kitchens of renowned restaurants in Sydney and beyond for the past 15 years, Chef Icaro is now on a mission to bring the finest dining experience to your home.
Experience rating
Talkativeness
Location:

Australia, New South Wales, Sydney

Events done:

46

ID verification:

Recommendation score:

93

Insurance:

Member since:

Oct-2022

Food safety certificate:
Bio
Chef Icaro Conceicao's culinary prowess finds its roots in his family's butcher shop, where he spent his youth learning the art of making sausages and mastering the secrets of BBQ. Guided by his father, a skilled butcher and pit master, Chef Icaro developed an unwavering passion for the culinary arts, setting the stage for an illustrious career.
His culinary journey officially began when he ventured into the realm of fine dining restaurants. It was here that Chef Icaro's true calling revealed itself, and he embraced the culinary world with fervour. At the remarkable age of 24, he ascended to the position of head chef, marking the beginning of a remarkable journey that has spanned over 15 years.
Throughout his career, Chef Icaro has honed his skills and expertise through various management positions. His dedication, discipline, and productivity in the kitchen have garnered admiration from both peers and patrons alike. With an unyielding commitment to culinary excellence, Chef Icaro's creations consistently leave diners in awe, as they savour the delightful symphony of flavours he orchestrates with every dish.
Driven by his passion for storytelling through food, Chef Icaro takes great pride in crafting dishes that resonate with the rich traditions and cultures they represent. His favorites, like feijoada, tapas, and tacos, embody the essence of countries and cultures, drawing diners into a world of culinary exploration and delight.
Having graced the kitchens of the best restaurants in Sydney and around the globe, Chef Icaro Conceicao has embarked on a new path. Fueled by a desire to bring the pinnacle of the dining experience to the comfort of people's homes, he now serves as a sought-after Sydney Private Chef, offering an unforgettable journey of taste and gastronomic wonder.
In Chef Icaro, diners discover not just a masterful culinary artist but also a passionate storyteller who weaves memories into every dish. With each creation, he crafts an extraordinary dining experience, leaving an indelible mark on the hearts and palates of those who have the pleasure of savoring his art.
Favourites
Chef Icaro Conceicao's culinary journey is an inspiring tale of passion and skill rooted in his family's butcher shop. Raised amidst the aromas of sausages and BBQ, Chef Icaro's favorite dishes are a delightful blend of cultures and flavors. He finds joy in crafting dishes that tell a story about a country or culture, with feijoada, tapas, and tacos standing as shining examples of his culinary artistry. These delectable creations not only celebrate his roots but also showcase his dedication, discipline, and productivity in the kitchen.
Cusines
Asian Fusion
Italian
South American
Reviews
⭐️⭐️⭐️⭐️⭐️
Icaro was amazing and crafted an incredible menu/feast! . He is passionate about food and the flavours were robust. | the lobster!

Chandu

⭐️⭐️⭐️⭐️⭐️
We held a luncheon with close friends leading into Christmas; everyone totally enjoyed the experience. The engagment, service and food from Icaro and Miles was A+ and added to what was a great afternoon. Highly recommended | kingfish entree although all was great

Geoff

⭐️⭐️⭐️⭐️⭐️
the food and there service were both fantastic. Can highly recommend | Honestly it was all great

Emma

⭐️⭐️⭐️⭐️⭐️
Fabulous evening catching up with buddies and raising monies for CF. Meal was amazing and team were delightful. All agreed we should do it again. | So hard, prawn entree

Helen

⭐️⭐️⭐️⭐️⭐️
We had a wonderful dining experience. Her Icaro went above and beyond to accomodate us and our guests with dietary issues. The food and service was amazing | All the food was great but The lamb was delicious

Angela

⭐️⭐️⭐️⭐️⭐️
It was a very attractive meal we had, and very well presented. | They were all good direct to thank him for a lovely meal

William

⭐️⭐️⭐️⭐️⭐️
We had such an enjoyable meal. Icaro went above and beyond to make our dinner special and catered for everyone's individual needs. Would certainly welcome him back. | Salmon

Darlene

⭐️⭐️⭐️⭐️⭐️
Apart from the delicious, creative meal, it was so lovely entertaining in my own home without all the hard work. Miles the waiter and Icaro the chef were so friendly and went above and beyond to make it a special night for us. | The scallops with cauliflower

Tina

⭐️⭐️⭐️⭐️⭐️
Icaro's food was very good , the whole experience was very enjoyable | The lamb

Edwina & I Just wanted to thank you once again for such a beautiful meal on Saturday.
Not only was your food amazing, you were great company also . All our guests had a wonderful time & all commented on the quality of your meal.
Edwina & Ilove to entertain at our home so I will definitely reach out to you again someday.
Best Regards
Harry

Edwina & Harry

⭐️⭐️⭐️⭐️⭐️
Thank you for a fantastic afternoon, everyone that attended the fine dining experience at our office had a wonderful time.
The food was amazing, Chef Icaro did a fantastic job and was lovely to work with. | They were all fantastic

Sophie

⭐️⭐️⭐️⭐️⭐️
What a fantastic experience. Everyone enjoyed the day thoroughly. A good reason to dress up and catch up with family with a little luxury. | Pasta. Nduja strozzapeti

Anthony

⭐️⭐️⭐️⭐️⭐️
It was really great experience, nice chef and delicious food. Thanks.

Jiayuan

⭐️⭐️⭐️⭐️⭐️
I wanted to reach out and thank you for organising this for us at such late notice. Please thank Chef Icaro once again as I have received a lot of positive feedback on how amazing his food was including presentation. And the wait staff was equally amazing as she was very tentative with the guests. I will be sure to reach out in the new year for future events.

Katrina

⭐️⭐️⭐️⭐️⭐️
Hospitality was amazing, food awesome and personality plus to boot | Chicken wine orfinary

Kylie

⭐️⭐️⭐️⭐️⭐️
This is our 2nd experience and it was excellent | All were good cauliflower was exceptional

Marlon