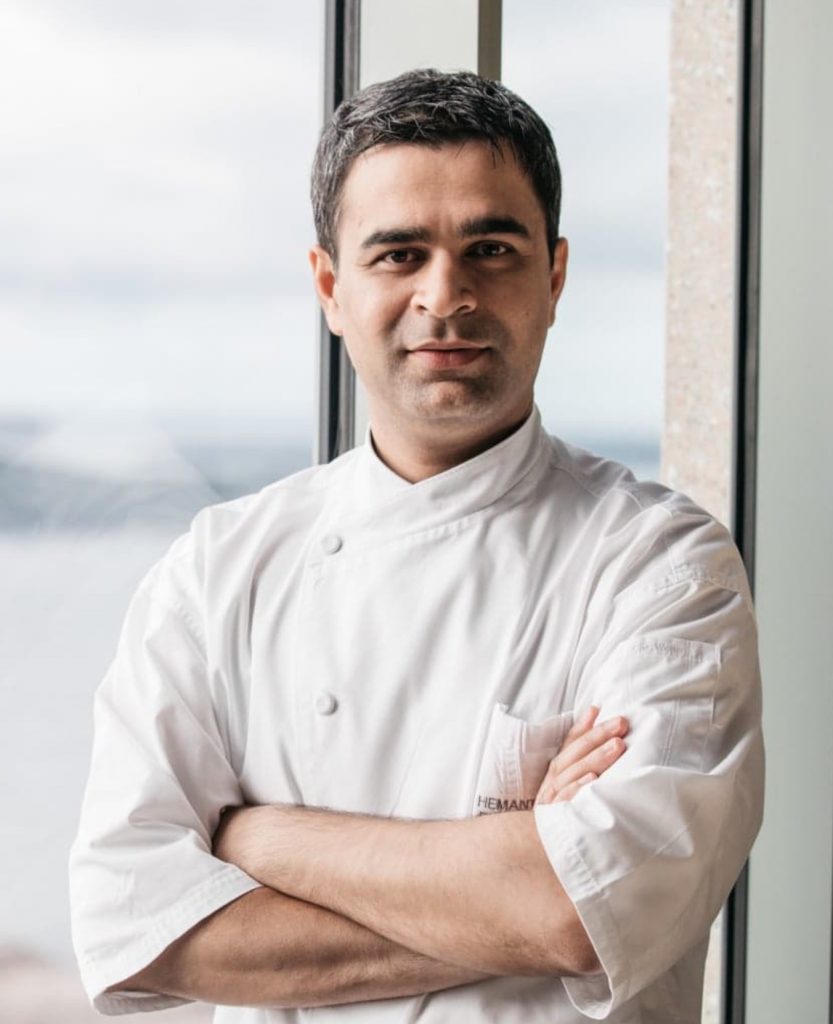 Short bio
Despite his travels and accolades, there is no greater joy for Chef Hemant than seeing people enjoy and be happy with the food he places on the table. It brings him immense satisfaction to see the positive impact his cooking has on people, helping to fuel special moments of bonding and connection amongst groups of people.
Experience rating
Talkativeness
Location:

Australia, Sydney

Events done:

9

ID verification:

Recommendation score:

99

Insurance:

Member since:

Aug-2019

Food safety certificate:
Bio
Introduced to cooking by his mother in India, Chef Hemant initially pursued a degree in Hotel Management and Catering Technology. He discovered his true calling in the kitchen after receiving a cooking tutorial by a South Indian Master Chef, and so began a distinguished career that has taken him all over the world.
Along the way, Chef Hemant has worked as Executive Chef at Pangkor Laut Resort in Malaysia, reconceptualised restaurants at Rosewood Little Dix Bay, opened the Apsara restaurant at Jade Mountain & Anse Chastanet Resorts in St. Lucia, and breathed life back into a failing Indian restaurant at Curacao's Hotel Kura Hulanda.
The accolades have followed accordingly. Readers of Bon Appetit may remember Chef Hemant from a feature on a cooperative, small-scale farming project he helmed in the British Virgin Islands. He has also been featured in several magazines and books, even serving as guest chef for the renowned Conde Nast publishing house in New York.
Today, Chef Hemant runs his own consultancy business, project managing new restaurant and cafe openings. On the side, he continues to cook and share his sensational dishes with groups of people celebrating special occasions.
Favourites
Slow cooked lamb shoulder with black eyed peas, barley, and truffles.
Cusines
Asian Fusion
Caribbean
Continental European
Indian
Indigenous Australian
Reviews
⭐️⭐️⭐️⭐️⭐️ Loved the trout one, it was perfect | I really liked it | It was fantastic | If you put on the table salt, pepper and olive oil it will be perfect.

Sabrina Schwaighofer

⭐️⭐️⭐️⭐️⭐️ I enjoy both I like the combination between hot and cold and also liked the size of the salmon | Loved the seaweed purée and garnishes and combination flavour
As someone who doesn't love raw fish it was slightly too thick for me, but still really tender | Delicious perfect end to the meal | The beef was amazing as well as risotto, the flavour combinations were amazing.

Jessie Farrow

⭐️⭐️⭐️⭐️⭐️ Great flavour and presentation | Combination of flavours and textures were amazing | Using dark Chocolate rather than milk chocolate made it super well balanced with the sweet raspberry. Great story behind the dish! | Everything loved the texture of the meat and the tomatoes!

Quirin Schwaighofer

⭐️⭐️⭐️⭐️⭐️ Hemant was fantastic and catered for my difficult dietary requirements extremely well. He was also very kind to share his knowledge with us on entremets.

Melissa Ji

⭐️⭐️⭐️⭐️⭐️ Fabulous experience had by all. Hemant is not only a great chef but a great personality who loves life!

Selinna Wang

⭐️⭐️⭐️⭐️⭐️ Everything is excellent. Great services and great food. I would definitely recommend CHEFIN to my friends if they need catering services.

Kate Su