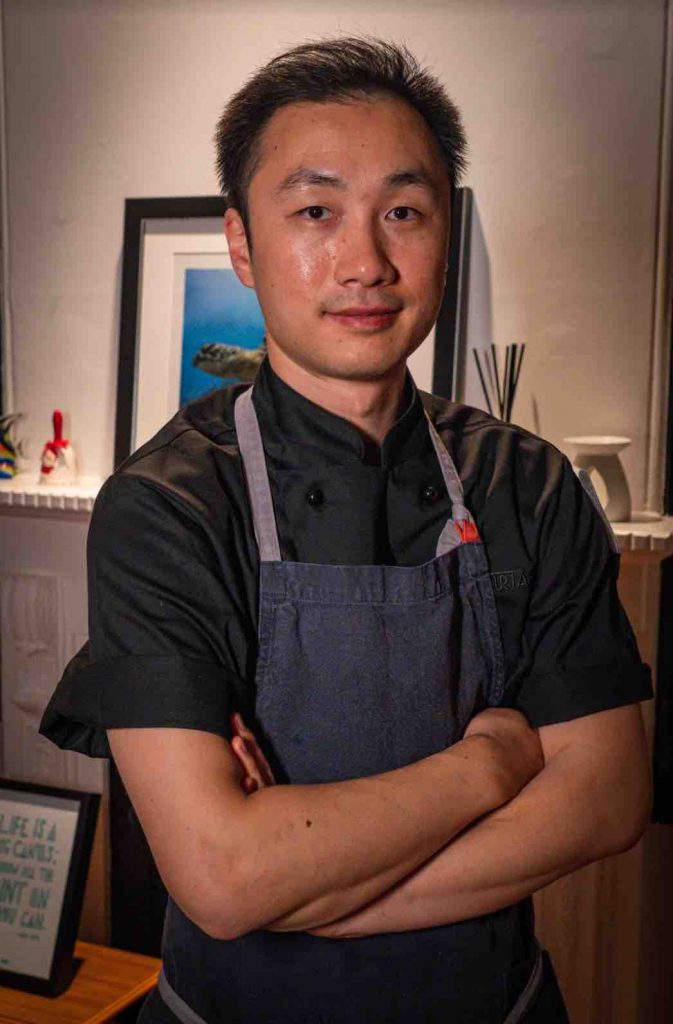 Short bio
Chef Caleb lives to express himself through cooking and seeing the joy it brings to others!
Experience rating
Talkativeness
Location:

Australia, Sydney

Events done:

7

ID verification:

Recommendation score:

91

Insurance:

Member since:

Aug-2019

Food safety certificate:
Bio
Chef Caleb is trained in French cuisine, but he is passionate about Asian flavours and creating fusion cuisine. Seeing the happiness on his client's faces after serving an exceptional meal is what fuels Chef Caleb's love for cooking. Hearing the responses from people who have tried his food brings him joy and fulfilment.
Favourites
Caleb's proudest dishes are his Asian fusion creations, like shellfish aioli with Korean chilli sauce, prawn, ginger, and spring onion.
Cusines
Asian Fusion
French
Korean
Modern Australian
Reviews
⭐️⭐️⭐️⭐️⭐️ the ginger adds nice flavor to the prawn. the pomegranate is a hidden gem to be discovered. | like the creamy taste,you only feel the wasabi afterwards which is good,the parsnip crisp is definitely a positive plus. | I am a dark choc lover,so it's a bit too sweet for me. It might be better with a long black coffee. | amazing taste of the beef,never had a beef like this,the way that is cooked shocked me indeed. the mixed mushroom got Asian blood from its source. | Amazing!

Angela

⭐️⭐️⭐️⭐️⭐️ Prawns – good taste & texture. Prawns cooked perfectly. Enjoyed the aioli and hint of chilli (sriracha?)
Beetroot – beautiful presentation. Sour cream with wasabi flavour but no heat was a favourite. Beetroot could have been cooked slightly longer to draw out the flavour but all in all, delicious. | Again, great presentation & texture. This is becoming a signature of yours! Grapes and apple were interesting but texturally agree it worked. Sour cream and wasabi again was a good touch, however required more heat from wasabi to complement salmon. Still, a really good dish | Great. Texture and flavour. Caramel crisp was a nice touch. Touché. | A lot going on on the plate but worked together well. Sous vide technique of rib without bone was great, with the rendered fat you could tell it had been cooked a long time. Melt in your mouth! Puff was different and unexpected but enjoyable. Loved the earthiness of parsnip. The only suggestion is more mushroom and less chopped beef – I didn't think the beef was needed with the meatiness of the mushroom. Delicious. | Would love to come back!

Jeff

⭐️⭐️⭐️⭐️⭐️ Absolutely tasty and special. The canapes were amazing. Really good ice cream. The meat, the puree and the carrot were perfect. Love! The idea. A fun way to meet people and taste good food. Really enjoyed.

Liron

⭐️⭐️⭐️⭐️⭐️ Caleb is professional and efficient.

Recommend 💯

Michi Xin Zhao

⭐️⭐️⭐️⭐️⭐️ Petko and his team are seasoned professionals delivering unique spaces, incredible food and service to match. My guests were delighted by the delicious menu catered by Chef Caleb. What a feast. The bar was perfectly stocked with a top shelf and nothing was a bother for the team on the night. I highly recommend Chefin for any occasion.

Sarah Bolouri