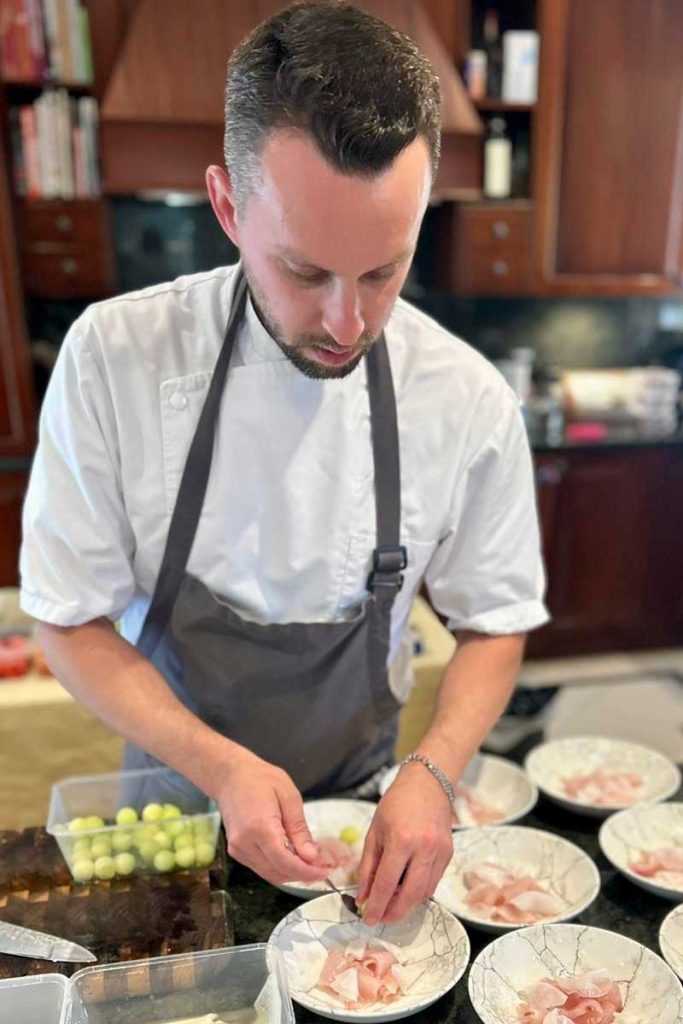 Short bio
Chef Anton is a passionate chef who has been expressing himself through food for more than thirteen years. After travelling the world and being opened up to new flavours and ingredients, he fell in love with cooking and discovering unique tastes and combinations.
Experience rating
Talkativeness
Location:

Australia, Sydney

Events done:

52

ID verification:

Recommendation score:

96

Insurance:

Member since:

Sep-2017

Food safety certificate:
Bio
Today, Chef Anton uses cooking as a way to express himself and make people happy. His food combines flavours from his home country of Israel with the tastes and ingredients he has picked up on his journeys abroad.
His personal motto is 'enjoy everything'.
Favourites
Anton struggles to pick just one dish. To him, it's all about representing his Israeli culture through food with dishes like Tavshil Katef, lamb shanks roasted in spices, garden vegetables, dry mint, with beef jus glaze. For dessert, he may pull out something like coconut malabi, a traditional Arabic pannacotta served with white chocolate shavings, hazelnuts, cherry coulis, and meringue.
Cusines
Asian Fusion
Israeli
Mediterranean
Reviews
⭐️⭐️⭐️⭐️⭐️ Thanks for helping make it a fabulous night

Erica van Lieven

⭐️⭐️⭐️⭐️⭐️ I was very happy with our experiance. This is the second time that we have used Chefin and it was an important event for our company. I would be very happy to recommend the staff and service to anyone looking for catering for their events. I can not speak highly enough of the staff on the night who made sure that our event was a great success.

Claire Tester

⭐️⭐️⭐️⭐️⭐️ This was great way of hosting a dinner party. Food was excellent, and chef Anton was great at introducing each dish. Left the kitchen clean and tidy after.

William Boneham

⭐️⭐️⭐️⭐️⭐️ Dear Chefin team

Thanks so much for organising the 40th birthday dinner event for us last night … everything went really well!!

The food was amazing and everyone said it was such a fantastic experience hosted by Chefin !!!

Thanks so much to Anton the chef and Christina for the wonderful evening and their great service. Watching Anton prepare all the food and fresh ingredients was really fun too. My wife had a great birthday and everyone is still talking today about the amazing kingfish ceviche canapé!!

Cheers
Daryl & Joanna

Daryl Smith

⭐️⭐️⭐️⭐️⭐️ From start to finish it was a pleasure to deal with Chefin. They are completely flexible to ensure the night is run to your expectations and accommodated to our (many) dietary requirements. Anton our chef and Ruth our waiter, were a delight and the food was outstanding! I would highly recommend for someone looking to entertain with a difference.

Roxy Haid