If there's ever a Hindu festival you've heard of, it's probably Diwali (also known as Deepawali). This popular festival is celebrated by the Hindu diaspora all over the world and is also known as the festival of lights. Diwali is celebrated in Australian springtime, with the date changing each year in accordance with the Indian lunar calendar.
While Diwali is a Hindu festival, it is now also celebrated by Buddhists, Sikhs, Jains, and anyone who wishes to partake. Join in fun this year and be a part of the Diwali festivities. There are plenty of ways you can celebrate Diwali in Brisbane. Here are some ideas from our team…
What is Diwali?
Before we tell you to go out and celebrate something, you'd better know what it is you're celebrating! Diwali has been celebrated in India since ancient times, likely to have evolved from various harvest festivals celebrated in the region. It is known as the festival of light, and it celebrates the victory of light over dark, good over evil, and knowledge over ignorance.
The Diwali festival lasts over five days, with the third day being the biggest celebration and falling on the darkest day of the year (in Australia it would be the lightest day of the year). In India, temples, homes, and venues remain brightly lit with candles and lanterns throughout the five days, symbolising the prevalence of light over dark.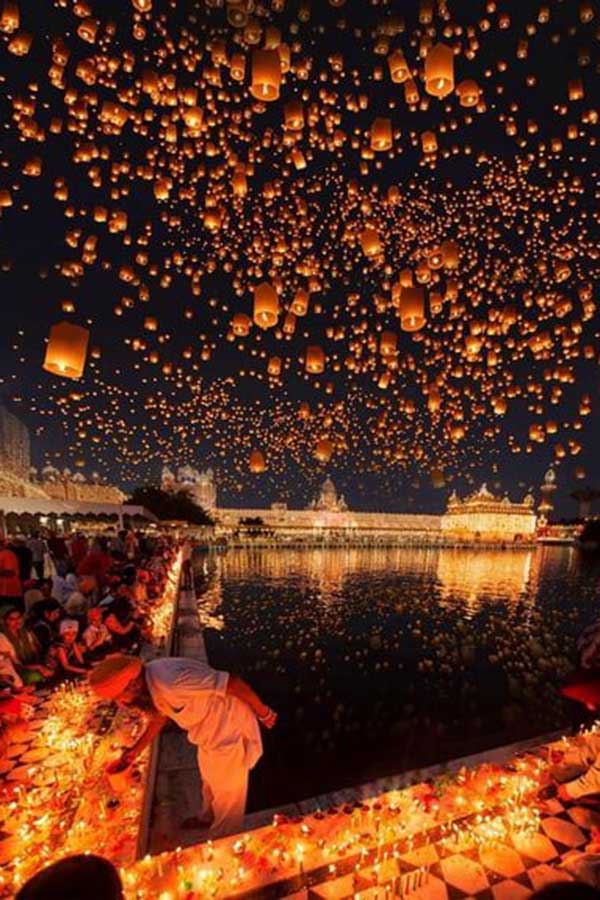 How to celebrate Diwali 2021 in Brisbane
There are many ways you can partake in Diwali celebrations, from simple gestures like lighting a candle to enjoying deluxe feasts. If we're honest, one of the best and most popular ways to celebrate Diwali is by indulging in delicious Indian sweets and foods. But there's plenty more to this celebration.
Do a spring clean
In the lead up to Diwali, it's common to do a massive clean or renovation of your home and office. Out with the old, in with the new! It is believed that the goddess Laxmi resides in cleanliness – the cleaner your home, the greater the chances for her to shower blessings into your living spaces and your life. Laxmi is the goddess of wealth, so this ritual is a great opportunity to make room for prosperity in your life.
Decorate with rangoli
After you clean up, you can decorate your home with rangoli. These are beautiful artworks or pictures that are made by sprinkling coloured powder and sand on the floor, either indoor or outdoors. The rangoli is usually made in the shapes of mandalas. You can buy coloured powders to make your artwork from an Indian grocery store. If you don't want to sprinkle the powders on the floor, you can draw your rangoli on a piece of paper and lay that on the ground instead.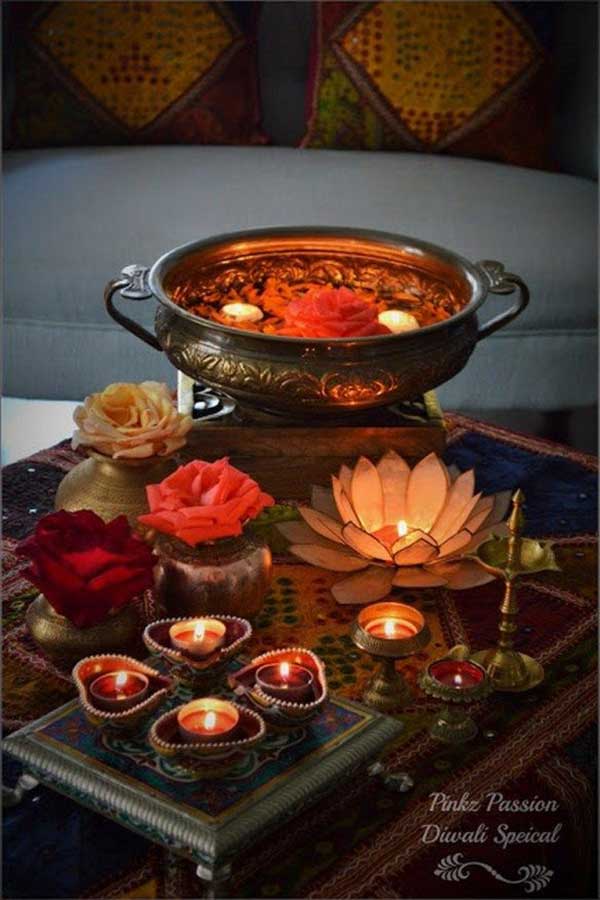 Eat Indian sweets
This is perhaps one of the most exciting parts of Diwali for many people, and a great chance to indulge in some delicious desserts without feeling guilty. Indian sweets are quite different from the desserts we're used to in Australia. Many are made from a base of nuts or vegetables, condensed with sugar or milk into dense goodness. They are sweet, tasty, and often served alongside a cup of masala chai. There are many places in Brisbane where you can purchase Indian sweets, or if you're planning on hosting a Diwali feast, your private chef can serve you a selection of freshly made sweet treats as part of your banquet.
If you haven't tried any Indian sweets before, these are some of our favourites:
Halwa
Halwa can be made from many different ingredients, such as carrot, pumpkin, or semolina. These ingredients are cooked with ghee, sugar, and condensed milk to become soft, sweet, and thick. They're usually flavoured with cardamom or almonds.
Laddu
These mushy little balls are made with ghee, chickpea or wheat flour, and sugar. Sometimes nuts and fruits, like raisins, are also added.
Barfi
This is a kind of Indian fudge that's made with sweet condensed milk flavoured with cardamom. They are rich, dense, and delicious.
Gulab jamun
These are soft, fried balls of dough, almost like donut holes, served in a sweetened syrup.
Kheer
This is an Indian rice pudding that's made with raisins, almonds, and saffron, and flavoured with cardamom.
Enjoy an Indian feast
One of the most important aspects of Diwali is gathering with loved ones and sharing a great feast together. Celebrate the festival by bringing together a few of your nearest and dearest and enjoying a delicious Indian banquet together. We encourage you to skip the usual dishes like butter chicken and try something different on your Diwali celebration. Here are some lesser known Indian foods that are an absolute must-try.
Idli
Idli are a soft, fluffy steamed cake made from a batter of lightly fermented rice and lentils. They're super healthy and usually served in a sauce or alongside a dip or chutney.
Puri
This is a type of golden deep-fried bread that's made from whole wheat flour, usually served alongside a curry or bhaji. You'll usually have puri as a side dish, snack, or eaten for breakfast.
Dosa
Dosa is a type of thin pancake or crepe that's made from a batter of lightly fermented lentils and rice. It can be filled with various curries and served alongside mint sauce, chutney, or sambar.
Mathiya
These are more of a snack than a meal, but they are popular during Diwali, especially in the Gujarat region of India. The light & crispy snacks are made by kneading dough with water and ghee, flavouring with chilli powder, and frying. Think of it as a type of Indian crisps.
Dahi bhalla
This popular Indian street food is a type of fried dumpling that's served smothered in yoghurt and tamarind chutney. Truly delicious, though you may be hard-pressed to find dahi bhalla in Brisbane. If you hire a personal chef for your Diwali catered meal, they can create some for you – a must try!
Choddo shak
This is a time-consuming food to make, but delicious – as all time-consuming foods are. Popular in Bengal, choddo shak is made with 14 different types of leafy greens that are stir-fried with various spices and (of course) chilli.
Aloo tikki
This tasty side dish is made from shredded potato that's shaped into small patties, spiced, and fried. Aloo tikki is usually served with generous dollopings of mint sauce, yoghurt, and tamarind chutney and served alongside the main meal.
Light candles
Of course, you cannot celebrate the Festival of Lights without lighting your own candle or lantern. Take this opportunity to make some prayers for your loved ones and light several candles that you can display in the front or inside your home. Hang some lanterns outside, and just generally try to
Attend a public Diwali celebration
There are several community celebrations being held in Brisbane to celebrate Diwali. Join the fun amidst the crowds of others celebrating Diwali. 
Brisbane City Council hosts an annual Diwali festival with multicultural entertainment, food stalls, henna painting, artefacts on display, and plenty of information to help you learn more about this special celebration.
Dreamworld is hosting a Diwali event on the 6th of November, with unlimited rides, live DJ performances, a lasershow, Bollywood performances, Tiger presentation, and activities for the kids.
The Federation of Indian Communities of Queensland is also hosting a mega-multicultural Diwali event at King George Square in Brisbane CBD. There'll be live music, dancing, food stalls, and more.
Hire a private chef in Brisbane to cook a Diwali feast
One of the best ways to enjoy Diwali is by indulging in some delicious traditional foods and Indian sweets. You can hire a personal chef in Brisbane to come to your home, office, or venue to cook a spectacular Diwali feast that has all of the favourites made just the way you like it. Our Diwali catering can serve numerous guests and is made fresh in your home. Your private chef will also take care of all the cleanup – so you can entertain your guests and enjoy the celebrations with no stress. We can also organise Diwali decorations, equipment hire, and more.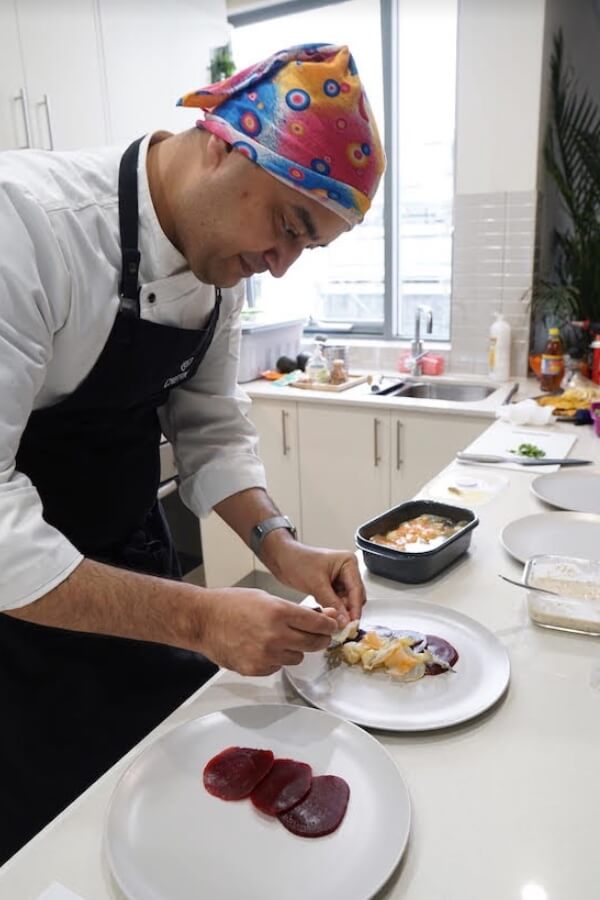 Get in touch with our team to start planning your Diwali catering now.