There's no other festival that paints entire streets, towns, crowds, and buildings different colours… except Holi. The joyous Hindu celebration marks the end of winter and the beginning of spring – the opposite in the Southern Hemisphere – as well as the triumph of good over evil. People spend the whole day throwing vibrant coloured powder and water balloons at one another as they dance through the streets and feast on delicious foods. As one of the most unique festivals on Earth, we think everyone should experience the celebration if they have the chance.
If you can't get to an official Holi celebration – here's how to celebrate on your own and what to eat on the occasion. 
How to celebrate Holi
There are many Holi festivals and celebrations held around the country, usually hosted by the Hindu Council of Australia. The holiday falls on the last full moon of the Hindu calendar, which tends to be some time in March.
In the days leading up to Holi, people in India will collect different combustible materials to throw into a bonfire. This could be wood, dried leaves, sticks, and other inflammable items. These will be gathered into piles in common areas, parks, colonies, and open spaces ready to burn in a pyre on the first evening of Holi. Usually, there will also be an effigy of Holika, a legendary demoness whose story marks the triumph of good over evil.
The first day of Holi is known as Holika Dahan or Chhoti Holi. People will gather around the bonfire after sunset to perform prayers (puja). Afterwards, the pyre will be lit and everyone will sing and dance around the bonfire in another symbol of good conquering evil. The huge fires are a symbol of cleansing and burning away evil or bad spirits.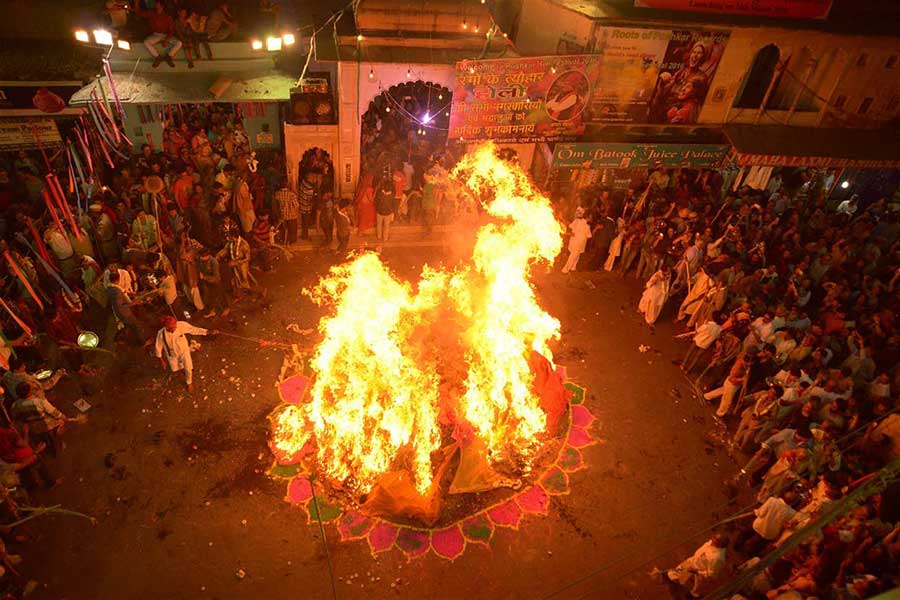 Day two of Holi is when the fun begins. Also known as Rangwali Holi, Dhulandi, Phagwah, or Badi Holi, this is the day when all the colours are tossed around. People apply coloured powders to one another, run around throwing more colours into the air, throw water balloons (also filled with colour), use water guns, party together, dance, and just generally have a great time. There will be people on the streets singing, playing drums, and dancing from one place to the next in a colourful frenzy.
After the fun and games, people will go home, wash up, and get dressed before visiting friends and relatives to continue the festivities.
11 foods & drinks of holi celebration
Like any festival, food plays an important part in Holi celebration. If you're celebrating the festival of colours, make sure to not miss out on the incredible feast – which is half the fun! Not to mention all the snacking you'll want to do amidst all the running around and dancing. 
Here are our favourite Indian snacks, desserts, dishes, and beverages to enjoy on Holi. A lot of these might sound new and exciting, but don't be intimidated! And remember there's always a private chef ready to make everything for you.
1. Gujiya
Crispy on the outside with a delicious stuffing on the inside, this dessert is likened to cornish pasties, only sweet! The little dumplings are stuffed with a sweet khoya (a type of dairy popular in India), coconut, or dried fruits.
2. Thandai
This refreshing milk-based drink is popular in North India and a great way to cool down after a day of running around in the sun. It's made with almonds, saffron, milk, sugar, and a mix of different spices. Often thandai will be topped with nuts, and sometimes even spiked with bhang (cannabis) for an extra dose of fun on Holi…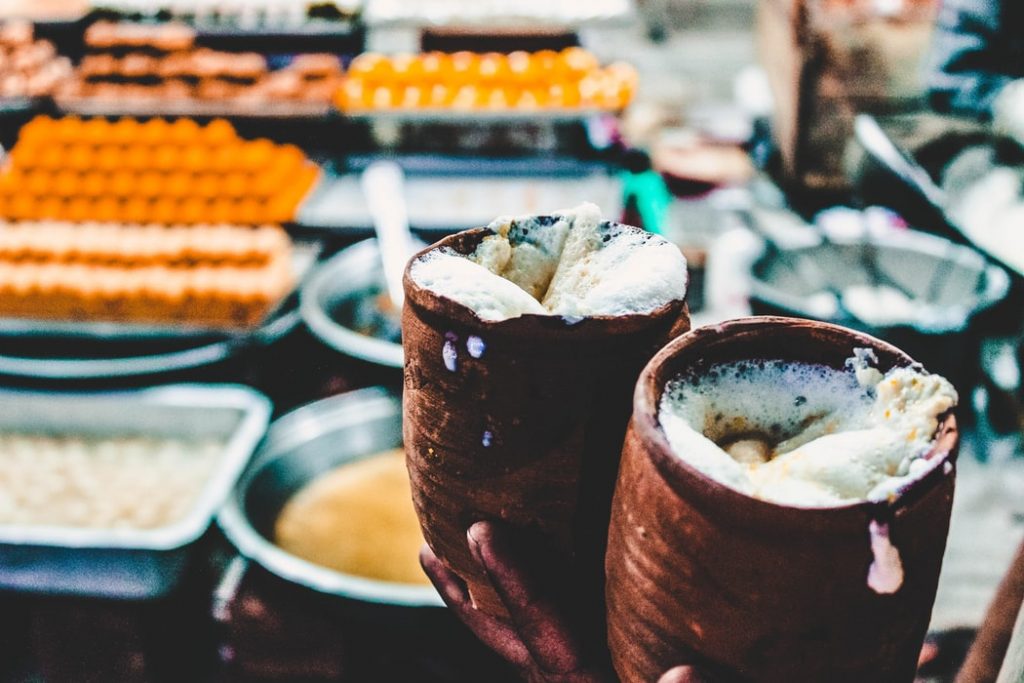 3. Lassi
Who doesn't know lassi? North India's most popular beverage provides much-needed refreshment on Holi. The yoghurt-based drink is blended with water and comes in a variety of both sweet and savoury flavours, sometimes also spiked with bhang. The best lassi has fruits and malai (clotted cream) added… yum!
4. Rasmalai
This creamy, sweet dessert originates from West Bengal and is like a type of sweet dumpling that can be made with a variety of flavours. Typically it is stuffed with creamed rice, saffron, and pistachio, and served with a side of cardamom cream.
5. Malpua
These are an indulgent pancake that are usually made with semolina, flour, khoya, and cardamom. The combination is fried in ghee, drenched in sugar syrup, and served crispy on the outside and soft on the inside. You'll find many flavours of this delicious dessert, including banana, mango, and pineapple.
6. Barfi
This traditional sweet dessert is made from solidified condensed milk, sugar, and ground nuts or flour. They come in a range of different flavours like almond, pistachio, rose, and chocolate, and can be topped with more sliced nuts and even fruit.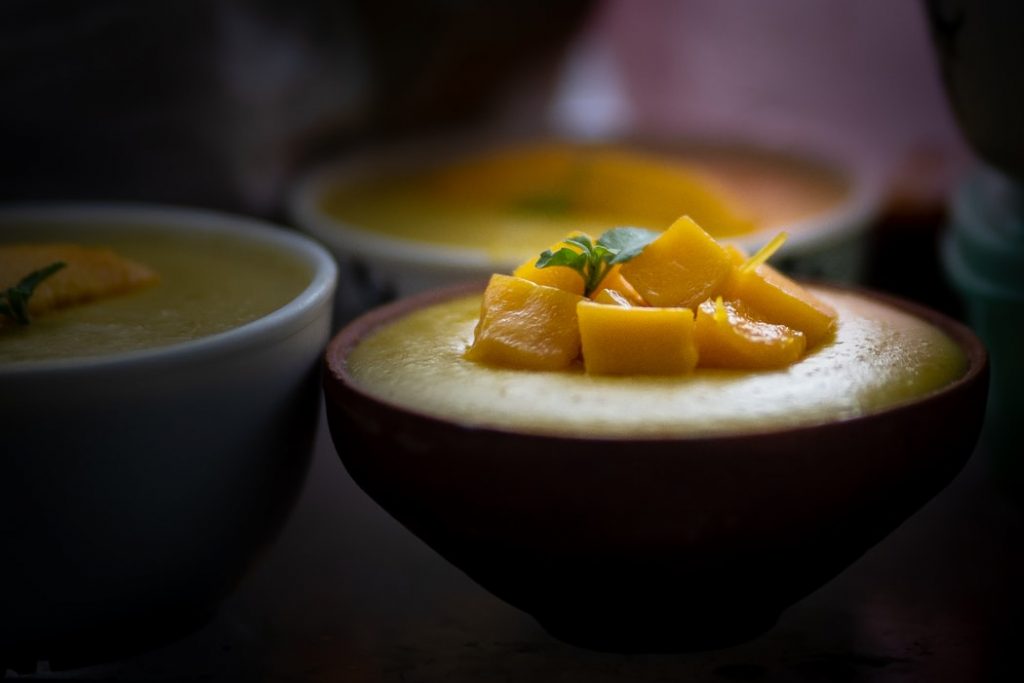 7. Badam phirni
A creamier, thicker version of kheer (pudding), this is a type of pudding that can be made with rice, tapioca, or broken wheat. It is typically cooked with milk. Badam refers to the addition of almonds, making it thicker and more indulgent! Typically, phirni can be served both sweet and savoury, eaten as a main dish or as a dessert.
8. Dahi bhalla/Dahi vada
This dish is a combination of fried urad dal balls and a thick yoghurt sauce. A generous helping of spices is sprinkled on top and the dish is served with a side of green or sweet tamarind chutney. Another refreshing treat after being out in the sun all day!
9. Coconut milk murukku
This crispy sweet treat is everyone's favourite! It is made with coconut milk combined with rice flour and urad dal flour. The kids will absolutely love chomping away on this sweet dessert… and adults too.
10. Puran poli
The perfect balance of sweet and savoury, this is a type of light, sweet flatbread that is stuffed with chana dal. Jaggery or sugar is used to sweeten the bread, and cardamom or nutmeg can be added for flavouring. Seriously yum!
11. Ladoo
The original energy balls! These popular sweets are made with so many different varieties and flavours. Some use gram flour while others use semolina, sometimes they have dried fruits and sometimes made with nuts. In Uttar Pradesh, people will even throw ladoo at one another.
Let us organise a feast for your holi celebration!
Want to celebrate Holi without spending days in the kitchen beforehand? You can do exactly that! Let us create the ultimate Holi banquet for you, complete with a range of delectable dishes and desserts enjoyed on the special occasion.
We can arrange for a colourful feast and decorations or you can tell us which dishes you'd like us to prepare. Get in touch with our team and let's start planning a mouthwatering range of foods for your Holi celebration!