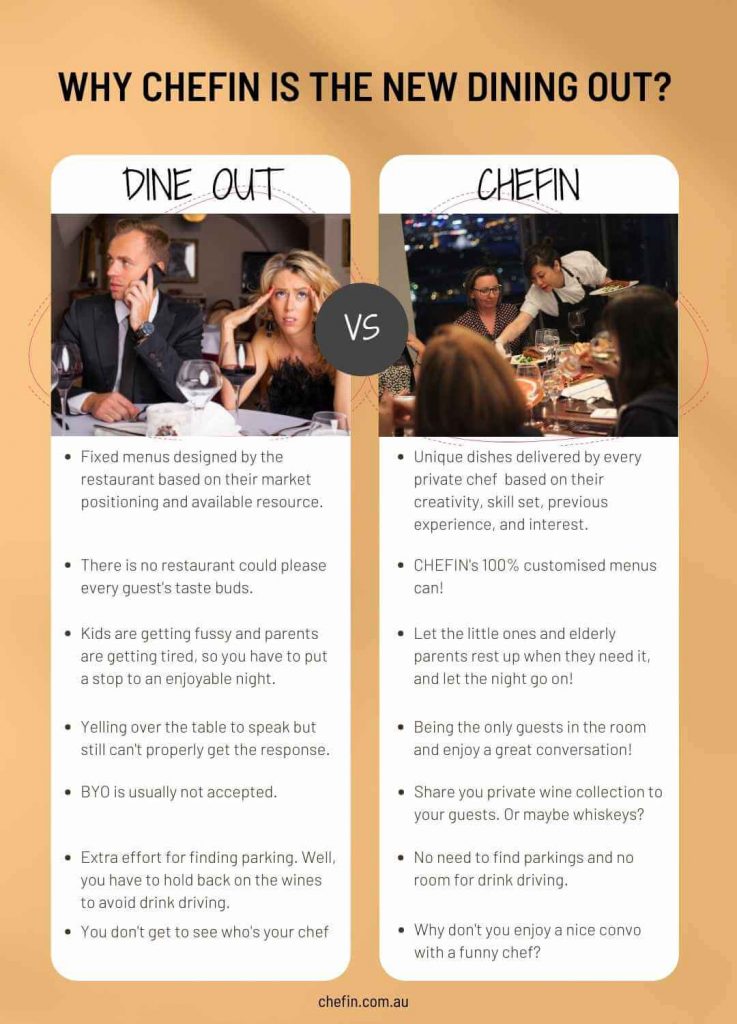 In our post-pandemic world, it's practically essential for products and services to be delivered straight to our doors. It's not because we're lazy, but because more than ever, we're focusing on the concept of 'home'. We want comfort, we want choice, and we want control over what we eat, when we eat, and where we eat. And now we have another choice as well: who cooks the meal for us. Hire a private chef Sydney and foodie freedom is all yours.
Whichever way you look at it, over the last few years 'home' has become the new 'out'. We've shifted the way we gather with loved ones – from virtual hangouts to fine dining in the living room. For those who enjoy the finer things in life, the concept of 'home' has had to expand to replicate the comforts and luxuries of fine living. This all extends to food, too – because what is fine living without the extravagance and joy of a delicious meal? If you can't go out to fine dine, you have to know how to bring the fine dining to you.
In this new 'at home' era, high-end foodies are finally getting the control they've been looking for: over what to eat, where to eat, and who will cook…
Hiring a Private Chef is the new dining out
We're talking about private chef, cooking the meals you want, wherever you want. Because regular restaurants with fixed menus are starting to feel outdated… UberEats made it fast, easy, and convenient to enjoy your favourite takeaway foods at home, and now CHEFIN is turning the experience of 'Fine Dining, Anytime, Anywhere' into a reality.
It's no secret that more people are seeking out their own unique, exciting food adventures. They want originality, memorable meals, and the opportunity to share a one-of-a-kind experience with their friends and family. There are plenty of ways that hiring a private chef is different from eating out, but we thought we'd ask our guests why they chose to go for this experience.
So we created a survey and asked our guests one simple question: "Why did you choose to hire a private chef instead of dining out?" Some of the responses we received were quite unexpected, and our team couldn't help but laugh. Here we were thinking that people wanted to hire a chef to enjoy fine dining experiences and to eat like royalty. And while that's true for a lot of our guests, there were a few surprises amongst the responses too!
If you weren't exactly sure how a private chef was going to transform your at home dining experience, here are the top 10 responses from our guests… 
#10: "No need to find parking, and avoid drink driving"
Anyone who lives in the city knows how difficult it is to find parking. Unless you want to fork out half the price of your dinner, you need to allocate an extra half an hour to slowly weave your way through the streets trying to find a parking spot. And then when you find one, you need to allocate that extra time for walking to your restaurant! The worst part? Even after finding a parking space, one of you still has to hold back on the wines…
Hiring a private chef to come to your home means enjoying an amazing dinner without even thinking about parking. It means you don't have to brave the cold to walk back to your car when you're tired and full. It means nobody has to be the designated driver, and that makes the meal more fun all around… 
#9: "No need to use public toilets – I can comfortably use the toilet in my own home" 😂
We really didn't expect this as an answer, but I guess everyone has their thing, right? If your 'thing' is a dislike of public toilets, then you'll love the opportunity to – ahem – use the restroom in the comfort of your own home. Of course, fine dining restaurants are classy establishments with luxurious bathrooms, but even that's not enough to deter the discomfort in some people. So, hire a private chef, drink away, be merry, and then pop into your own bathroom when nature calls… 
#8: "I can finally show my private wine collection to the guests"
Not just your wine collection, you can show off your art, prized furniture, vintage records, that rug you splurged on, anything and everything that has been kept hidden away in your home for far too long… If you're averse to hosting a dinner party because it means you have to share your cooking skills (or lack thereof) with others, hire a chef and you won't be afraid who walks in that door – they'll always be impressed. 
But of course, the wine thing is still a game changer for fine dining. If you've got an impressive collection of incredible wines and can't find the time to pop open a bottle and share it with friends, this is your moment. Take them through your favourites and finally put those wines to good use! Dining at home with a private chef is like enjoying BYO with no corkage fee, and who can say no to that? 
#7: "Restaurant music is too mainstream. At home, I'm in control of the background music"
Look, music is important to some people. Sometimes you don't want to enjoy your fine dining meal to the soundtrack of fine dining restaurants. Maybe you don't want ambient music or violins, live jazz or soothing tunes. 
Some people want to rock out at dinner with some bangers – and when you hire a chef, it's your choice what those bangers are. Pull out those records that have been gathering dust and turn up the sound system as loud as you want. Nobody's going to be making any noise complaints, here! 
#6: "You can choose what to wear – pyjamas are actually an option! 🤪 "
This is a huge one. Say goodbye to hours spent in front of the mirror before fine dining and enjoy your dinner in the comfort of… whatever you like, really. Your private chef is not one to judge, and neither will your guests (if you choose them wisely). Hire a chef and you can eat a five star meal in your pyjamas or your trackies, with your hair a mess and a bare face without even a spot of makeup on your face. Now that's freedom!
Here's a little secret from the CHEFIN team 🤫 If you and your girlfriends are hosting a Hen's Party, you can hire gorgeous topless male waiters to serve your food and drinks. How's that for freedom? Hands off, though! The waiters are there to look at and not touch…
#5: "No need to worry about kids and the elderly. They can go to bed and we can still continue!"
Do we need to say more? Anyone with kids or an elderly parent living with them will totally appreciate this point! There's no need to put a stop to an enjoyable night just because the kids are getting fussy or your parents are getting tired. Hire a chef, and when your little ones get sleepy, put them to bed. Let your elderly parents rest up when they need it, and let the night go on until you've worn yourselves out! 
Your private chef can continue serving your desserts, your sommelier will keep pouring that wine, and the party will continue for as long as you like… Because nobody likes prematurely putting an end to a great night. 
#4: "OMG, I can finally hear the talking!"
Put your hands up if you find yourself coming back from casual fine dining restaurants with a hoarse voice and strained ears! This is especially true for group dining, when you find yourself yelling over the table to speak to your friends but still can't properly understand the response… Hire a chef and enjoy being the only guests at the restaurant, where the room is only as loud as you make it. Not only do you get to choose the volume of the music, but you won't have to battle with other diners to be the loudest table in the room. What a relief to finally walk away with memories of a great conversation! 
#3: "I can choose what to eat and how to eat it"
That's right! When you hire a chef through CHEFIN, your personal chef will design the menu according to your requirements. Who says it's hard to please everybody's taste buds? CHEFIN's 100% customised easily menus can! 
This is fine dining like never before. When you hire a chef, you have complete control over the food that's being served, how it's cooked, what ingredients are used, and which diets to cater for. No need to find a restaurant that appeals to everybody (which is virtually impossible). Just tell your private chef what you're looking for, and they'll customise a menu that has everyone walking away happy. Now that's fine dining!
#2: "The chefs in my kitchen all look so handsome 😳"
Look, craftsmanship is more important than a pretty face, OK? That said – hiring a private chef is a fantastic opportunity to get up close and personal with the all-too-talented folk who are usually stuck in the back of a restaurant in the kitchen. Meet your (handsome) chefs, enjoy some banter, learn their story, and get an elevated dining experience that's far deeper than any fine dining restaurant. 
#1: "The special dishes that you can't find anywhere else"
This is beyond doubt. If you're looking for extraordinary meals that you won't find in your usual fine dining restaurants, hire a chef to cook for you. Every chef in our CHEFIN team delivers exceptionally unique cooking that's based on their creativity, skill set, previous experience, and interest. The result is entirely unique dishes and intriguing menus that showcase their artistry in ways that traditional restaurants simply can't compete. 
Every time you hire a chef through CHEFIN, you get to enjoy an entirely new and unique menu with different concepts, ingredients, and courses. 
Fine dining will never be boring when you're continuously able to explore new cuisines from different chefs and experience their unique creativity and take on cooking. If you consider yourself a foodie, then hire a chef is the pinnacle of all dining experiences: the opportunity to try something deliciously different every time. 
To our guests, thank you for participating in our research! You put a lot of smiles on our faces and our chefs love creating for you 👍
Why choose CHEFIN to hire a Private Chef? 
If the above points weren't enough reasons to showcase why you should hire a private chef, let us sum up why you should choose CHEFIN for a premium fine dining experience: 
Professional chefs, unique craftsmanship and creativity
Comprehensive platform management – we manage the whole event & dining process to guarantee quality and an amazing experience
250+ top chefs, 18 world cuisines, unlimited menu options
Recommended by 35,000 sophisticated guests across Australia
Book a private chef for your special moments. Available national wide Australia.