Team Building Ideas
You already know the value of team building events for fostering better communication between work colleagues. Team building events have been around for decades because they are proven to contribute positively to employee motivation and building trust, resulting in increased productivity.
Food is an important part of team building events and food has traditionally been a way of bringing everyone together in a neutral setting. Why not base your team building event around food? CHEFIN has come up with a few creative team building ideas where food is central.
Cooking Class
Cooking classes not only bring everyone together on a level playing field by providing everyone with the same equipment and resources, but it also teaches skills which are useful to the individual. Whether it's learning to make pasta from scratch or putting together a three-course meal, cooking classes allow for collaboration between team-mates as they share techniques and equipment. Cooking classes can be organised for any type of meal, whether it's learning to make healthy breakfasts or decadent desserts. This creative team building idea is all about collaborating and having fun.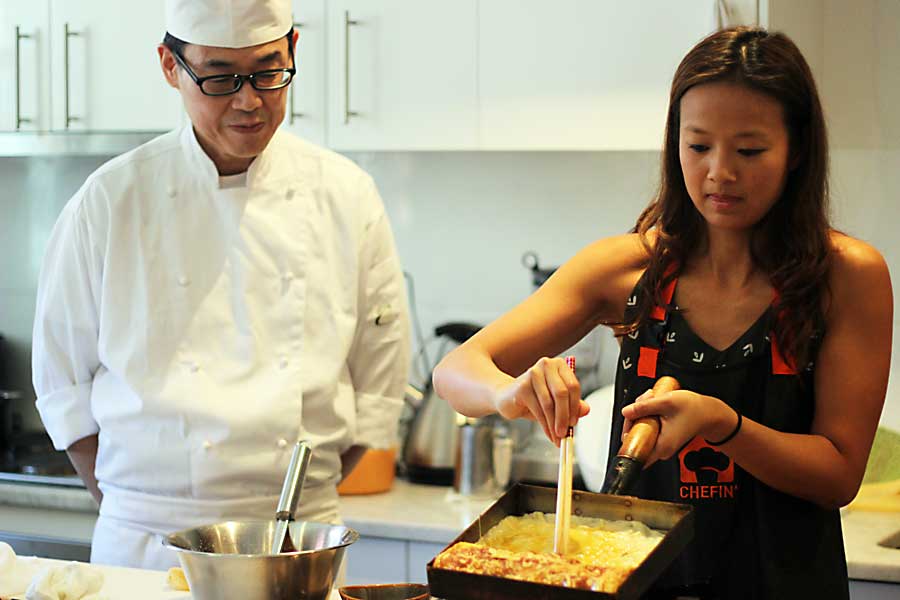 Culinary Picnic
For a more relaxed team building idea, consider a corporate picnic. Eating al fresco is available year round thanks to our fantastic climate, and great for team bonding events with a physical aspect such as those which involve an obstacle course or treasure hunt. An advantage of a corporate picnic is that the food comes to where the participants in so there's no need to organise transport and everybody can eat at their own pace. Alternatively, a corporate picnic can be a team-building event in its own right. Workplaces with strict dress codes can allow employees to wear multi to create a more relaxed environment and give everyone a chance to unwind.
Charcoal Barbecue
An alternative to a corporate picnic is a barbecue (BBQ). Barbecues are great for lunchtime or evening functions but rather than present the team with a pre-prepared meal, get them doing the cooking. Learning how to cook food on a barbecue under the supervision of a qualified chef is fun and a great skill to take away. Large groups can be split into teams to prepare the food with some working on salads, some working on sauces and marinades, and some setting the table.
Mystery Dinner
Mystery dinners are a great way to end a day of team building exercises, especially a formal in-house event. After a day of completing feedback activities and small group discussions, imagine your staff sitting down to a meal as a reward. But instead of selecting from a traditional menu, they are presented with code names or numbers for food and drink. The mystery dinner menu could be linked to an exercise completed during the day or they could be the names of 80s hits – the fantastic thing about mystery dinners is that you get a chance to be creative with the menu. Once the mystery meals arrive and diners begin eating, it will prompt conversation and is also a relaxing way to debrief after what can sometimes be an intense day.
Dining in the Dark / Blindfold Dinner
If building trust within your work-team is a core aspect of your team building event, consider a blindfold dinner. Blindfold dinners are a fun, interactive dining experience for team members as they sample gourmet cuisines from around the world. This team-building event fosters communication because the blindfolded diner is encouraged to guess what the dish is and where it originates. Blindfold dinners are also great for promoting awareness of other senses because not being able to see food heightens the sense of smell and taste.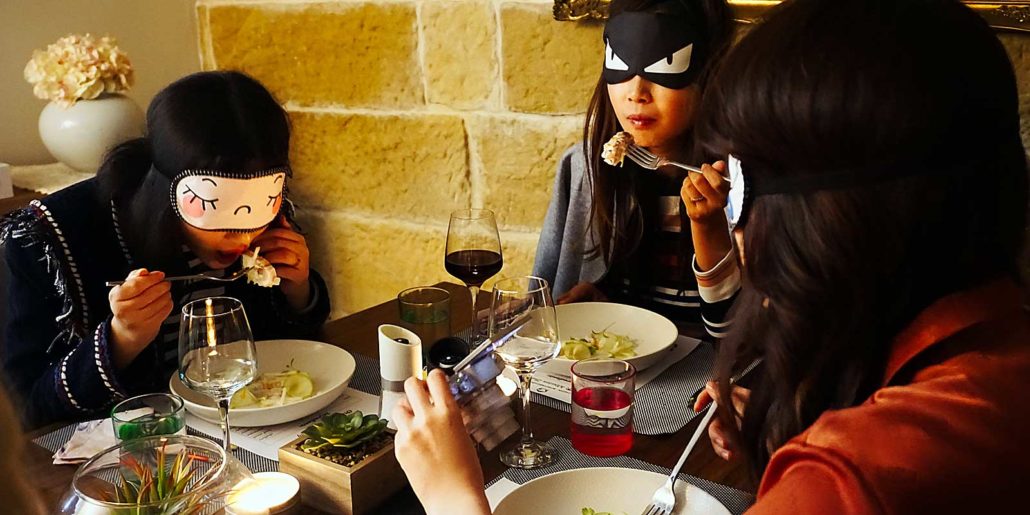 Creative team buildings ideas based around food have the advantage of being adaptable to most locations. If travel is an issue for some of your staff, then consider holding the team-building event in our house with private chefs and waitstaff who come to your preferred location.
Contact our events team today to start planning your next team building event. If one of the above styles isn't quite what you're looking for we'll help create a unique experience to suit your requirements.
Need more help or information on choosing the best dining style for your corporate catering event? Get in touch with us today for advice and an obligation-free quote.