There's hope for Christmas and New Years still!
NSW COVID restrictions will be relaxed as of 16 October, allowing for a maximum of 500 people to be seated at outdoor events, with two square metres of space allotted per person. There's no better time for this change to happen, with warmer weather making outdoor venues a prime place to usher in Christmas and New Year celebrations.
With events opening up to a new 500 guest maximum and reduced social distancing capacity, plans can be taken off hold and Christmas and New Year party organising can begin!
Start planning Christmas and New Years now
Restrictions have lifted and people will be scrambling to make bookings and organise end-of-year events. Now is the time to start planning your Christmas and New Year lunches, dinners, and parties – it's been one hell of a year, and you deserve a big celebration with all of your loved ones. CHEFIN can help you organise every aspect of your event at the click of a button – connecting you with a private chef for premium catering, an exclusive range of stunning outdoor venues, and everything else you need for an event, from decorations to DJs.
Five star catering + beautiful venues in one place
With Christmas only two months away, you might not have the time to search for the right venue and find catering that suits your taste buds. CHEFIN will connect you with a talented private chef who will create a bespoke menu for your event, so that you're guaranteed the food you want without the effort of looking. We'll also help you secure the ideal venue for your occasion, with exclusive access to some truly amazing venues, both indoor and outdoor.
Discover our outdoor venues in Sydney
Looking for an outdoor venue to host up to 500 guests? We have access to a diverse range of beautiful venues suited to events of all sizes, scales, and themes. From slick and modern to cosy and traditional, we have a venue for all occasions. These are just some of our outdoor venues where you can host your Christmas, New Years, wedding, or event:
The Country Home, Moore Park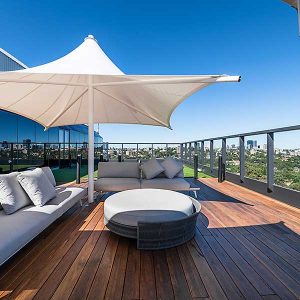 Surrounded by the iconic, heritage-listed Centennial Park, the Ranger's Residence is a stunning venue with beautiful private gardens and outdoor views. An elegant space to host a summer cocktail party, outdoor luncheon, and event.
The Crossing, Surry Hills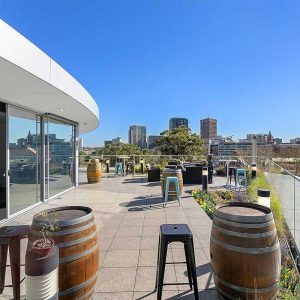 A leafy, shaded outdoor venue set amongst the hustle and bustle of Surry Hills, The Crossing is the perfect space to host friends while hiding from the harsh summer sun. With a relaxed, trendy atmosphere, the venue is perfect for laidback dinners and get-togethers.
Botanics Lawn, Circular Quay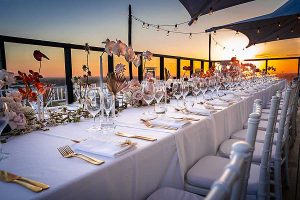 A mesmerising backdrop for any occasion. This Sydney venue is iconic for its commanding views of the Harbour Bridge and Opera House, perfect for hosting a wedding or lavish event.
Botanics Pavilion, Circular Quay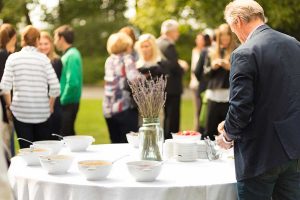 A sprawling indoor/outdoor venue, this pavilion has beautifully manicured gardens and is set in the heart of the Botanic Gardens. Host large events, celebrations, and weddings amongst the colourful foliage.
Start planning your event now
It's not too late to start planning a big Christmas or New Year celebration. With restrictions lifted, this is your chance to throw the party you've wanted to have all year – Let us help! We'll help you secure an indoor and outdoor venue, connect you with a private chef for bespoke, five star catering, and help you organise any other aspects like booking photographers, DJs, and equipment.