Everyone likes to celebrate Halloween differently. For some, it's an opportunity to dress up and party with friends. For others, it's about skyrocketing your heartbeat as you drive yourself mad through fear – watching horror films, going to a Haunted House, doing a ghost tour… The way you do it is up to you. For others still, Halloween is simply the chance to excite your imagination and do something different, whether it's eating tripe or experiencing a different kind of dining than usual.
For all of these people, we've found the best ways to celebrate Halloween in Brisbane in 2021. From loud events to community street festivals, boat cruises, and fine dining restaurants, there's something here for every kind of Halloween fan. CHEFIN Private Chefs Brisbane are ready and dressed up for your in-home private party!
Where to celebrate Halloween in Brisbane
In the weeks and days leading up to October 31, Brisbane is crawling with Halloween events, parties, cruises, and festivals. There's an event for all kinds of people: those who want to get lost in the crowd, those who want to quietly celebrate, and those who want to truly embody Halloween spirit with a scary experience. Dust off your best Halloween costume, and take your pick from Brisbane's best Halloween events in 2021.
Halloween Hysteria at the Mansfield Tavern
Ten minutes south of the city centre lies one of Brisbane's most iconic music venues, the Mansfield Tavern. Home to two function rooms, a restaurant, and indoor & outdoor areas, it's the perfect venue for a day of Halloween festivities. On Saturday the 23rd of October, the Mansfield Tavern is set to spook with a Halloween Hysteria event featuring a lineup of Australia's best rock, punk, and metal bands.
The star-studded lineup includes live music from artists like These New South Whales, Spiderbait, and Mammal, amongst a heap of other Aussie alt-rock favourites. This isn't the place to go for a quiet, spooky candlelit dinner. The venue will be thrashing all day and night across three massive indoor and outdoor stages. Dress up as your favourite 'creature feature' and be in the chance to win a prize for the scariest amongst the crowd. If rock, metal, and punk is your thing, let loose and get lost in the thrashes of the Mansfield Tavern moshpit.
Read more and book your tickets here.
Indooroopilly Halloween Haunted House
For a truly authentic Halloween experience, head to Indooroopilly for Brisbane's best-haunted house. This is the last year the haunted house will be held at this location, so prepare for an all-out scare that's bigger and better than it's ever been. The Halloween Haunted House will be open on Saturday the 30th of October, with different levels of intensity depending on how much you can handle a fright.
The house is easy to spot from the outside, complete with haunted decorations a la gravestones, spiderwebs, and creepy crawlies. Inside the Haunted House is a maze-style experience that leads you through a series of weaving horrors. Be aware: this is not a party but entirely an experience. The event is free, though donations are welcome. Come between 6-7 pm for a low-intensity experience that's perfect for kids and wimps, between 7-8 pm for those who can handle a bit of fright, and from 8 until late for a real scare.
Read more about the event here.
Batty Boat Cruise
Cruise the Brisbane River to Norman Creek on the Halloween Batty Boat Cruise. This low-key Halloween event is a wildlife conservation effort hosted by Wildlife Queensland along with the Bat Conservation and Rescue QLD. What rings in the theme of Halloween better than a sky full of bats? The COVID-compliant cruise is aboard a spacious boat with fully covered decks and an indoor dining area with a licensed bar and coffee shop.
The boat departs from the Cultural Centre Pontoon in South Brisbane and heads towards Norman Creek, where masses of flying foxes wheel out over the sky during sunset. While aboard you'll have the chance to interact with baby bats, listen to live informative commentary and learn about Brisbane's flying foxes. You're encouraged to dress up, bring the kids, and there'll be raffles and prizes awarded on the night for the best costumes. There's no dinner provided, but after the cruise, you can continue the fun at one of South Brisbane's many vibrant restaurants and eateries.
Read more and book your tickets here.
Blackwood Street Halloween Festival
Mitchelton is a sleepy suburb of Brisbane, but it comes to life on Halloween with the Blackwood Street Halloween Festival. The picturesque tree-lined street will be home to a street parade between 3-6pm on Sunday 31 October, complete with feature rides, market stalls, live music, food and drinks, and competitions for the spookiest costumes. The alfresco cafes, bakeries, and quirky shops of Blackwood Street will make for a fantastic break along the way. Come along and experience Halloween, Brisbane-style with the local community of Mitchelton.
Read more about the event here.
Halloween at Brisbane's best restaurants
Fancy something a little less spooky? Spend Halloween wining and dining at Brisbane's best restaurants. These creatively themed eateries still offer a lot in terms of excitement, fun, and a mild spook factor. If you're less a fan of dress up than you are of delicious meals, visit these restaurants for a special treat this Halloween.
Cloudland
Cloudland is Brisbane's boutique, larger-than-life restaurant, bar, and function room venue. Featuring two charming bars and a delightful Italian restaurant as well as private booths, this urban oasis is a proud part of Brisbane's history. Located in the heart of vibrant Fortitude Valley, behind the heritage-listed Empire Hotel, the venue has been standing since 1888.
Cloudland's Italian restaurant marries old-world glamour with modern Australian cuisine, boasting a carefully curated Italian-inspired menu created by Chef Paolo Camisotti. The food uses classic techniques honed in his homeland of Ferrara in Northern Italy, translated into a modern lens and using fresh, sustainable local ingredients.
Come here on Halloween for an extravagant meal a la carte or from one of the restaurant's set menus. The basic menu features beef ragu fusilli, fish croquettes, arancini with chef's special sauce, and endive salad with goat's cheese amongst other dishes. Go extra with the more expensive set menu and enjoy an addition of house-made gnocchi, salmon pizza, classic veal schnitzel, and calamari rings.
If you plan to visit Cloudland on Halloween – October the 31st – then be sure to follow your meal with a visit to the Halloween Ball. Set across three arenas within one of Cloudland's function rooms, the event includes a haunted house, Halloween ballroom, and even a queer RnB party for those who feel like a boogy. There'll be plenty of DJs to keep you partying late into the night and events for the best dressed Halloween costume. Book your tickets here.
Mama's Place
It's not your classic Brisbane fine dining, but Mama's Place in Springwood makes for a truly on-theme Halloween breakfast and lunch destination. This family-run Romanian restaurant will take you straight to Transylvania with its homestyle meals cooked by a matriarch chef known as Mama. The cafe restaurant goes all out with its cosy Romanian decor – you'll feel like you've stepped into the heart of Eastern Europe.
The fun of this restaurant comes in its ever-changing menu – every day, Mama will decide what she feels like cooking (with the exception of breakfast, which is the same daily). Romanian-style breakfast options include creamed spinach and fried eggs on toast and house-made sausages, olives, feta, and polenta with sour cream. For a sweet breakfast go for Mama's homemade doughnuts (known as gogosi). When it comes to lunch, well, you'll never know whether you're in for grilled sausages and cabbage rolls, meatballs, lasagne, or signature tripe soup – the perfect dish for Halloween!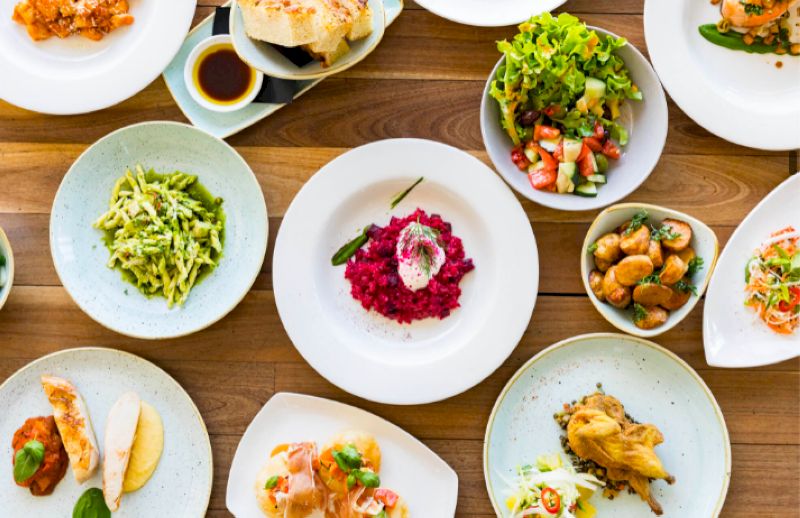 Alchemy
For a quirky, offbeat dining experience head to Alchemy in the heart of Brisbane City. The restaurant has been making waves in the Brisbane restaurant scene with award-winning Chef Brad Jolly at the helm, highly regarded as one of Australia's best and most influential chefs. With experience working alongside Marco Pierre White and Jamie Oliver amongst other outstanding chefs, Chef Brad Jolly considers himself a culinary perfectionist and puts a quirky twist on his craft at Alchemy.
If you've never heard of nitrogen cooking, perhaps it's time to pay a visit to Alchemy and get a dose of the magical on Halloween. With spectacular views of the Brisbane river, Alchemy is the perfect spot for a creative dining experience using the nitrogen freeze cooking method. The menu is largely Italian-inspired though defined as Modern Australian. Feast on various antipasti like natural oysters, kingfish crudo, or veal and pork sausages, house-made gnocchi and pastas, and various meat-based dishes from confit duck leg and braised beef cheeks to marinated spiced quail.
A Halloween feast by Brisbane's best chefs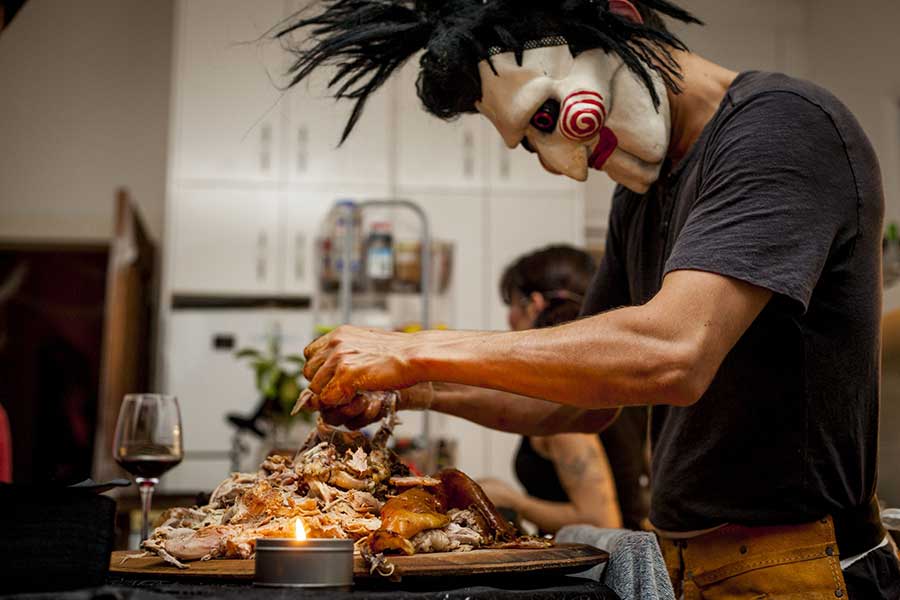 What if you stayed in and had your own Halloween feast? Brisbane's best chefs are at your disposal on Halloween, ready to serve up creepy, juicy, stark-raving mad dishes that will surprise and scare you… Our Brisbane private chefs are recognised for their ingenuity, creativity, and innovation, and Halloween is the perfect time to use those skills to craft a unique menu that you and your guests will never forget.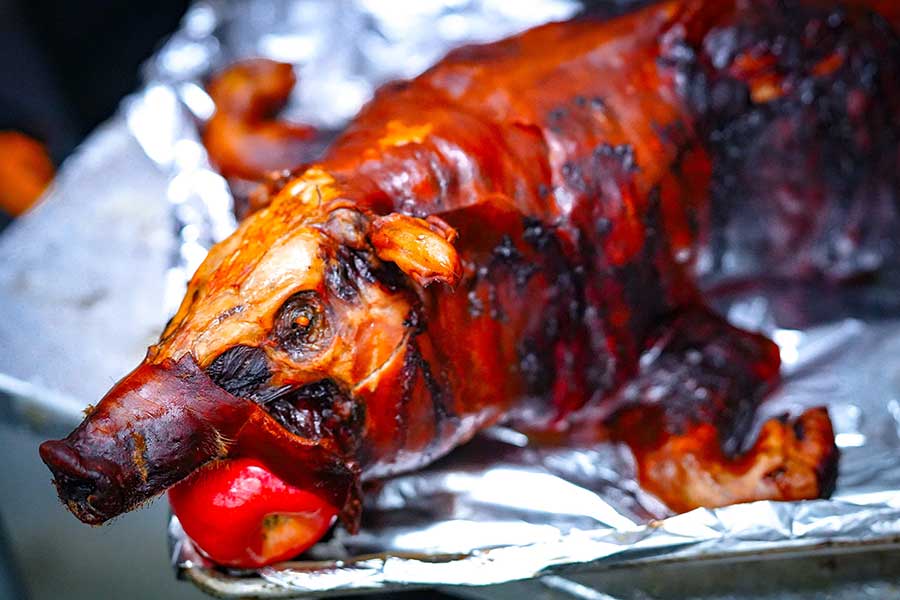 Hire a private chef Brisbane to stoke a roast suckling pig, complete with an apple in its mouth and crispy, melt-in-your-mouth skin. Let your guests snack on shortbread 'fingers' with lifelike fingernails – horrifyingly delicious. Feast on 'spider tacos' that elicit images of arachnids but taste like heaven… There's no limit to how a chef's mind can interpret the theme of Halloween into a mouthwatering banquet that'll surprise, shock, and amuse.
If the city is under lockdown and you're itching to get out and taste some hearty dishes, hire a home chef Brisbane to bring the spookiness to your dining room. Halloween is a favourite holiday for many of us, and why miss out on the fun? Dress up, get hungry, and let your private chef in Brisbane curate a theatrical meal that's as spooky as it is spectacular. Click here to start booking your Halloween feast – our Brisbane private chefs are available for both private and corporate Halloween catering.