Imagine the freedom of realising you don't need to find a venue for your event. You can host larger numbers of people while still enjoying a luxurious meal as you would in any restaurant or catered venue. Imagine the freedom of realising you can eat whatever you want, anywhere you want, whenever you want. This is what it's like to eat out in the wild, with a private chef in tow and a bespoke menu designed just for you and your guests.
The pandemic and social distancing rules of this last year have made restaurants a less 'appetising' place to eat for many people, and fair enough. Tiny crowded restaurants seem less cosy and more risky, it's harder than ever to get bookings at your favourite eateries, and many people are simply choosing to not eat out as much as they used to. But eating out doesn't have to mean being at a restaurant – there's an entire world of picturesque locations where you can enjoy a restaurant-style dining experience.
Here's why you should consider hosting your next event out in the middle of nature, and our favourite spots to have a dream meal.
A one-of-a-kind location, every time
When you eat out in nature, you're surrendering to the natural weather, the sunsets, the sounds of the birds and the crashing of the waves. No two days are ever quite the same out in the wild, and that means you'll have a completely unique experience every time. If your idea of an unforgettable wedding, celebration, or event is to do something truly one-of-a-kind, then you can't beat the absolute originality of a venue that's out in the wilderness.
It could be raining, it could be overcast, the sunset could be full of magnificent pinks or reds or purples. The leaves may be falling if it's autumn, or branches may be bare in winter. Unlike traditional venues and restaurants, nature is always changing and evolving, and that means you'll enjoy a one-of-a-kind location, every time.
Be as loud and wacky as you want
Venues can come with noise restrictions, restaurants come with weird looks from the people sitting next to you… in nature, you have complete privacy. And that means you can be as loud and wacky as you want, without a care in the world. Feel free to pump the music, to dance like nobody's watching (because nobody will be watching), and to be as silly as you want.
If it's romantic dining with your loved one that you're after, enjoy the freedom of intimate dining without a soul around (except your private chef, of course). If you have a loud family, talk and yell as loud as you like! The beauty of the wilderness is that you can be just that – completely wild and free.
Unforgettable settings make excellent photos
There are many stunning venues around, but nothing can beat the beauty of nature. Whether you're hosting your event or meal amidst sand dunes, on a clifftop, or by the beach, you can guarantee an incredible series of photos. Watch the sky change colours in the background, take in the dramatic backdrop of nature behind your dining tables, and have a memorable keepsake of your event that's truly unique and different.
How does outdoor dining work?
OK, so how can you have this experience for yourself? It's easy, and we'll do most of the work for you! Whether it's a simple dinner, a massive event, or even an overnight stay, we can help you turn your ideas into a reality. Here's how it works:
Get in touch with our team with your ideas, requirements, or event brief,
We'll match you with a private chef to accompany you on your wilderness adventure,
Your personal chef will design a menu based on your tastes and preferences,
We'll take care of any extra elements like decorations, furniture hire, location scouting, photographers, etc.,
You approve the menu and our plans,
And we're off! A wilderness adventure awaits you – whenever you like, wherever you like.
We'll take care of absolutely everything you need on the day. Be it transportation, setup, cooking, or decorations – all you have to do is let us know how little or how much you'd like to be involved, and we'll do the rest.
Get in touch now and let's start planning!
Our favourite places for dining in the wilderness
Need some ideas to get you started? Here are just a couple of our favourite locations where we've hosted outdoors events and dinners…
Private beach
This was one of our favourite outdoor dining experiences! We hosted this romantic dinner by the water for a couple who wanted to enjoy an intimate luxury dining experience in privacy. Our chef was out of sight, cooking up and serving an exquisite multi-course meal for the lucky couple. A cold bottle of champagne was ready and waiting when they arrived, the table all set and ready to go, and a beautiful sunset on its way. A truly unforgettable evening.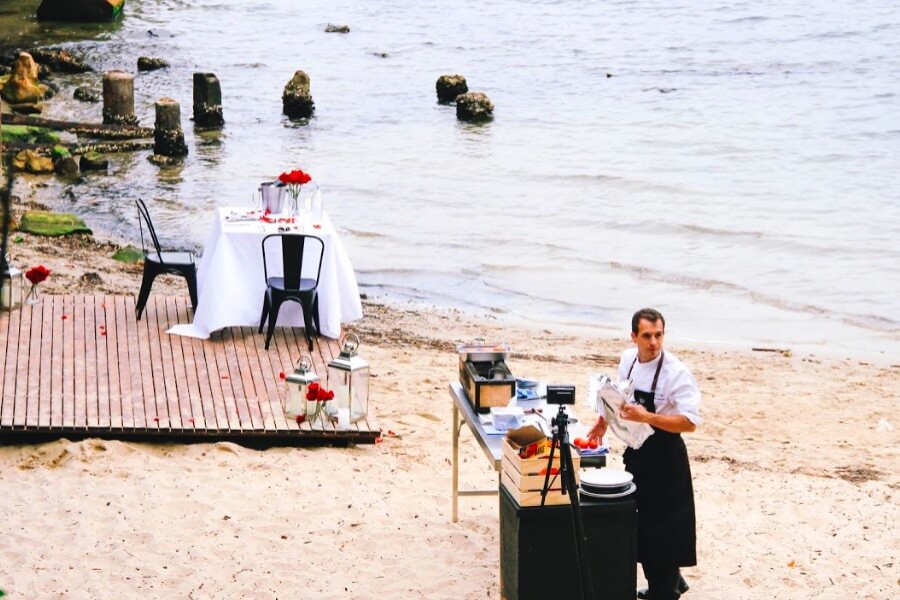 Lakeside
Imagine looking over from your seat and taking in this view as you feasted on an incredible meal… this was true for a group of 40 diners who wanted to celebrate a special occasion out in the heart of nature. We set up long, large tables and served a banquet-style meal for the family and friends. Kids were free to run amuck, music played loudly to set the atmosphere, and an amazing time was had by all.
In the bush
Simple and rustic is just how we like it sometimes! This photograph is from one of our mushroom foraging experiences, a culinary adventure that takes you to the heart of the bush where you pick a variety of edible mushrooms from the wild. Afterwards, our personal chef cooked an absolutely beautiful meal with the fresh mushrooms… there's nothing like foraging for food and then sitting back amongst the trees as someone else takes care of the cooking!
You can have this experience along with an overnight stay as part of our Culinary Camping adventure.
Countryside
This Christmas feast was a truly memorable experience. Our guests boarded a minibus en route to this picturesque, quiet countryside location where a table was set and ready for a brilliant fine dining lunch out in the open air.