Halloween doesn't have to be all pumpkins and lollies. In fact, there's nothing spooky about those dishes at all. If you're looking to really creep things up this Halloween, you need to go for inventive dishes that are bloody, scary, ugly, and deadly. While still tasting delicious, of course.
Don't have the finesse, creativity, or time to design smashingly ghoul-d (that's our pun for good) Halloween food? We've catered many Halloween parties in our lifetime, and we've learned how to turn regular dishes into spooktastic affairs. Get some inspiration from these 5 dishes we've catered in the past. Warning: some are spookier than others!
1. Bloody borscht
In place of actual blood, use beetroot. Fabulously red, runny, and healthy to boot, beetroot is one of our go-to ingredients for creating Halloween themed meals. Our private chef made this bloody borscht at a private catering event for Halloween last year. Deliciously sour and scarily bloody, we served this soup as an entree and it went down a treat. You should get go all out and be creative with how you name the dish: "Bloody Brains Borscht" or "Bleeding Heart Soup" are just two ideas to get you started.
2. Spider mini-tacos
You don't have to go all out to make food creepy. Sometimes just serving a plate of ugly looking food can do the trick. These tacos taste incredible but were specially thrown together to look a little less-than-appetising. That's not to say they didn't disappear quickly, though. These are a great appetiser or finger food for Halloween parties because they keep people full, they soak up the alcohol, and it's super easy to walk around while eating them. The perfect grab and go party snack!
If you're not planning on catering for your Halloween event, here's how you can recreate this yourself: pick a meat, shred that meat. Do it quickly and carelessly for the best results. Roughly chop some vegetables, pile it all up, and add a smearing of sauce. Ugly/delicious tacos are ready.
Protip: Hire a private caterer that will add to the mood by dressing like a creepy doll.
3. Suckling pig
Here's how to make Halloween food that's just as gourmet as it is horrifying. Crispy and tender suckling pig is delicious, and a truly rare treat. It's not often you get to enjoy a suckling pig in its entirety. We catered this suckling pig at last year's Halloween Party, and boy was it popular. Not only in photographs but in hands and mouths, too.
To really add to the creep-factor of having a whole animal served at our Halloween Party, we added black charcoal bread. Why stick to the norm when there's a creepier option you can go for? If you don't have the time, skills, or know-how to serve a whopping suckling pig like this at your Halloween Party, we can do it for you as part of our private catering services. To add to the scariness, we'll throw in a creepy chef to serve it for you:
How's that for a terrifying scene at your party?
4. Freaky finger biscuits
These are one of our favourite Halloween treats to make. Just look at them. A bunch of crispy, creepy fingers that are ready-to-eat. Have you ever seen better Halloween catering than this? These almond biccies taste as delicious as they look disgusting. Our chefs bake the pastry themselves, mould the biscuits into these harrowing finger shapes – complete with knuckle lines – and finish it off with some blood-red jam and an almond fingernail. Yikes!
When we do private catering for Halloween events, this is the dish that gets the most squeals. People both love and hate it. Some guests can't even bear to pick up the biscuit and eat it because it's too gruesome! Which we consider a sign of success on Halloween.
5. Graveyard parfait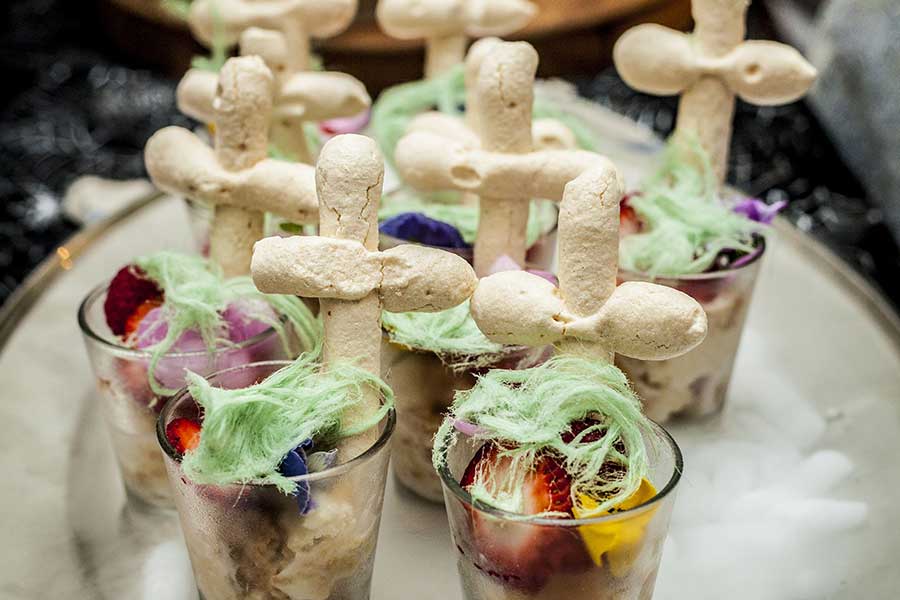 When freaky fingernail biscuits are too much for guests, we go for the graveyard parfait. It's the perfect fusion of Halloween-esque without the bloody gore, a friendly affair that alludes to the dead without throwing it in your face. These graveyard parfaits are made with a cheesecake base, fruits, edible flowers, and fairy floss that's the colour of Frankenstein. Oh, and the cross-shaped biscuits to top it all off. If you're making your own version of these desserts, go for fruits and items with darker colours like deep red, purple, indigo, and so on. You don't want some marshmallow pastel desserts here – there's not enough spook factor in that.
Halloween catering for your parties
Impressed (or creeped out) by these dishes and want to serve something like this at your Halloween event? Get in touch with our team and we'll curate a menu that's full of spooktacular appetisers, finger foods, and meals for your Halloween party.